Back to top
Marin Symphony Family Concert: Peter and the Wolf
Marin Center Veterans' Memorial Auditorium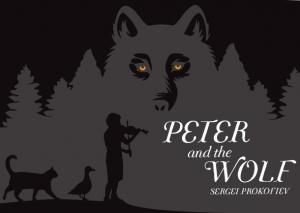 From a child's first live orchestra experience to musical thrills for veteran concertgoers, Marin Symphony's Family Concert is for everyone. And enjoy post-concert fun with our Instrument Petting Zoo. Bow a violin, pucker up to a trumpet, bang on the timpani, or see if you can get a note out of the clarinet. Our Instrument Petting Zoo offers the chance to get up close and personal with instruments you see on stage during the concert.  (Psst — It's not just for kids!)
The marvelous Marin Symphony Orchestra performs Prokofiev's Peter and the Wolf, with narration by KALW radio personality David Latulippe.
The Marin Symphony Youth Orchestra (MSYO) plays Side-by-Side alongside Marin Symphony professional players under Maestro Alasdair Neale, featuring excerpts from Mussorgsky's Pictures at an Exhibition.
Elgar's Cello Concerto in E minor performed by Sadie Mickelson, winner of the MSYO Concerto Competition.
Pre-concert chamber music in the lobbies, performed by MSYO musicians.
Portions of the Family Concert are repeated Monday, March 9th, in two complementary showings for Marin County's fourth graders at Symphony Day.
Annual music Teachers of the Year awards presented on stage to Dawn Madole and Shahrazad Vakharia.
A hands-on post-concert experience for kids to try brass, wind, and string instruments at our Instrument Petting Zoo in the Redwood Foyer.
AND we're offering a special discount to Marin Mommies: Save 25% off all sections (adults and youth). Use discount code: FC25
Tickets:
Reserved Seating
Adult (18+): $20, $25, $30, $35; Youth (Ages 6-17): $15
Group discount available for 10 or more, 20%
Purchase Online at tickets.marincenter.org or Call: 415.473.6800