Back to top
Mill Valley LiVE
Mill Valley Community Center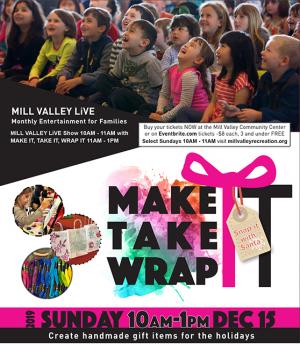 Mill Valley LiVE – A series of live entertainment for the whole family.
Sunday, December 15th:
10am-11am - Megan Schoebohm - Musical Performance - TICKETS
11am-1pm - Make It, Take It, Wrap It! - Join us for craft and gift making - FREE
Tickets are $8 general admission, 3 years and under free. Tickets can be purchased at the Community Center and Aquatics & Fitness Centers front desk or Online at Eventbrite.
Performer, songwriter, music teacher, and yoga enthusiast, Megan Schoebohm will wow you and your family with her fun, and engaging show.
Afterwards, Shake It Off with our fun jumpies, lively music and much more!