Back to top
Mixed Media + Art Studio June 29-July 3
1133 Grant Avenue (Downtown)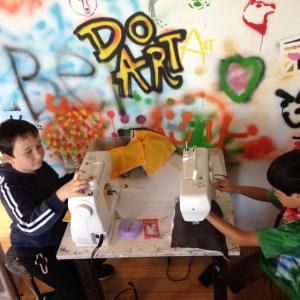 Each day will be filled with creative excitement in a new approach to art-making! Exploring painting, drawing, ceramics, sewing, mixed media, and printmaking, students will create a variety of fine art projects in different art mediums often mixing one or more materials. Give your child the power of creativity, problem-solving, leadership, and critical thinking all learned through this engaging, innovative and fun art camp.
1/2 day available for ages 5-14, 9:00-12:00
full day available for ages 7-14, 9:00-3:00 (registration reflects 1/2 day pricing, the remaining amount is due the first day of camp)
extended day is available from 3:00-5:00 ($15 each hour). The remaining balance will be taken on the first day of camp.
Studio 4 Art are experts in their field, teaching for over 18 years, and are a true studio for art! We offer age-appropriate projects celebrating each individual. Diversity, creativity, problem-solving, and creating leaders one art project at a time ™ are our goals. WE LOVE ART and what each child brings to their projects making them personal and meaningful. Watch your child shine with pride through their art-making!