Back to top
Moms Group & Baby Movement Circle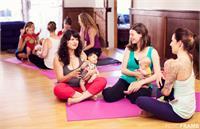 Come get the support of community, listening, and guidance on how to move forward as a new mom!
The first half of the Pom Mom's circle is focused on YOU, mama! You will have the opportunity to share what's on your heart and mind. We will practice conscious and mindful listening, and therefore, get to experience the healing and full benefits that result when we truly listen. 
The second half of our time together will focus on the babies. We will observe where they are in their development, with Ashley's expertise, and learn ways to support our babies' growth at the deepest levels. You will learn ways to hold and play with your baby that will encourage both learning and health. Guidance will be available for supporting you and your baby in all areas of life. Please join us! 
This is a 90 minute group intended for pre-crawling babes.
$15/class or $50/5pack
Ashley Newton has focused on early childhood education and mental health for almost twenty years. She has a BA in Child Development and a MA in Infant Mental Health, and is also a certified yoga teacher and an Infant Development Movement Specialist. She is a Registered Somatic Movement Therapist, and has a private practice supporting children and their parents in finding more connection and ease in their bodies and relationships. She is also the director and lead teacher at Wellspring Nature School, a nature-based learning community in the East Bay.
She is very much looking forward to holding the Pom Mom's group! She loves supporting moms by giving them space to feel their feelings, and also providing resources that help to connect with a sense of wellness and forward movement. Her intuition and training in infant development allows her to see where infants need more support and she is able to offer guidance to caregivers in fine tuning their capacity to meet their baby's needs more fully.
You can read more about Ashley at http://www.connectedkids.family/