Back to top
Monkeypalooza at Corte Madera Town Center
Five Little Monkeys Corte Madera
131 Corte Madera Town Center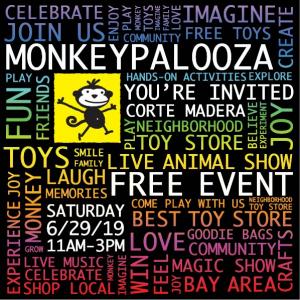 Join Five Little Monkeys  as we celebrate our 1 year Anniversary at Corte Madera Town Center with MONKEYPALOOZA!
Saturday, June 29
11:00am - 3:00pm
Corte Madera Town Center
FREE Admission
Featuring Live Music by Children's Reggae Singer Asheba, Tim Cain's Sing and Dance-Along Show, Live Animal Show by the East Bay Vivarium, Magic by Mr. SHAP, Crafts, Activities, Hands-On Toy Testing and More!
Free Goodie Bags for first 250 children!
Raffle to benefit SPARK (Larkspur Corte Madera Schools Foundation)!
Prizes include a Micro Kickboard scooter, gift certificates to Corte Madera Town Center shops & restaurants, toy baskets & so much more!
Schedule of Performers:
Tim Cain: 11am
East Bay Vivarium: 12noon
Asheba: 1pm
Mr. SHAP: 2pm
Tim Cain's Sing and Dance-Along Show!
Guitar in hand, Tim Cain at his sing-along concerts provides an opportunity for children, as well as parents, to participate in a positive group experience with singing and movement. His warmth, good humor, and spontaneity make his shows engaging and accessible to all.
East Bay Vivarium Animal Show
They bring their traveling menagerie of animals to surprise, delight & amaze everyone of every age. They have more than 25 years of experience presenting the wild & wonderful world of CREEPIES, CRAWLIES, & CRITTERS!
Asheba, Children's Reggae Show
Asheba is an engaging musical storyteller who specializes in family entertainment. He is a renowned world musician who playfully blends calypso, reggae, neo-folk and more.
Mr. SHAP the Magician
Mr. SHAP Balloon Artist - Magician is a Bay Area favorite entertainer. Come enjoy his blend of magic, balloons, comedy, and lots of audience participation.