Back to top
Morgan Horse Ranch 51st Anniversary Celebration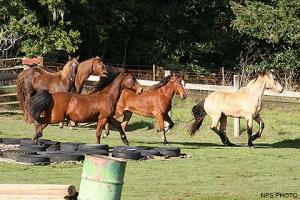 1 Bear Valley Visitor Center Access Road
Point Reyes Station
,
CA
94956
Join Point Reyes National Seashore in celebrating the 51st anniversary of its Morgan Horse Ranch! The event will include riding demonstrations led by park volunteers, activities for kids, horseshoeing demonstrations, and much more. This event is free and open to the public.
"We welcome all to join us in this fun celebration," said Craig Kenkel, park superintendent. "Our 50th anniversary was canceled due to the pandemic, so this will be truly special. Please join us for a Sunday stroll up to the ranch and take in the activities and the interpretive exhibits."
The Morgan Horse Ranch is located in the Bear Valley Visitor Center area. To help reduce traffic congestion in the paved parking lot adjacent to the Bear Valley Visitor Center, please park your vehicle(s) in the gravel, Bear Valley Trailhead parking lot on the left (east) side of the access road close to the Bear Valley Trailhead. Download the Bear Valley Area Map (427 KB PDF), which shows the location of the Bear Valley Trailhead relative to the Morgan Horse Ranch and the Bear Valley Visitor Center.
After parking, walk west up the the narrow driveway to the Morgan Horse Ranch. There is accessible parking at the ranch.
All are encouraged to review CDC guidance when making their plans to visit Point Reyes National Seashore and to recreate responsibly.
The Morgan Horse Ranch was established at Point Reyes National Seashore in 1970 as a breeding program for the National Park Service. At its height, park rangers from throughout the service would come to Point Reyes for horsemanship classes, and the ranch maintained a herd of 35–40 horses. Since that time, individual parks maintain their own stables and do not need a centralized program. Today, the Point Reyes Morgan Horse Ranch has five horses. Come visit Honcho, Elvis, Rose, Mira, and the park's newest addition, Knight Hawk.