Back to top
Music and Movement in Spanish for Babies!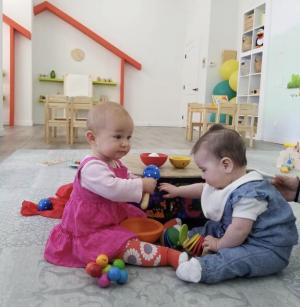 Music and Movement Class in Spanish exclusively for babies 3 - 12 months old. If you want your baby to experience our class alongside other children of their same age group, this is the right class for you. All the songs, toys and games are specific to this development stage.
A selection of Children Songs guides the class from start to finish. Games and activities are related to the lyrics, in order to familiarize the children with the words and their meanings. Some of the songs encourage them to dance.
Please visit our website or give us a call to Register to try this class!
PRICE
First class is Free!
Memberships offer the best value: less than $15/class (class packs also available)
OTHER CLASSES:
- Music and Movement classes in Spanish for Toddlers and Preschoolers (Mixed ages classes available)
- Open Play with educational, sustainable toys
- Workshops with guest instructors for expectant and new parents
Visit our website to view our most updated Schedule!