Back to top
Musical Moments Kids Concert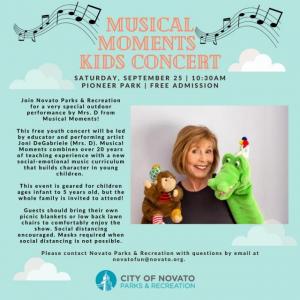 Join Novato Parks and Recreation for a very specials outdoor performance by Mrs. D from Musical Moments!
This free youth concert will be led by educator and performing artist Joni DeGabriele (Mrs. D). Musical Moments combines over 20 years of teaching experience with a new social-emotional music curriculum that builds character in young children.
 This event is geared for children ages infant to 5years old, but the whole family is invited to attend!
Guests should bring their own picnic blankets or low back lawn chairs to comfortably enjoy the show. Social distancing encouraged. Masks required when social distancing is not possible.
Kona Ice will be in attendance!