Back to top
Open Play - Experience our educational & sustainable Toys (3 mo - 6 yrs)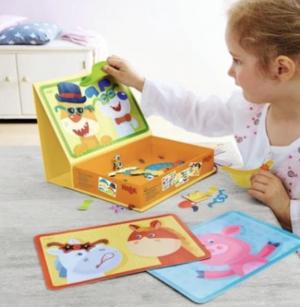 Montessori inspired playroom with low, open shelves. Children will have access to educational, sustainable toys, not within a structured activity, but as a time for them to just play, using their creativity and imagination. The playroom is carefully rearranged for this activity, to encourage independence and concentration. We make accesible just the right amount of toys, to make sure that the children do not feel overwhelmed and that they enjoy them fully, increasing the chances for deep play. The selection of toys rotates partially every two weeks, which makes for an interesting and engaging experience that fosters their curiosity. 
OUR TOYS
We carry a hand picked selection of toy brands, chosen because of their sustainable practices, materials and design quality. We focus on toys that are designed with child development in mind. 
Materials: the vast majority of the toys we carry are made out of wood, silk, and other natural materials. Pigments used on the colored toys are non toxic, water based dyes. 
These are some of the categories we have available:
- Baby learning toys
- Push and pull toys
- PlaySilks
- Dolls and Dollhouse
- Stacking and sorting toys
- Active Play 
- Pretend Play
- Musical toys
PRICE
$12
REGISTRATION
Advance reistration is recommended. Space is limited. You can register here