Back to top
Opening Weekend: Don't Stop Believin'
19201 Sonoma Highway, #214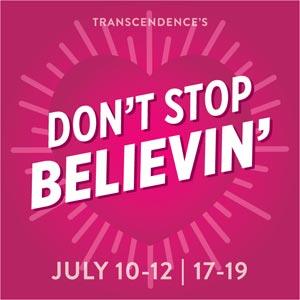 Reserve your free tickets for an online performace. Donations apprecriated.
DON'T STOP BELIEVIN' - Performances that will inspire you
Location: Online
July 10, 11, 12, 17, 18, 19
Evening Shows Friday, Saturday and Sunday
Preshow: 7:00pm PST
Showtime: 7:30pm PST 
Matinees Saturday and Sunday
Preshow: 1:30pm PST
Showtime: 2:00pm PST 
Transcendence Theatre Company wants to share with you a thrilling night of heart exploding performances that is over nine years in the making. "Don't Stop Believin" is the musical journey of a lifetime that has been created to empower you to believe in yourself and others as we soar to new heights together as one.
Be blown away by Broadway artists performing a dynamic range of songs from musicals including Phantom of the Opera, Hamilton, Chicago and many more! Dozens of Transcendence Artists will combine their powers and share their souls during a voyage through life's struggles and successes. Magically designed to remind us that by truly believing in our dreams, loved ones, and community, we will make a phenomenal impact on the world.
Introducing Transcendence's newest adventure, Broadway & Vine. Broadway Artists and Wine Country's finest vintners come together for 'taste of Sonoma' conversations. These Artist chats give you an inside look to where life on the stage meets life in the vineyard! Join your hosts, Broadway performers Meggie Cansler Ness and Tony Gonzalez, for a lively celebration with new winery guests each night! Broadway & Vine airs as the pre-show to the Best Night Ever Online. Register for a Broadway Under the Stars performance to view today!