Back to top
Petting Zoo - A Free Rocking Horse Friends Event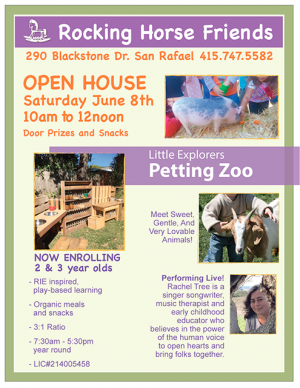 Come enjoy family time with some cute and cuddly farm animals. Rocking Horse Friends in Marinwood has invited Little Explorers Petting Zoo for a fun morning of hanging with pigs, goats, chickens and bunnies (and maybe even a llama)
We will also enjoy music by singer/song writer Rachel Tree. Rachel is a music therapist and early care and education specialist. She believes in the potential of music to not only be educational but also an incredible healing medium. Music brings folks together and that's what this day is all about.
Included in this morning of fun will be a light, healthy snack, door prizes and raffle drawing and an opportunity to explore a really great family childcare program for infants toddlers and three's.
Details: Saturday, June 8th
10:00am-12:00noon
290 Blackstone Drive
San Rafael, 94903
Please come join us at Rocking Horse Friends for fun, frolicking and great family folk.