Back to top
Presidio Theatre Open House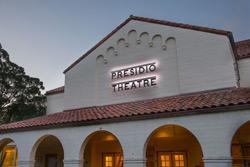 For the first time in 24 years, the newly transformed Presidio Theatre will open its doors to the public! Come explore the beautifully renovated theatre – a home for dance, theatre, music, cinema and performing arts of all kinds.
Open House features free behind-the-scenes experiences, docent tours, and a live performance by the Presidio Theatre Pop-Up Orchestra playing music of the 1930s, the original era of the Theatre.
ALL AGES are welcome! FREE and open to the public.