Back to top
Sonoma-Marin Fair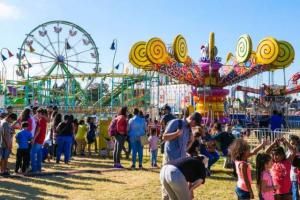 Summertime is fair time, and the first fair of the season in the North Bay is always Petaluma's Sonoma-Marin Fair, which takes place at the Sonoma-Marin Fairgrounds from Wednesday, June 19 through Sunday, June 23. The Sonoma-Marin Fair is not quite but almost a county fair, and offers a wide range of fun and exciting attractions, competitions, events, and activities for the entire family.
As with most fairs, there's a ton of stuff to do and see, so check their website for a complete schedule of activities, concerts, events, and entertainment. Special days this season include:
Wednesday, June 19: Kid's Day—enjoy admission at the $12 kids' price for everyone before 5 pm.
Thursday, June 20: Seniors' Day—$6 admission for seniors 65+ all day.
Friday, June 21: Heroes' Day—Law enforcement, fire department personnel, and active or reserve military with ID $15.
Saturday, June 22: Farmers' Day—Special Farmers' Day events include a pig scramble, Marin vs. Sonoma tug-of-war, a wild cow milking contest, and more.
Sunday, June 23: Family Day—Latin music on the main stage, activities, and the destruction derby for the last day of the fair.
Admission prices include all entertainment, concerts, and carnival rides (destruction derby admission extra). Admission at the gate is $18 for adults and $12 for children ages 4–12 and seniors 65+. If you order online in advance, you can get tickets at the discounted rate of $15 for adults, and $10 for children and seniors (processing fees apply to online ticket purchases).
Fair hours are Wednesday and Thursday noon to 11 pm, Friday and Saturday noon to midnight, and Sunday noon to 11 am. Gates close at 10 pm each evening. The Sonoma-Marin Fairgrounds are located at 175 Fairgrounds Drive in Petaluma, off East Washington Street on the west side of Highway 101.
For more information on the Sonoma-Marin Fair, visit www.sonoma-marinfair.org or call (707) 283-FAIR.