Back to top
Studio 4 Art Drop in!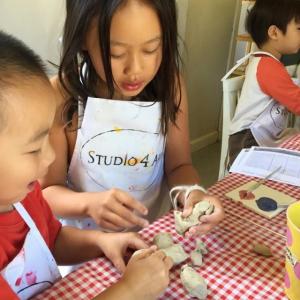 Friday's 10am - 1pm
Drop in is for children ages 2-7 that would like to explore in ceramics, acrylic painting on canvas, watercolor painting, mosaic frame, mosaic flower pot. relief printmaking, screen printing, hand sewing, or a bisque (paint it yourself pottery).
All supplies are included and instruction when needed. We have many ideas if children are in need of inspiration of "what to make". Many of our makers are involved in the process, getting hands in to the fun and are not as worried about what the results are. It is a really fun and creative environment! Studio 4 Arts little studio is geared towards younger artists, ages 2-7.
Drop off available for ages 4+!
30 minute drop in $15.00.
60 minute drop in $30.00.
Paint your own pottery $15.00.
***pleas note drop in availability and times fluctuate due to school holidays***