Back to top
Terra Mandarin Preschool & TK Exploration Day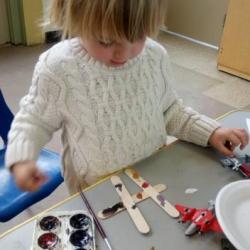 Terra Mandarin Preschool & TK Mandarin Immersion 
EXPLORATION DAY    
Sunday, December 9th from 9:00am-10:30am
70 Lomita Drive, Mill Valley
Join us on an exciting day of learning, wonder and skill building for the entire family as you experience first hand the unique curriculum & program at Terra Mandarin Preschool & TK.
Constructive Creativity Program (parents welcome to join): 
*Art Expression with Soap Stones
* Mandarin Calligraphy
* Paper Lantern Making
* Animal Fun With Bunnies
* Jumpy House
Educational Presentations for Adults
* 5 Ways To Strengthen Your Child's Brain Through Earth Education (½ hour session)
* Tours & TMP Program Presentation (upon request)
FREE - Space is limited!
Light refreshments & food provided.
RSVP HERE!