Back to top
Terra Marin K-8 OPEN HOUSE - December 9, 2018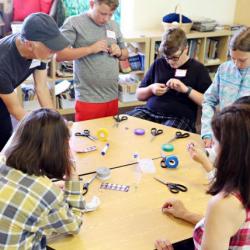 Looking for a school where you child feels at home, excited to learn and celebrated for what makes them unique? Explore Terra Marin K-8 at its OPEN HOUSE December 9th at 11:00am.
"In just short 8 weeks at Terra Marin, I've seen my child go from hating school to loving it and being truly happy. He says the teachers really care, it's like family!"
- Karisa Stuart (Mom of a 7th grader at Terra Marin K-8).
Kids will be kept happily busy with fun activities such as archery and art while parents enjoy a presentation from senior staff, teachers and the Head of School and tour the campus.
Terra Marin K-8 sparks curiosity and intellectual wonder in each child using project based learning, Earth Education, foreign language, social emotional curriculum, small class sizes and a highly experienced and dedicated teaching staff. Visit and see why this special K-8th grade program just might be a perfect fit for your child. More info and RSVP at www.terramarin.org.