Back to top
Terra Marin School Admissions Coffee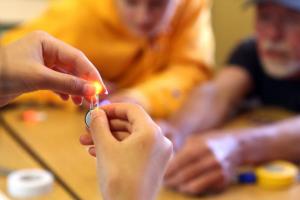 Looking for the right school for your son or daughter? Join us for the Terra Marin School Admissions Coffee on Sept 18th!
Terra Marin - Sparking Curiosity & Intellectual Wonder
Join us for our Admissions Coffee to explore our unique program, meet the teachers and see if Terra Marin could be a good fit for your family. RSVP at www.terramarin.org.
Terra Marin School (TMS), a private K-8th grade school in Mill Valley and newly opened this Fall, is a special addition to Marin's educational landscape as it brings together a unique and progressive set of offerings into one effective and highly focused program. TMS, led by a highly qualified team of teachers and mentors, guides its students through a diverse, holistic and effective educational model focused primarily on the healthy social, emotional and physical growth of its students. TMS provides a place where each child feels known and celebrated for his/her unique strengths and where each student feels safe to be him/herself, try new things and be challenged. TMS helps its students grow through indoor and outdoor environments (Earth Education - proven to reduce anxiety in children and increase levels of concentration in the classroom) with a curriculum built on the art of inquiry, open discussion (Harkness philosophy of teaching) and focused on inspiring critical thinking, empathy, self-confidence, independence, creativity and awareness of self and place in the world.
Learn more about the program at the Admissions Coffee September 18th at 9am - RSVP here at www.terramarin.org. Can't make the coffee? Join a tour any Tuesday at 9:30am or go to the Grand Opening Ribbon Cutting and Community Open House on October 14th. RSVP for all events at www.terramarin.org. Contact the school directly at: Kim@terramarin.org; 415-906-2220.