Back to top
"Time to Connect" CCPPNS Convention 2018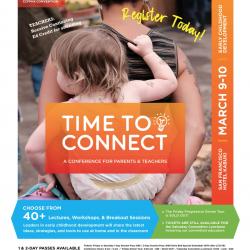 The San Francisco co-op preschool community is excited to host the 69th annual California Council of Parent Participation Nursery Schools (CCPPNS) Conference – 2 full days of presentations and workshops on childhood development for parents and teachers. This year's theme, Time to Connect, will allow attendees to dive deep into the areas of Self, Family, Community and the World. Time to Connect is a call to action in a time in which divisions seem to be more apparent than commonalities. 
Highlights of the conference include:
• Keynote Speakers on Friday and Saturday 
• 40+ Sessions including breakouts, talks, workshops, and panel discussions
• The Friday Evening Progressive Dinner Tour showcasing 3 San Francisco co-ops
• The Saturday Convention Luncheon featuring a special presentation and the awards ceremony
• A Vendor Hall featuring services and products specially selected for our community
Each session will provide research-backed information and tangible techniques that parents and teachers can immediately implement in their homes and classrooms.  Through speakers and interactive workshops, we will explore topics such as:
• mindfulness and play
• diversity and inclusion
• parenting challenges
• cognitive development
• connecting with children
• science and art instruction
Our aim is to provide the necessary tools to improve our emotional health and to help raise community-minded children.
TICKETS TO THE CONFERENCE: https://www.regonline.com/registration/Checkin.aspx?EventID=2066598
• Friday, March 9th, 1-day session pass: $90
• Saturday, March 10th, 1-day session pass: $90