Back to top
Tis the season... Sing Joy
Marin Center, Veterans' Memorial Auditorium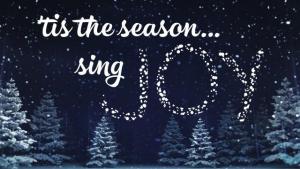 Brighten your Holiday with Joyful Song!
A wonderful warm holiday tradition for Bay Area audiences for 22 years, this concert is an uplifting way to celebrate the season with family and friends. Join Jan Pedersen Schiff and the artistic staff of Singers Marin as the seven youth and adult choral ensembles fill you with the holiday spirit. You will sing along with cherished seasonal favorites and enjoy repertoire from this year's concert theme, "Sing Joy."
Chorum, the newly formed Bay Area male vocal ensemble conducted by Tim Silva will be guest artists, performing a cappella as well as with Singers Marin. An instrumental trio will accompany the singers with Irene Jacobson, accompanist extraordinaire, on piano; Jeremy Hoenig, on percussion and Paul Eastburn on bass and violin/cello. Paul has evolved a unique technique with his 5 string electric violin that will tune his violin to sound like a cello, as he accompanies the singers in the beautiful arrangement of "The First Noel" by David Chase. Special visual and lighting effects create an enchanting holiday concert. Come and immerse yourself in the joy of the season.
Jan Pedersen Schiff, a Milley Award winner and Marin Women's Hall of Fame inductee, is the Founding Artistic
Director of Choral Singers of Marin. This wonderful nonprofit organization has been "teaching Marin to sing since 1987."  Ms. Pedersen Schiff this past year was a guest conductor on the stage of Carnegie as part for the 35th anniversary season of MidAmerica Productions.  The adult women's chorus, Wings of Song, will be traveling to Krakow, Poland from June 4th through the 10th, to participate in an International Choral Festival.  To be part of this opportunity, please contact Singers Marin for an interview/audition before January 15th.   Call to schedule an appointment: 415-383-3712