Back to top
Virtual TK/Kindergarten Art Class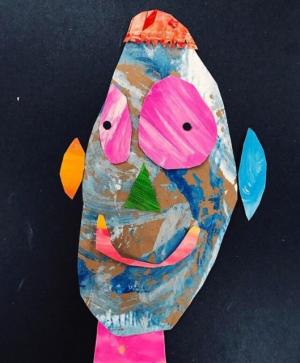 ages Tk/K
Our monthly tk/k art class is full of creative, imaginative, colorful, art-making! This is a fun, mixed media all art class. A variety of techniques such as collage, painting, clay, drawing, and more will be introduced! Art education through experimentation is our favorite and a focus of this class. Student's work will look individual and unique as we guide them through different projects and introduce new materials in open-ended, creative projects for each virtual class meetup.
In your class box that is delivered to your home (we ship, too), you will receive all the supplies needed for our weekly virtual meetups. We are designing the projects mindfully with "less mess" ideas and will go over how to properly use materials and set up an art space for the class. All virtual classes stay true to following the education that S4A is known for.
Supplies will be delivered the weekend before class begins. Zoom classes are with teacher Jenson. Your meeting ID will be given one day before the class begins. These classes will be run similarly to our in-person classes with weekly projects.
Studio 4 Art are experts in their field, teaching for over 20 years, and are a true studio for art! We offer age-appropriate projects celebrating each individual. Diversity, creativity, problem-solving, and creating leaders one art project at a time is our goal. WE LOVE ART and what each child brings to their projects makes them personal and meaningful!