Back to top
Western Railway Museum Pumpkin Patch Festival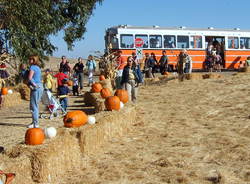 At the Pumpkin Patch, you can purchase your pumpkins, as well as snacks, drinks and other homemade specialties. There are plenty of activities at the pumpkin patch such as tractor rides, field maze, pumpkin chucking, petting zoo, pony rides and the giant hay bale fortress! All proceeds benefit the Western Railway Museum (a nonprofit educational institution) and the local Rotary Clubs who provide thousands of dollars to local community and youth activities each year.
The museum opens at 10:30 AM and the first train to the Pumpkin Patch departs at 11:00 AM.
Tickets: Adults (15–64) $20, Seniors $18 and Child (2–14 yrs) $15.