Back to top
Wheel throwing + Clay Art Camp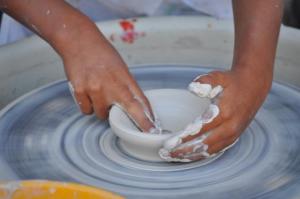 ages: 8-14 (designed for older kids)
Camp held at Do Art in San Rafael
When Registering: Fill out the form completely. If registering more than one child, separate forms are required. Once forms are complete, your cart will show your total. Click on the cart to complete the payment. You will receive an emailed confirmation of your payment. If you do not receive an email, you are not registered.
Pottery is a favorite!
Our studios are known for pottery and we love it as much as our students. Join us for a week of wheel throwing, sculpting, and making with clay! Experimenting, investigation, and executing many different techniques in ceramics; wheel throwing, sculpture, and functional art. Our camps are very small this year so please register early.
Please pack a light nut-free snack and water. Our day includes a snack break to go outside, take our masks off, eat and drink (with distance), and play. When we aren't eating, campers are required to wear masks, even outside.
Read hear about our NEW safe studio practices
Our studio has been set up to offer a safe place to make in person. We do have regulations set and will ask all families to comply. If we are forced to close due to county regulations we will offer supplies and virtual camps, no refunds will be offered.
$650
Registration online at https://www.studio4art.net/san-rafael-camp/wheelthrowingpotterycamp