Back to top
Workshop: Strategies for Spanish Story time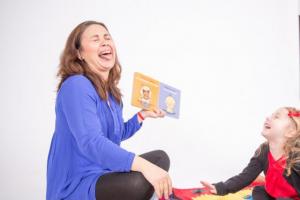 Books stimulate intelligence, creativity, imagination, verbal capacity and concentration in little ones. But, what book should we read?, How do you read to children? What determines interest within the child? The topic of interest?  The narrator?
This workshop, presented in Spanish, is targeted to teachers, parents, babysitters or anyone that works with early age. During our 3 ½ hour workshop we will provide participants with practical and SIMPLE strategies which will afford them the opportunity to put in practice their natural abilities as storytellers and actors. We will present tools that will help to develop the interest in stories from a young age.
Objectives:
Participants will learn effective techniques for the varying of voices during the telling of a story
How to tell the same story in entirely new ways
Making connections between the story and other materials
What books to choose for native and non-native Spanish speakers
Telling stories through felts
Integrating music and movement into your story time
Developing your own version of a story
Rhymes, poems and riddles
Create small play performances based on a story
Each participant will bring home a new story to home or the classroom ready to tell. A list with a wide range of books and ideas shared during the workshop will be provided.