Back to top
Cavallo Point in Sausalito is Perfect for a Luxury Family Staycation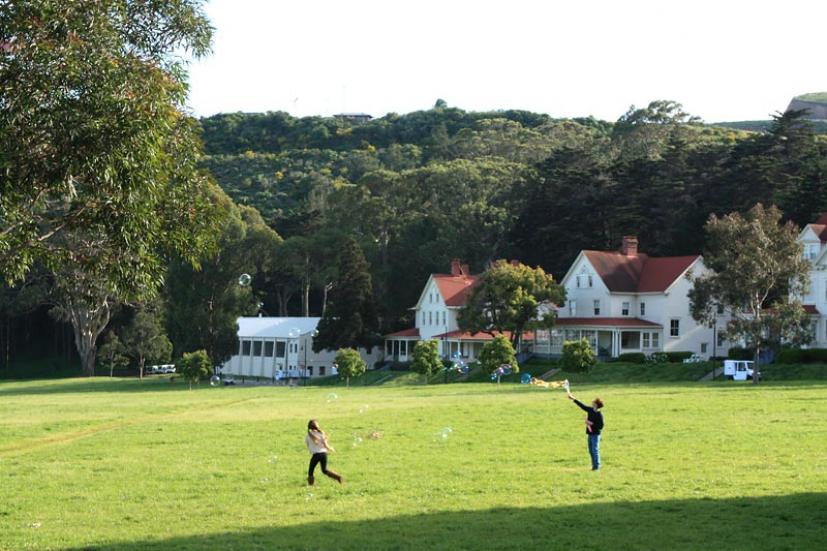 Sometimes it's hard to think of going on vacation just down the highway from where you live, but when that place is Cavallo Point at Sausalito's Fort Baker, it's not hard at all! Cavallo Point is right in our backyard but feels a world away, and you can't beat its amazing location right at the Golden Gate. With spectacular views, historic buildings, great dining, and plenty of things to do, it's an outstanding destination for a luxurious family "staycation", even if you're just getting away for a night!

Photograph by Kodiak Greenwood courtesy of Cavallo Point
I've been wanting to stay at Cavallo Point for a long time, especially after going past it on all those trips to the Bay Area Discovery Museum, which is located just a short distance down the road in Fort Baker. Cavallo Point opened back in 2008 as a unique partnership between the hotel and the Golden Gate National Recreation Area in this former US Army artillery post. The hotel is spread out among Fort Baker's historic Army buildings, most of which were constructed around 1902, and newly constructed modern buildings up on the hill.
We stayed in a historic two-bedroom suite in what was originally housing for junior officers and their families. Our rooms were beautifully furnished with period details like pressed tin ceilings and fireplaces, most of which are original to the room. When the historic buildings were undergoing restoration, the National Park Service made sure that many features like these were preserved.

Photograph by Kodiak Greenwood courtesy of Cavallo Point
Amenities like a Nespresso coffee maker, gas fireplaces, organic cotton bathrobes, and comfy furniture made the rooms extra cozy, and of course the amazing view south to San Francisco was appreciated too! Each of the historic buildings has an outdoor sitting area, and Adirondack chairs are placed around the grounds so you can relax and take in the vistas.
The main office, reception area, Cavallo Point Mercantile store, Murray Circle Restaurant, and Farley Bar are all located in the former enlisted men's barracks. We loved relaxing in rocking chairs on the porch during the nightly wine reception while the kids played on the parade ground. There were quite a few families there during our stay, and most of them seemed to be doing the same thing!

Photograph by Kodiak Greenwood courtesy of Cavallo Point
For dinner we opted to dine at the family-friendly Farley Bar. With fireplaces and a warm interior, the bar offers small plates, grass-fed burgers, sandwiches, and more. And there's a kids' menu, of course, which it shares with the adjacent Murray Circle.
The bar is a tribute to late Sausalito resident, Farley cartoonist, and historic preservationist Phil Frank, and original drawings from his comic strip decorate the walls. For breakfast, we dined at Murray Circle, and the food was fresh and delicious. Needless to say, service was delightful in both venues, too.
We were lucky enough to get a personal tour of the grounds from Cavallo Point chief doorman and resident historian Brit Thurston. Brit is a former interpretive National Park Service ranger and lifelong San Franciscan, and he knows an incredible amount about Fort Baker and Cavallo Point. He also has plenty of anecdotes and interesting stories, and we thoroughly enjoyed our tour, which took us from the commanding officer's residence to the old post gymnasium and even up to the modern rooms, which boast some of the most stunning views at the hotel.
For your shopping needs, Cavallo Point's Mercantile is more chic boutique than run-of-the-mill gift shop. The Mercantile stocks a wide variety of fashion clothing and accessories, along with books, kids' toys and clothing, and even snacks like the amazing Cavallo Point cookies. It's adjacent to the art gallery, where you can take a look at some pretty amazing photography which you'll also see on view at other locations around the resort. The Mercantile sponsors numerous events throughout the year, including a BFF Night on April 27, which benefits Wildcare.
Photograph by Kodiak Greenwood courtesy of Cavallo Point
Unfortunately, during our stay, Cavallo Point's Healing Arts Center & Spa was closed for maintenance. The spa offers a serene garden and meditation pool (for guests 18 and up), massages, spa treatments, and more.

Photograph by Kodiak Greenwood courtesy of Cavallo Point
Cavallo Point is also home to a renowned cooking school that offers a wide variety of classes in a 1,200-square-foot workspace. Class topics range from sushi to tacos to desserts and are appropriate for ages 8 and up. To learn more about Cavallo Point or to make reservations, visit www.cavallopoint.com or call (415) 339-4700.
If You Go
Cavallo Point is located at 601 Murray Circle at Fort Baker in Sausalito. To get there, take Highway 101 south to the Alexander Avenue Exit. Turn right at the stop sign and follow Alexander Avenue to Bunker Road, where you'll turn left; look for the sign directing you to Fort Baker and the Marin Headlands tunnel route. Bear right and follow Bunker Road down the hill into Fort Baker. Turn right onto Murray Circle, then left onto Center Road, then left onto Murray Circle, which you'll follow up to the hotel.

Photograph by Kodiak Greenwood courtesy of Cavallo Point
Nearby attractions for families include the Bay Area Discovery Museum, which is within walking distance, and the Marin Headlands and the Marine Mammal Center which are both a short drive away. The hotel offers guests complimentary round-trip shuttles to downtown Sausalito and to Union Square and Fisherman's Wharf in San Francisco.
Sign up for tips & news for Marin families!