Back to top
Find Fresh Seasonal Produce at Indian Valley Organic Farm and Garden in Novato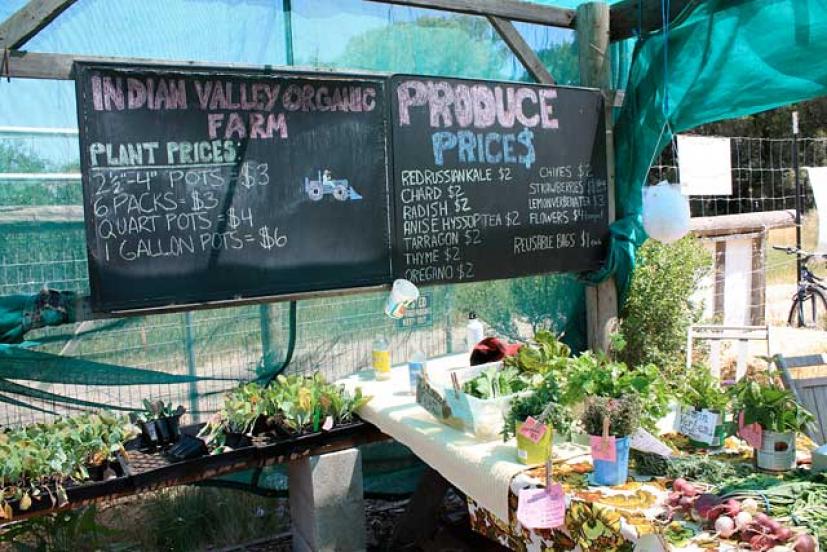 This spring and summer, the Indian Valley Organic Farm and Garden on the grounds of College of Marin's Indian Valley Campus in Novato is a great place to get organic fruits and veggies. Originally created by College of Marin, Conservation Corps North Bay, and the UC Cooperative Extension, this 5.8-acre certified organic education farm and garden is open to the public for produce shopping every Wednesday and Saturday from 10 am to 2 pm.
Bring your own bags and browse the farm stand for a wide variety of seasonal produce grown right there on-site. Right now, you can get artichokes, beets, radishes, chard, kale, leeks, and more. They also often sell plants like poppies and other flowers, fruit trees, strawberries, and tomatoes. Bring your own plastic bags, as they aren't provided here, although you can buy washable, reusable produce bags at the stand for a nominal fee.
Drop by to take a tour, meet the College of Marin farm staff, and learn more about helping out at the farm. They also have a new CSA program that's starting right now. Contact them at (415) 457-8811 ext. 8147 or organicfarm@marin.edu for more info on their CSA program or how to get involved at the farm.
The Indian Valley Organic Farm and Garden is located on the Indian Valley Campus at 1800 Ignacio Boulevard. To get there, take Highway 101 to the Ignacio/Bel Marin Keys Boulevard exit and head west on Ignacio Boulevard. Follow Ignacio Boulevard all the way to the end of the road near the campus police station. The farm is a short walk from the parking area near the baseball fields.
You can also reach the farm by hiking or riding through the adjacent Indian Valley Open Space Preserve, which is a great place for a family hike or bike ride.
For more information on the farm and its programs, visit the College of Marin website.
Sign up for tips & news for Marin families!