Back to top
Fine Art Summer Camps in Marin & the Bay Area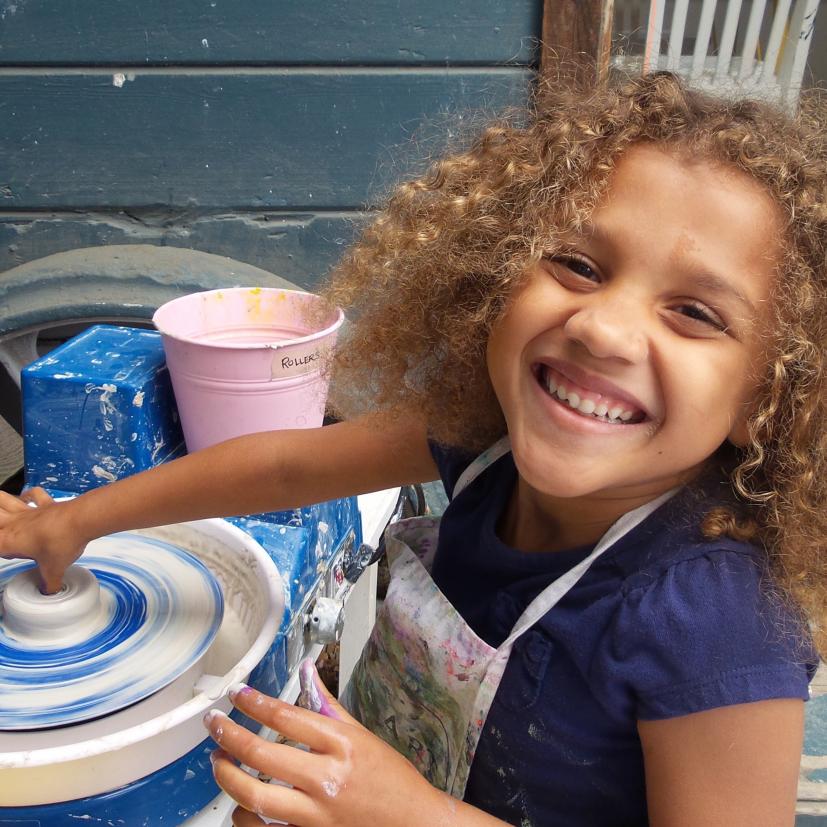 While many summer camps in Marin offer arts and crafts activities in their programs, you'll find a few that specialize specifically in art. Here's a list of specialized fine art camps in Marin and San Francisco for your budding Claude Monet or Georgia O'Keeffe. Some of the camps are actually held by museums! To find more fantastic camps, visit our 2017 Marin Summer Camp Guide. Popular camps can sell out early, so reserve your spot as soon as possible!
Locations: Mill Valley, Novato & San Anselmo
Ages: 4–14
Dates: June 10–August 16
Studio 4 Art's camps take place at their studios in Novato, Mill Valley, and San Anselmo where professional artists introduce campers to new and contemporary art techniques, procedures and processes. Some of the topics taught will be wheel throwing, cartooning, mosaics, sewing, fashion design, sculpture, pottery, acrylic painting, watercolor painting, oil painting, printmaking, photography, and pastels. Camps take place from 9:30 am until 12:30 or 3:30 pm;  drop-ins available depending on space. For more info visit www.studio4art.net or (415) 596-5546.
Location: Corte Madera
Ages: 6–14
Dates: June 17–August 9
Masterworks in Corte Madera offers half-day themed fine art camps for children ages 6 to 14. Camps run from 9:30 am to 1 pm and 2 pm to 5:30 pm, with younger children in morning sessions and older children in the afternoons. Themes include Anime Camp, Contemporary Art Camp, Mosaics Camp, Impressionists Camp, Women Artists Camp, Portrait Camp, Watercolor Camp, and Fashion Illustration Camp. For more info, visit masterworkskidsart.com or call (415) 495-7945.
Ages: 6–12
Location: San Francisco
Dates: June 17–August 9
The de Young's Summer Art Camps are for children entering kindergarten to 5th grade, and are taught by professional artist-teachers. Camps include explorations of works in the museum's galleries as well as visual art activities, and take place in the museum's galleries, classrooms, and around Golden Gate Park. Camps take place from 9 am to 3 pm. An optional Open Studio from 3 to 5:30 pm allows for less structured time in the classrooms. For more info, visit www.deyoungmuseum.org or call (415) 750-3658.
Ages: 8–18
Location: San Francisco
Dates: June 10–August 2
Discover the exciting worlds of art and animation by working in art mediums—drawing, painting, and sculpting—alongside experimenting with animation techniques—pixilation, stop motion, and claymation. Be prepared to rethink and reimagine ideas and designs as you learn what it takes to be an animator. Classes culminates in a gallery-style showcase of artworks with a screening of all final projects for family and friends. Scholarships available. More info: www.waltdisney.org
Ages: 6–12
Location: Berkeley
Dates: June 24–August 23
Sticky Art Lab's summer camps are for kids ages 6 to 12 (campers should be finished with kindergarten upon registering). Camps are taught by artist instructors and include a daily walk to Ohlone Greenway Park after lunch and a presentation and celebration at the end of the week. After care and scholarships available. Camp hours: 9 am to 3:30 pm. More info: www.stickyartlab.com
Sign up for tips & news for Marin families!