Back to top
Get Active Indoors at Jump! Marin in San Rafael
It's no great secret that Marin County doesn't have enough indoor play areas for young children, which is why it's so exciting to see new indoor play spaces like San Rafael's Jump! Marin come on the scene.
Jump! Marin is an indoor playground with nearly 2,000 square feet of fun inflatable activity centers for sliding, bouncing, climbing, and more! It was opened by local parent Nate Deeds at Northgate Mall in November of last year, and it's been such a hit with local families that it's recently expanded its presence in the mall. It's the perfect place to play when it's raining, or too cold or too hot to play outside—or any time, really.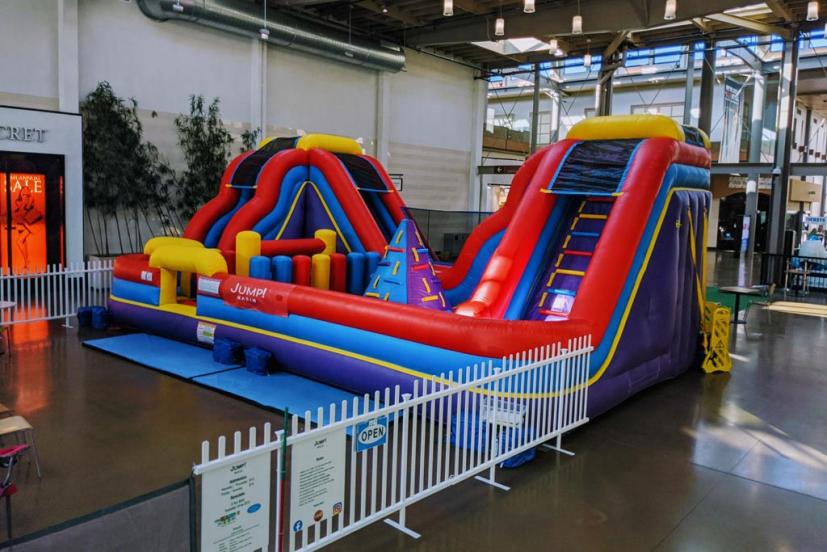 Jump! Marin features two huge inflatable activity centers, and the area is fenced for safety. Parents can relax and socialize while the kiddos have a blast on the inflatables and work off some of that seemingly never-ending energy!
Hours, which can vary depending on school breaks, weather, and holidays.
Toddler Time Hours:
Wedensday: noon–2 pm
Friday: noon–2 pm
General Hours:
Monday: closed (unless it's a holiday or raining)
Tuesday and Thursday: 3–7 pm
Wednesday: 2–7 pm
Friday: 2–9 pm
Saturday: 10 am–9 pm
Sunday: 11 am–6 pm
Admission to Jump! Marin is $10 Tuesday through Thursday and $15 Friday through Sunday. You can get three admissions for $40, too. (Cash, credit cards, Apple Pay, and Android Pay accepted.)
They also offer birthday parties!
Jump! Marin is located in Northgate Mall in San Rafael's Terra Linda area at 5800 Northgate Drive. Needless to say, there's plenty of free parking, and numerous places to grab a bite to eat or a cup of coffee. Restrooms are located nearby Jump! Marin, too.
Sign up for tips & news for Marin families!