Back to top
Hands-on Nature Camps for Kids in Marin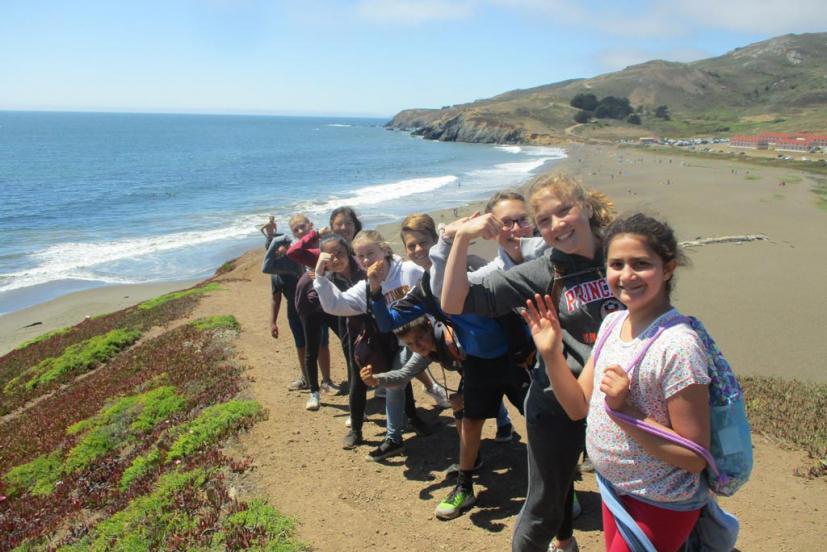 Photo: Coastal Camp in the Marin Headlands, courtesy NatureBridge
Living in Marin, you don't have to look far for a summer camp that takes advantage of some of the amazing natural resources we have right in our own backyard. Parents have several outstanding nature and outdoors oriented summer camps to choose from. Here is a selection of some of our favorite day camps in Marin that have an emphasis on the outdoors and the natural world around us for ages 4 to 18. To find more fantastic summer camps, visit our 2019 Marin Summer Camp Guide.
Audubon Adventure Camp
Location: Richardson Bay Audubon Center, Tiburon
Ages: 4–17
Dates: June 18–August 17
Cost: $320–$425 per week
Audubon Adventures Camp for kids in pre-K–3rd grade includes themes like Water Detectives, Living on the Bay, Shoreline Survivors, and Shark Week. Expedition Camp and On the Fly Camp are for children in grades 4–6, where campers deliver a little deeper into the varied habitats of Marin County and visit environments like the bay, ocean, redwood forest, and more. They also offer Youth Leaders for ages 11–17. Monday-Friday, 9 am–2 pm or 9 am–3 pm; extended hours untiil 5 pm are available for an additional cost. Register here.
Coastal Camp
Location: The Marin Headlands, Sausalito
Grades Entering:  K–9
Dates: June 10–August 16
Cost: $327–$630 per week
Surrounded by stunning coastal landscapes, every day at Coastal Camp is an opportunity for adventure and discovery. Campers engage their curious minds and boundless energy by exploring and investigating the natural world. Monday-Friday, 9:30 am–3:30 pm; optional extended care from 8 am–5:30 pm. Camp cost includes lunch and snacks, a camp T-shirt, and two education staff per trail group). Register here.
Marin GreenPlay Camp
Location: Various locations
Grades: K–12
Dates: July 8–August 9
Cost: $250–$1595 per session
Camp themes include Watershed Warriors, for kids entering grades K–2, and Body Boarding, Marine Biology and Beach Fun Camp, for grades 3–8. This mobile camp picks up kids at Mill Valley Middle School and takes them on adventures at places like Stinson Beach, Green Gulch Farm, and Muir Beach. Monday-Friday, Full-day (9 am–4 pm) and half-day (9 am–1 pm) programs are available, as well as overnight programs. Outdoor Rock Climbing Camp is available for kids in grades 3 to 12. Free extended care from 8–9 am and 4–5 pm. Scholarships are available. Register here.
Point Reyes Summer Camp
Location: Point Reyes National Seashore
Ages: 7–17
Dates: June 24–August 16
Cost: $695–$950 per session
Point Reyes National Seashore Association offers a Nature Science Camp (ages 7–12), featuring activities such as tidepooling, hiking, backpacking, canoeing, wildlife observation, and much more. For teens (ages 12–17) there's an Adventure Camp that includes a 3-or 4-day backpack trip and a reunion feast and campfire finale. Register here.
Slide Ranch Summer Day Camp
Location: Muir Beach
Ages: 5–18
Dates: June 10–August 16
Cost: $100–$475
Slide Ranch Summer Day Camp provides children ages 5 and up a unique opportunity to experience the daily challenges and rewards of a working farm. Slide Ranch campers milk goats, collect eggs from chickens and ducks, card and spin wool, create nature-based crafts, learn to compost, plant seeds, harvest and cook from our organic garden, and explore the tide pools and trails of our beautiful coastal wild lands. There are also three weeks for teenagers ages 14–18 to serve as Junior Camp Counselors, cultivating teaching and leadership skills through helping with camp groups. Monday–Friday, 9 am–2 pm or 9 am–3 pm, with optional extend care to 5 pm. Register here.
Vilda Summer Camp
Location: Fairfax
Ages: 4– 15
Dates: June 10–August 16
Cost: $270–$495
Vilda Summer Camp offers mobile nature summer camps at a variety of outdoor locations in Marin County. Themes include Tides and Tracks, Nature Adventure, Wild Farmers, and Tween Tracking and Backpacking. Camps take place Monday-Friday, 9 am-3 pm (camp times vary). Register here.
WildCare's Wildlife Camp
Location: Wildcare, San Rafael
Grades Entering: K–6
Dates: June 10–August 16
Cost: $170–$360
Wildcare, a unique wildlife rescue resource in San Rafael, offers popular camps named for Elizabeth Terwilliger, a local legend in the field of nature education. Themes include Animal Neighbors, Wild California, Into the Woods, Conservation Camp, Animal Senses and Weird and Wonderful. Monday–Friday, 9 am–noon, or 9 am–3 pm for the older kids.  Full and partial scholarships are available for families in need. Register here.
Sign up for tips & news for Marin families!