Back to top
Hands-on Nature Camps for Kids in Marin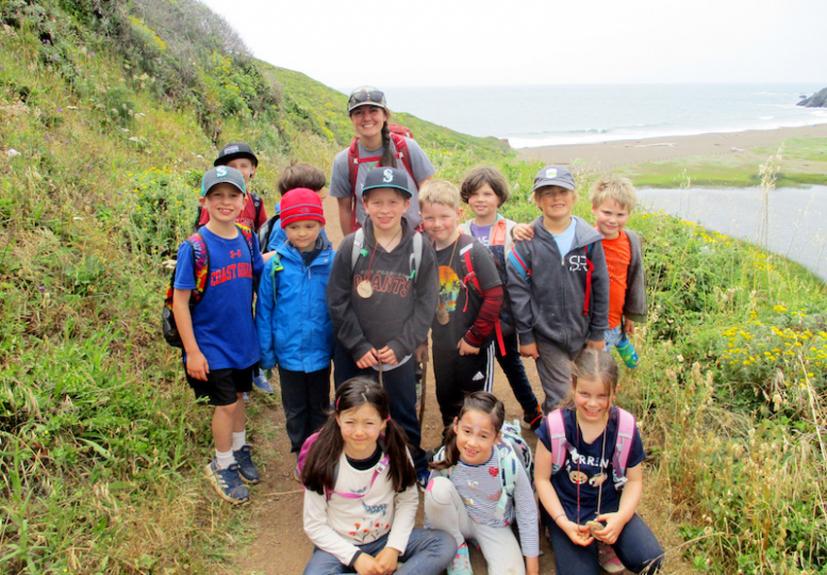 Photo: Coastal Camp in the Marin Headlands, courtesy NatureBridge
Living in Marin, you don't have to look far for a summer camp that takes advantage of some of the amazing natural resources we have right in our own backyard. Parents have several outstanding nature and outdoors oriented summer camps to choose from. Here is a selection of some of our favorite day camps in Marin that have an emphasis on the outdoors and the natural world around us for ages 4 to 18. To find more fantastic summer camps, visit our 2021 Marin Summer Camp Guide.
Coastal Camp
Location: The Marin Headlands, Sausalito
Dates: June 14–August 13
Grades Entering:  K–12
Cost: $1,545–$1,730 per 2-week session
A day at Coastal Camp is a day spent connecting with nature. With the Marin Headlands as our backdrop, campers learn more about the topics they love while exploring the coastal trails and marine setting. Our highly qualified staff engage campers' interests and curiosity with a program that is flexible and adaptive to each group's needs. Register here.
Marin GreenPlay Camp
Location: Various locations
Dates: June 14–August 13
Grades: PK–12
Cost: $300–$1,895 per session
Camps include Watershed Warriors, for kids entering grades K–2, Storyplay for grades 2–5, Digital Natives Camp (grades 3–5), Dog Days of Summer and Coyote Camp (for kids in grades 3–8 and their dogs), and Rock Beyond: Tahoe, an outdoor rock climbing camp for kids in grades 6 to 12. These programs run Monday-Friday, Full-day (9 am–4 pm) and half-day (9 am–1 pm), and overnight programs are also available. Free extended care from 8:30–9 am and 4–5 pm. $25/session discount with code "MARINMOMMIES".  Scholarships are available. Register here.
Point Reyes Summer Camp
Location: Point Reyes National Seashore
Dates: June 21–August 5
Ages: grades 7–12
This summer, due to the ongoing pandemic, Point Reyes Summer Camp will offer a number of small-group backpacking trips for kids in grades 7–12. After meeting at Bear Valley, backpacking groups will spend 4 days and 3 nights hiking and camping in the Point Reyes National Seashore, visiting Coast Camp, Glen Camp, and Wildcat Camp for one night each. Registration opens Wednesday, February 17. More information
Slide Ranch Summer Day Camp
Location: Muir Beach
Dates: June 14–August 20
Ages: 5–18
Cost: $310–$935
Slide Ranch Summer Day Camp provides children ages 5 and up a unique opportunity to experience the daily challenges and rewards of a working farm. Slide Ranch campers milk goats, collect eggs from chickens and ducks, card and spin wool, create nature-based crafts, learn to compost, plant seeds, harvest and cook from our organic garden, and explore the tide pools and trails of our beautiful coastal wild lands. There are also three weeks for teenagers ages 14–18 to serve as Junior Environmental Educators, cultivating teaching and leadership skills through helping with camp groups. Register here
Terra Marin Camps
Location: Mill Valley
Dates: June 14–August 13
Ages: 3–17
Cost: $989–$1,647
Mill Valley's Terra Marin School offers a variety of nature camps this summer, including Earth Discovery for ages 3–13, Nature-Infused Academics for ages 5–12, and Wilderness Survival 101 for teens 14–17. Camp sessions (except for Wilderness Survival 101) are 3 weeks in length, with 14 or fewer campers per session. Outdoor time will be maximized for the health of both campers and staff. Register here.
Vilda Summer Camp
Location: Various locations in Marin
Dates: June 8–August 21
Ages: 4–15
Cost: $290–$500
Vilda Summer Camp offers mobile nature summer pods at a variety of outdoor locations in Marin, Sonoma, and Tahoe. With wilderness skills, nature connection and ecological stewardship wrapped in lots of adventure and play, campers learn about animal tracking, wild edible plants, primitive skills, natural dyes and much, much more. Camps take place Monday-Friday, 9 am–3 pm (camp times vary). Register here.
Sign up for tips & news for Marin families!