Back to top
Mompreneur: WellAway Wellness Retreats for Moms
Marin Mommies presents a "mompreneur" profile of Carly Baum and Maria Rasmussen and their business WellAway Retreats, which organizes boutique wellness retreats for moms in Calistoga, CA. Carly and Maria, sisters-in-law who were both born and raised in Marin and now live in San Francisco, tell us a bit about themselves, their families, and their business.
Please tell us about yourself. What are your backgrounds?
Carly and I are both California native sisters-in-law and next-door neighbors in San Francisco. Between us we have four kids ranging from 10 months to 5 years old.
While born and raised in Marin, I [Maria] have been living abroad in Spain and Denmark for over 10 years. After leaving my corporate career, I studied integrative health at the Institute of Integrative Nutrition and went on to become a National Board-Certified Health and Wellness Coach (NBHWC). Around the same time I fell in love with the concept of wellness retreats for moms, after attending several retreats in Spain. I remember telling Carly back in 2017 that this was a project we needed to pursue together!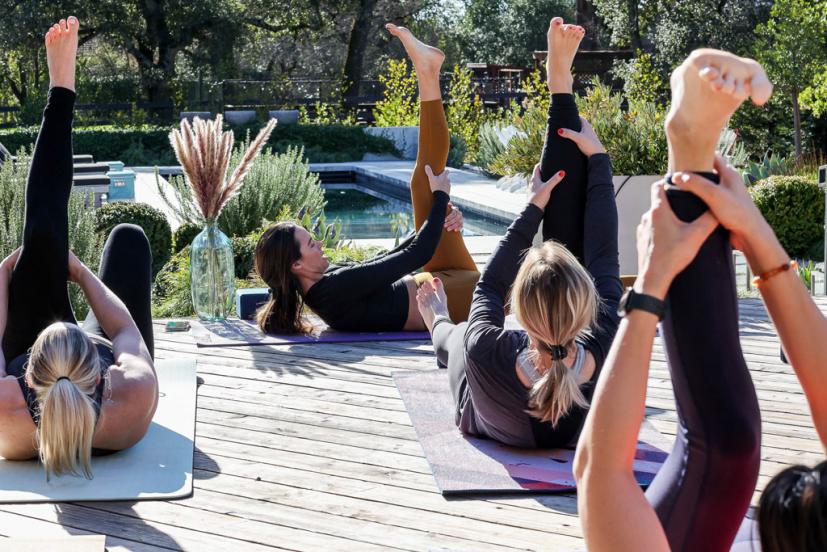 In parallel, Carly was in California looking to change her career after having her first baby from public accounting to something more meaningful and health-conscious. Carly trained to become a birth doula and took on private clients where she fell in love with supporting women through the process of birth and postpartum.
When I moved back home to California from Europe last year, we quickly realized the synergy and passion for starting WellAway Retreats for moms. It was a no brainer, so we got started!
What inspired you to start WellAway Retreats?
We feel like as moms of toddlers it's way too easy to give and give while forgetting to fill back up your own cup. It's a period of your life that is physically and emotionally exhausting and it takes support, resources and focus to prioritize yourself. From our point of view there needs to be more turn-key offerings out there where moms can step away from the daily routine for a few days and solely focus on their health and well-being in the company of like-minded women. We call that being able to "check-out to check-in."
What is your favorite thing about running your business?
Our favorite thing so far is meeting and spending time with all the wonderful mamas who come on our retreats. We love being able to give moms this opportunity to have a meaningful health reset when they really need it. And hey, we need it too! And finally, we just love eating the food at our retreats because it's such a treat to have our own chef … and it's delicious!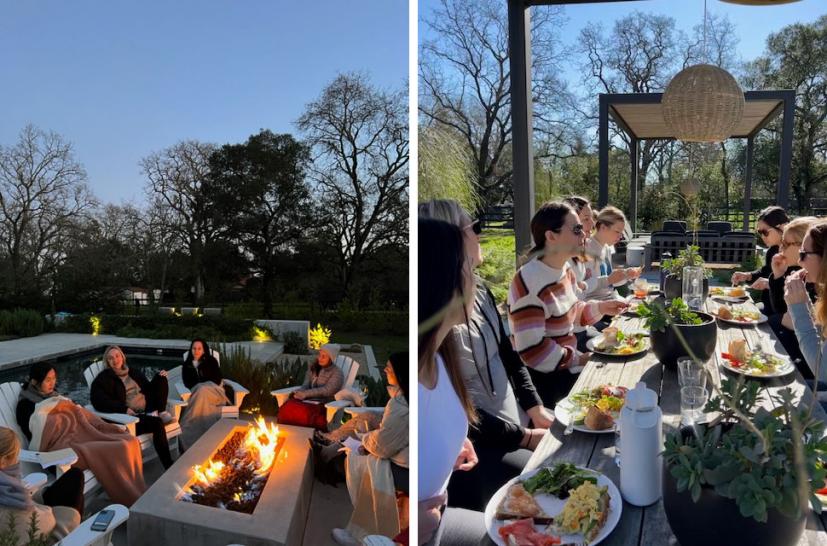 Tell us about WellAway Retreats
When you book a Mom's WellAway with us you receive a pre-departure package and all planning and logistics are taken care of from start to finish. This is completely all about you.
We create a tailored experiences with the purpose of elevating health and well-being in the company of like-minded women. Our retreat itineraries include chef prepared meals, juices, smoothies and snacks, Pilates, yoga and meditation, journaling, spa treatments, fireside chats, and engaging holistic health workshops. Most importantly, our retreats offer moms the chance to come back to their families feeling rejuvenated with new tools and inspiration to implement at home.
Upcoming Retreats
We are currently taking bookings for our next retreat on April 2–5, 2023. The retreat will be held at a luxury wine country style farmhouse nestled in a private valley just minutes from downtown Calistoga. See further details and booking information on our website. Mention Marin Mommies at booking and receive a comped organic manicure on us! Contact us directly if you have any questions at contact@wellawayretreats.com and follow along on Instagram @wellawayretreats
Sign up for tips & news for Marin families!