Back to top
Novato's La Michoacana Serves Up Mexican Style Ice Cream and Fruit Bars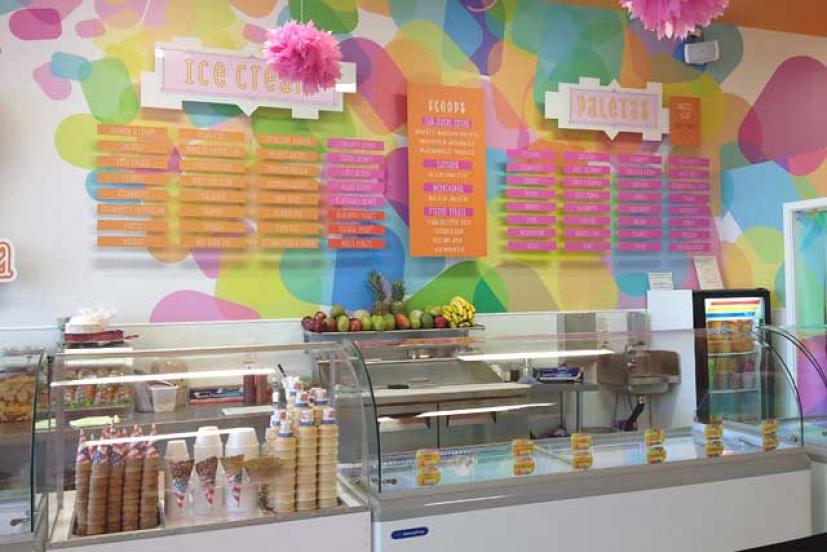 A few weeks ago, my kids noticed that the new La Michoacana ice cream store in Novato was almost ready to open, so we made sure to come check it out on its grand opening weekend around Valentine's Day. Since then, we've been back a few times to this shop selling delicious Mexican-style ice cream, frozen fruit bars (paletas), and other sweet treats. La Michoacana offers plenty of well-crafted ice cream standards, as well as a lot of flavors that you won't find at other ice cream stores, so it's well worth a visit if you're in Novato.
Located on Grant Avenue, downtown Novato's main drag, La Michoacana occupies a brightly colored stylish storefront. The interior is equally bright and cheerful, with a clean, modern feel. There's plenty of seating, and even a kids' area with small-scale tables and chairs for the little ones.
La Michoacana offers so many choices on its menu that it's almost overwhelming. Perhaps the first thing to do is to decide what you want: ice cream or a paleta? Ice cream flavors include familiar offerings like strawberry, pistachio, and cookies and cream, as well as more exotic options like Mexican vanilla, pine nut, mamey (a fruit native to Central America), and piña colada.
Paletas come in a wide variety of flavors, including many of the ice cream offerings as well as non-dairy fruit flavors like blackberry, coconut, watermelon, kiwi, and even spicy cucumber, pineapple, and mango. Paletas are the bargain here at $2 for a plain bar and $3.50 for a chocolate-dipped version. Ice cream scoops start at $2.75 for a single, and you can add on toppings like peanuts or candy sprinkles for 25¢ each.
Other offerings include fruit sorbets, frozen yogurt, sundaes, milkshakes, and even nachos. There's definitely something here for everyone. We've been back a few times to sample the intriguing flavors available, and it's now one of our go-to ice cream shops in Marin.
Everything here is house-made and uses natural fruits and flavors. La Michoacana is owned by Sonoma resident Teresita Fernandez, who comes from a family of frozen-treat makers in Mexico and the US. She has another La Michoacana store in Sonoma (at 18495 Highway 12), which she opened in 2009.
You'll find La Michoacana in downtown Novato at 1219 Grant Avenue (at 2nd Street). It's open daily from 11 am to 10 pm. For more information, call them at (415) 308-3044 or visit www.lamich-icecream.com or their Facebook page.
Sign up for tips & news for Marin families!