Back to top
The SF-Marin Food Bank Expands in Marin County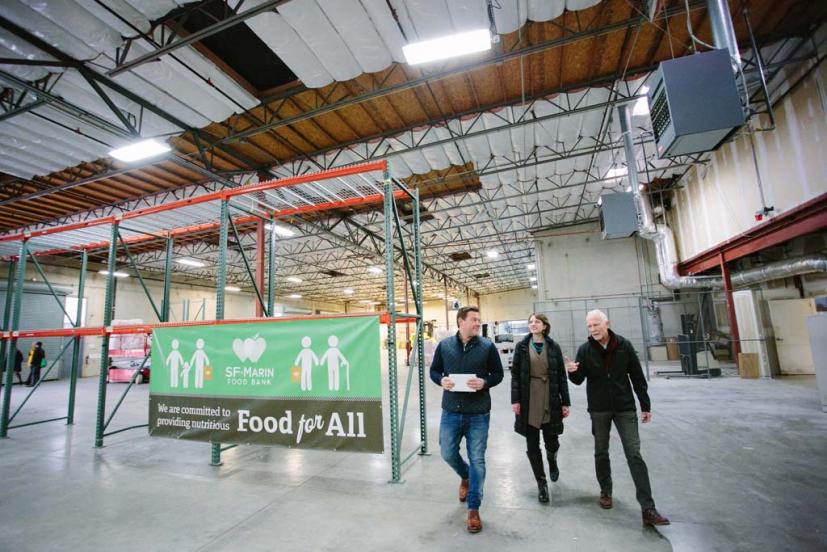 The SF-Marin Food Bank, the great organization that helps feed local families in need, is expanding their operations in Marin with the acquisition of a new warehouse in San Rafael!
The 38,000 square foot building, located at 2550 Kerner Boulevard, contains both warehouse and office space, and is approximately three times larger than their current Novato facility. The Food Bank completed the property purchase in early January, and will move staff and operations into the new facility at the end of this month. Local celebrity chef Tyler Florence even stopped by to take a look at the new space (pictured above).
Their work distributing food to Marin pantries and partners will continue uninterrupted during the move, but volunteer shifts in Marin have been temporarily suspended as the new building undergoes some construction to create optimal workspace.
The Food Bank plans to make improvements to the Marin property over the next several months. In addition, they are planning a Capital Campaign to raise funds for the expansion of their facilities and operations in both San Francisco and Marin.
The last time the Food Bank expanded was when the San Francisco Food Bank merged with the Marin Community Food Bank in 2011. In spite of the phenomenal growth and success that the Food Bank has achieved since then, there still remains a substantial unmet need in Marin. The latest data from the Food Bank's Missing Meals report shows that Marin residents missed out on approximately 9 million meals in 2015, a significant meal gap that persists even with the food provided by government programs and nonprofits like the SF-Marin Food Bank.
Want to help the SF-Marin Food Bank in their mission to help feed local families? Learn more here.
Sign up for tips & news for Marin families!