Back to top
2017 Best Books for Kids from the American Library Association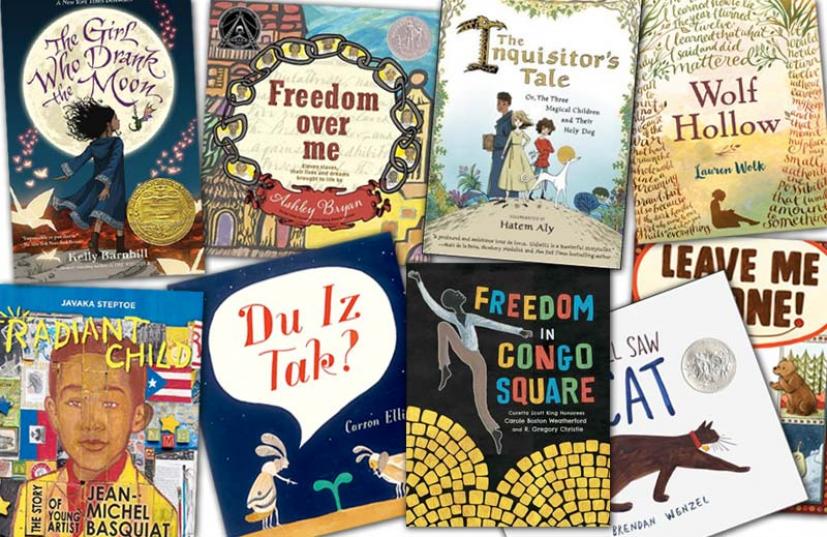 It's awards season: we've seen the Grammys and the Golden Globes and the Oscars take place tonight in Hollywood. But did you know it was awards season for kids' books, too? The American Library Association (ALA) announced the winners of its annual youth media awards for 2017, including the prestigious Newbery and Caldecott medals for children's books.
Since 1922, the John Newbery Medal has been awarded to the author of the most distinguished American children's book by the Association for Library Service for Children (ALSC), a division of the ALA. This year, the Newbury Medal goes to The Girl Who Drank the Moon, by Kelly Barnhill, published by Algonquin Young Readers. The Girl Who Drank the Moon is a coming-of-age fairy tale that tells the story of Luna, a young girl raised by a witch, a swamp monster, and a tiny dragon. When the people of the Protectorate endanger the Xan, the kind, gentle, and unfortunately misunderstood witch who lives in the forest, it's up to Luna to save her. Find it at a local Marin library here.
The 2017 runner-up Newbery Honor Books include Freedom over Me: Eleven Slaves, Their Lives and Dreams Brought to Life, written and illustrated by Ashley Bryan; The Inquisitor's Tale: Or, The Three Magical Children and Their Holy Dog, by Adam Gidwitz, illustrated by Hatem Aly; and Wolf Hollow, by Lauren Wolk.
The ALSC began awarding the Caldecott Medial, named after 19th-century British illustrator Randolph Caldecott, to the artist of the most distinguished children's picture book in 1938. This year's medal winner is Radiant Child: The Story of Young Artist Jean-Michel Basquiat, illustrated and written by Javaka Steptoe, published by Little, Brown and Company. Radiant Child introduces young readers to the life and work of Jean-Michel Basquiat, who found fame in the 1980s with his unique collage-style paintings. Find it at the library.
The runner-up Caledecott Honor Books for this year are Leave Me Alone, illustrated and written by Vera Brosgol; Freedom in Congo Square, illustrated by R. Gregory Christie and written by Carole Boston; Du Iz Tak?, illustrated and written by Carson Ellis; and They All Saw a Cat, illustrated and written by Brendan Wenzel.
Find our more about the ALSC 2017 youth media awards and see a complete list of winners at www.ala.org/alsc.
Today's Events
Wednesday, February 21, 2018