Back to top
23 Elephants' "Mamma Mia!" Shines at the San Anselmo Playhouse
Escape this weekend's rainy weather with a trip to the Greek islands courtesy of 23 Elephants Theater Company and their fantastic production of Mamma Mia! at the Playhouse in San Anselmo. Infused with the sunny spirit of the Mediterranean and the energetic music of '70s Swedish supergroup ABBA, the show is performed by an extremely talented group of local Marin youth. This is the third 23 Elephants production we've seen, and they just keep getting better and better!
The show opened this past Friday, but you still have plenty of chances to see this fantastic show at the Playhouse in San Anselmo, with additional performances tomorrow, Sunday, May 19 at 2 pm and next weekend, May 24, 25, and 26.
Standout performers included Ellie Bednarz as Donna, Gemma Strauss as Sophie, Eden Roberts as Rosie, Olivia Hoover as Tanya, Joshua Martinez as Sam, Matthew Peterson as Bill, and Landers Markwick as Harry. The whole cast really gave the whole production a lot of energy, with spirited dancing and singing during the many musical numbers.
The Playhouse in San Anselmo is an intimate jewel-box venue that puts everyone close to the stage and into the action—there are no bad seats. We were there during a special "sensory-friendly" performance, developed in cooperation with the Dominican University of California in San Rafael. These performances feature special adjustments including house lights on at a low level, the inclusion of a "chill-out" area, technology-friendly and movement-friendly seating zones, and smaller audience size.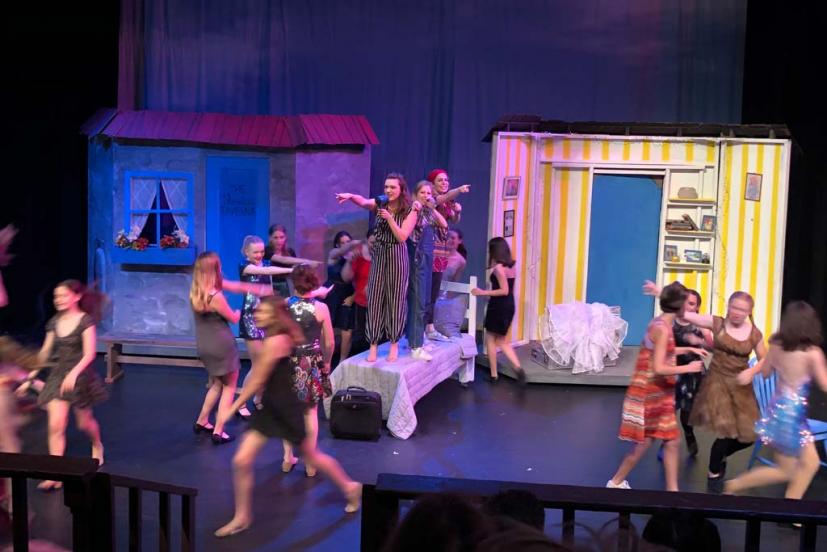 23 Elephants' production of Mamma Mia! is directed and choreographed by Bidalia E. Albanese, with music direction by Daniel Savio. 23 Elephants is a new company formed by Steven Hess and Bidalia E. Albanese that is committed to offering high quality theatre education that is awesome and engaging, featuring instruction from professional Bay Area performers and teaching artists who have a passion for sharing their experience and love of the arts.
If You Go
Performances take place this Sunday at 2 pm, Friday, May 24 at 7:30 pm, Saturday, May 25 at 2 and 7:30 pm, and Sunday, May 26 at 2 pm. Tickets cost $15 general admission and $28 reserved seating. For more information and tickets visit www.23elephants.org or call 1-800-838-3006. The Playhouse in San Anselmo is located at 47 Kensington Road, San Anselmo 94960.
Sign up for tips & news for Marin families!