Back to top
Aquariums in the Bay Area and Northern California
Coral reef at the Steinhart Aquarium at the California Academy of Sciences in San Francisco
Kids love aquariums, where you can get up-close with fish and marine animals of all types and learn about aquatic ecosystems in California and beyond. Families in the San Francisco Bay Area and Northern California have a wide range of destinations to choose from.
The Steinhart Aquarium at the California Academy of Sciences, San Francisco
The Cal Academy's Steinhart Aquarium has been a favorite of Bay Area families since 1923 and is home to almost 40,000 aquatic animals, representing more than 900 unique species. Check out the amazing Philippine Coral Reef exhibit, the swamp (home to Claude the albino alligator), the spectacular Osher Rain Forest, and the Twighlight Zone, which explores the deep reaches of the world's coral reefs. You can also visit with African penguins, get hands-on in the Discovery Tidepool, and more. Location: 55 Music Concourse Drive, Golden Gate Park, San Francisco 94118. calacademy.org
 
Monterey Bay Aquarium, Monterey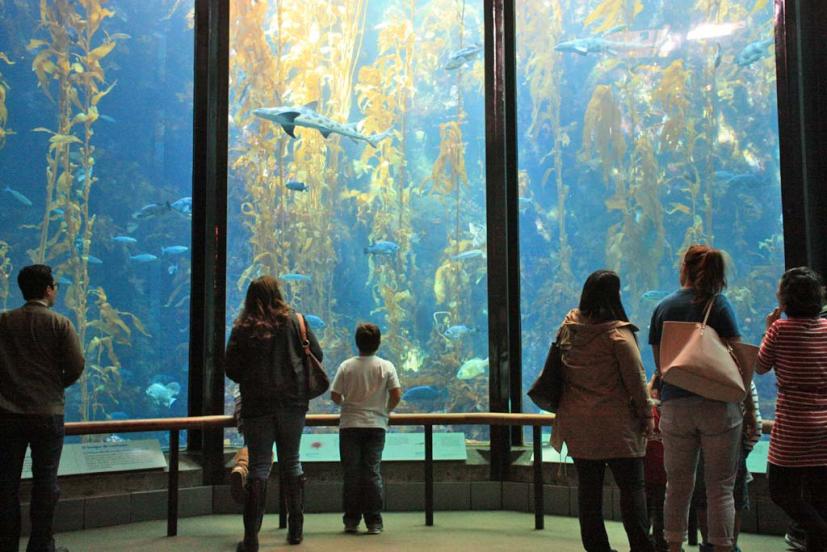 The Monterey Bay Aquarium is widely considered to be one of the best in the world, and its exhibits reflect the aquarium's mission to research and educate the public about the biodiversity of Monterey Bay and the California coast. Favorites features include the 28-foot-high Kelp Forest exhibit, with its sleek leopard sharks, anchovies, and other fish; the playful and cute sea otters; and the spectacular Open Sea exhibit—the aquarium's largest with an amazing 1.2 million-gallon tank—that features denizens of the deeper waters of outer Monterey Bay, including giant bluefin tuna, huge schools of anchovies, sea turtles, hammerhead sharks, and more. Read about our visit. Advance online tickets required; in-person tickets not available. Location: 886 Cannery Row, Monterey 93940. montereybayaquarium.org
Aquarium of the Bay, San Francisco
Located on San Francisco's waterfront at Pier 39, Aquarium of the Bay offers visitors a unique underwater experience. Compared to other nearby aquariums it's a pretty compact affair, but it packs a lot into its relatively small space, and there's a lot for families to see and do. The highlight of Aquarium of the Bay is the Under the Bay exhibit where you walk through two acrylic tunnels where sea creatures swim past you and over you. It has to be the next best thing to scuba diving under the Bay! Read about our visit. Location: Pier 39, Embarcadero and Beach Street, San Francisco 94133. www.aquariumofthebay.org
UC Davis Bodega Marine Laboratory, Bodega Bay
UC Davis' Bodega Marine Laboratory in Bodega Bay is open to visitors on most Fridays from 2 to 4 pm. Exhibits include a small kelp forest and aquarium tanks housing numerous species of fish and invertebrates from Bodega Bay and the California coast as well as some unique marine creatures. There's a tidepool exhibit, too. Tours are available for groups of fewer than 10 visitors. They hold an annual "Meet the Scientists" open houses, too. Visiting hours and tours are currently suspended. Location: 2099 Westshore Drive, Bodega Bay 94923. bml.ucdavis.edu
 
Seymour Marine Discovery Center, Santa Cruz
Seymour Marine Center, Santa Cruz. Wikimedia Commons/Go Card USA, CC BY-SA 2.0
UC Santa Cruz's community-supported marine science center is sited dramatically on the bluffs overlooking Monterey Bay. Touch sea stars, sea urchins, hermit crabs, and sea anemones in the invertebrate pool, and get hands-on with a friendly swell shark in the shark pool. Other aquariium denizens include rockfish, eels, decorator crabs, and jellies. Don't miss Ms. Blue, the center's enourmous, 87-foot blue whale skeleton (which is pretty hard to miss). Seymour Marine Discovery Center is open on Tuesday–Sunday, 10 am–4 pm. Location: 100 McAllister Way, Santa Cruz 95060. seymourcenter.ucsc.edu
Sign up for tips & news for Marin families!