Back to top
Family Road Trip to the Monterey Bay Aquarium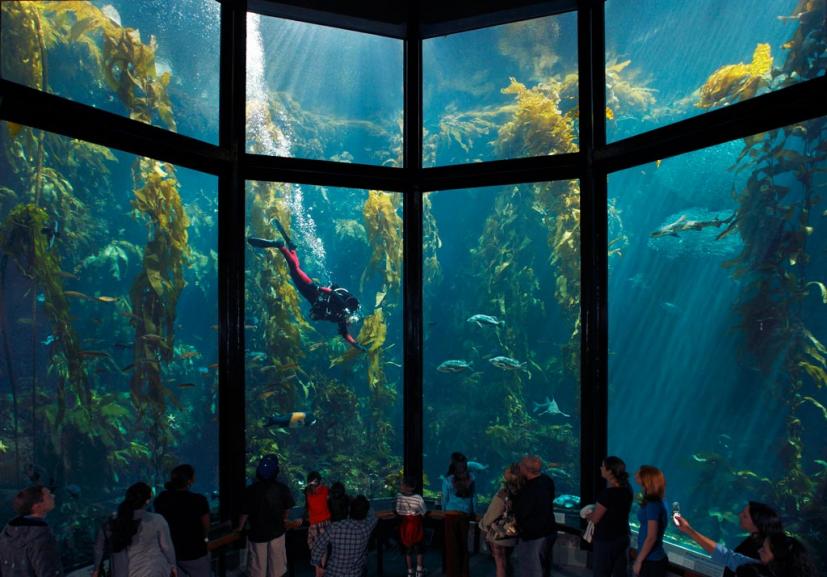 Photo: Monterey Bay Aquarium
One of our favorite family getaways is a visit to the Monterey Peninsula and the famous Monterey Bay Aquarium. It's about a three-hour drive from Marin, making it possible as a day trip, but even better as an overnighter or long weekend with the family. Winter may even be the best time to visit, since you can avoid the coastal fog that blankets the area in the summer and the tourist season crowds have subsided a bit.
The Monterey Bay Aquarium is widely considered to be one of the best in the world, and we're willing to bet that it is. The exhibits reflect the aquarium's mission to research and educate the public about the biodiversity of Monterey Bay and the California coast, and they're fascinating.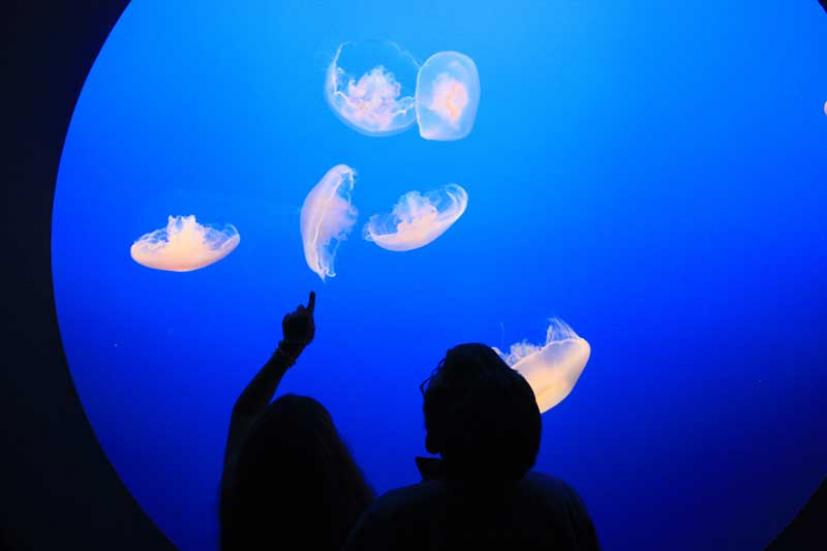 Our favorites exhibits include the 28-foot-high Kelp Forest exhibit, with its sleek leopard sharks, anchovies, and other fish; the playful and cute sea otters; and the spectacular Open Sea exhibit—the aquarium's largest with an amazing 1.2 million-gallon tank—that features denizens of the deeper waters of outer Monterey Bay, including giant bluefin tuna, huge schools of anchovies, sea turtles, hammerhead sharks, and more.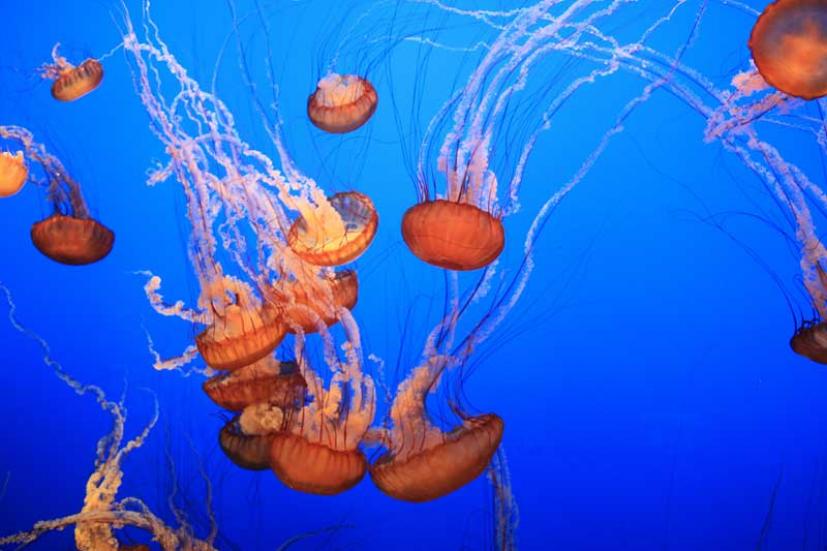 The Open Sea exhibit is one of those things that truly has to be seen to be believed. After viewing graceful and colorful jellies in beautifully lit tanks, you enter a cavernous dark room where giant sea creatures swim by behind a 54-foot-long and 15-foot-high window. To see several hammerhead sharks and 300+ pound bluefin tuna swim past at eye level is truly amazing. It's a place where you can sit for hours and observe, and there are seats and even a balcony where you can do just that.

Photo: Monterey Bay Aquarium
Families won't want to miss the Splash Zone, an educational area on the second level of the Aquarium that features 45 bilingual hands-on exhibits for children of all ages. Check out the Enchanted Kelp Forest exhibit, with its interactive games and cool touching pools, and the Coral Reef Kingdom, which features tropical fish, seahorses, cuttlefish, and eels. Other Splash Zone features include a water play area (with waterproof aprons supplied), a special zone for babies and toddlers, and of course the aquarium's famous African black-footed penguins.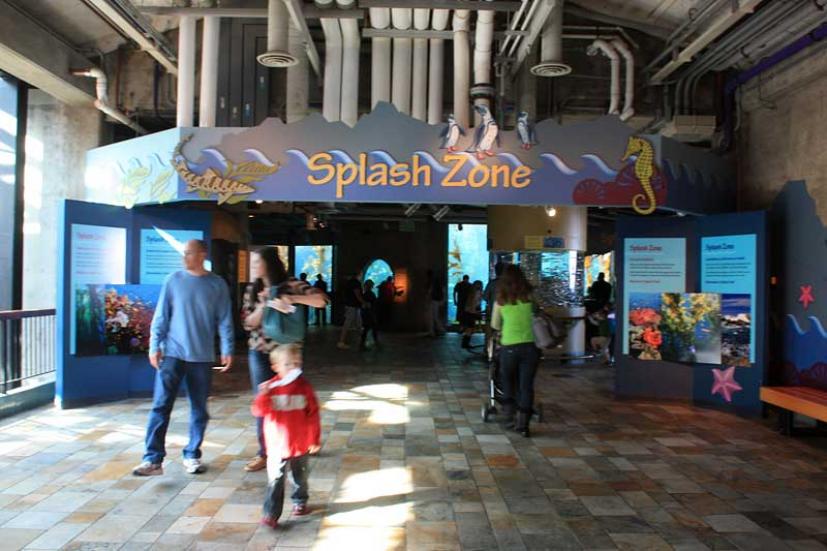 The aquarium's special exhibitions are always really well designed and fascinating, and the ones on view right now don't disappointed. We really love "Tentacles," where you can explore the world of cephalopods: octupuses, squid, and cuttlefish. With neat interactive exhibits and some amazing creatures on display, including Giant Pacific octopuses, Pharaoh cuttlefish, and chambered nautiluses, you can practically spend the whole day in there.
Also on view now is "¡Viva Baja! Life on the Edge" which gives visitors an up-close-and-personal look the land and sea creatures that inhabit the rugged Baja California Peninsula, where the desert meets the Pacific Ocean. Expect to see moray eels, desert tortoises, snakes, colorful fish like the Cortez rainbow wrasse and the bluespotted jawfish, and the Pacific seahorse—the only seahorse that lives off the California coast.
Of course you don't want to miss the sea otters, and make sure you take a moment to head out onto the deck to relax and take in the sweeping views of Monterey Bay. The aquarium has telescopes placed at intervals along the deck railing, many at kid-height, which are perfect for scanning the Bay and looking for wildlife.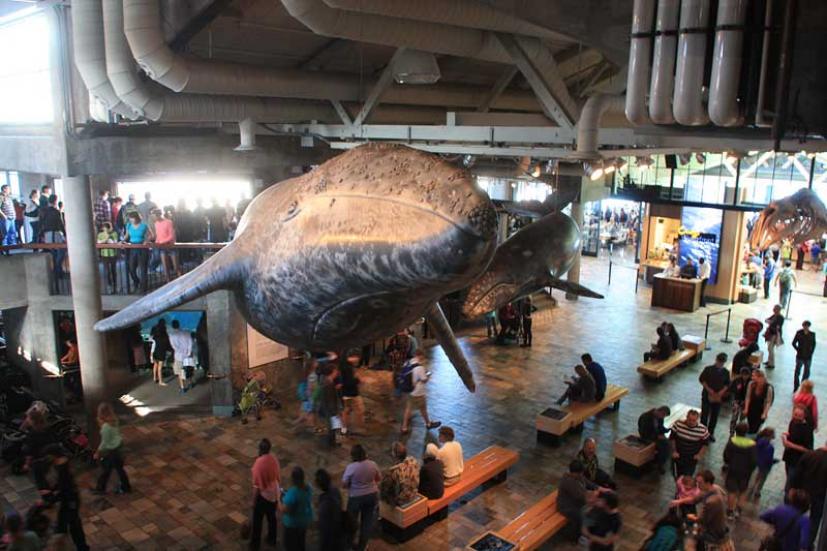 Visiting Tips for Families
The Monterey Bay Aquarium can get extremely crowded and busy, especially on weekends, holidays, and during the summer when the crowds of tourists from Cannery Row seem to just pour in. With admission at a relatively steep $49.95 for adults, $29.95 for children 3–12, and $39.95 for students ages 13–17 or with a valid college ID, it's not an inexpensive outing by any stretch of the imagination, and if at all possible you'll want to go when you can spend some quality time there.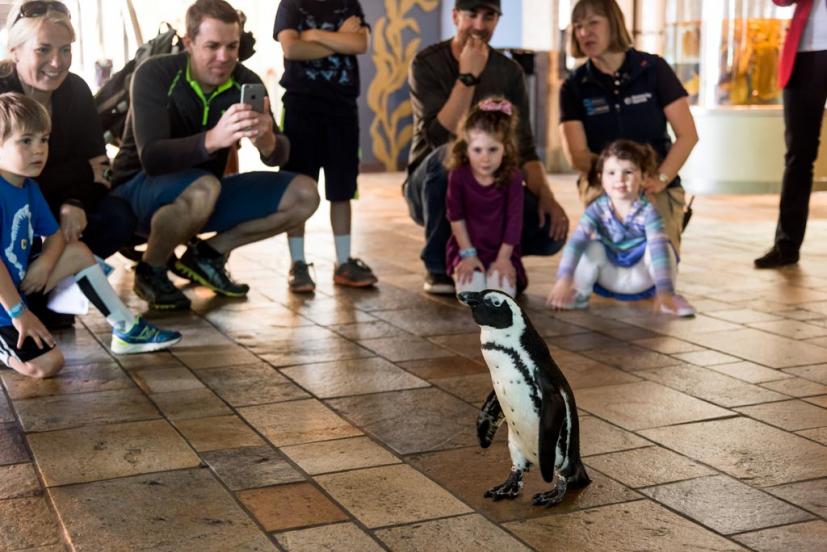 Photo: Monterey Bay Aquarium
We've found that visiting during the off season makes things much more manageable and enjoyable, especially if you go during the week. It's busy, but it doesn't have the crushing crowds that it does during the summer. A good strategy is to get there when it opens at 9:30 or 10 am; things start to change by about 11 when the crowds really start showing up. The aquarium notes that crowds tend to decrease after 2 pm, too.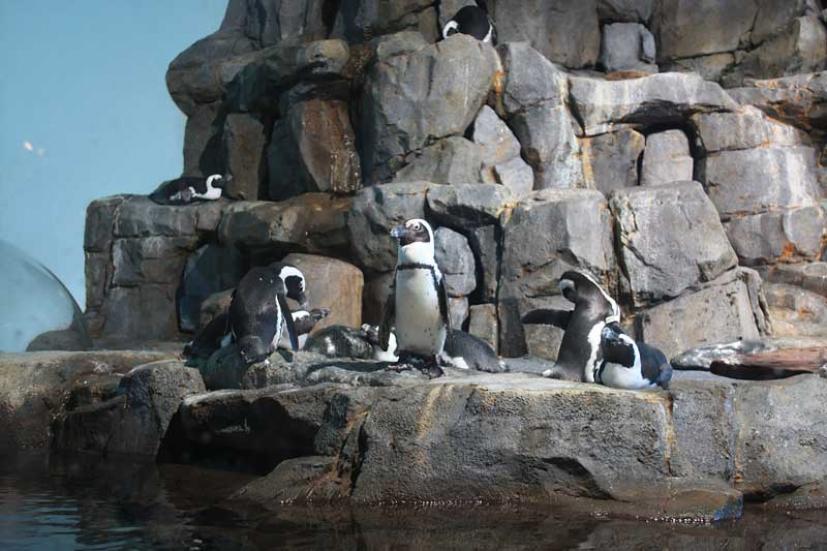 There are gift shops located all around the aquarium, including a strategically placed children's shop located right near the restrooms and restaurants. You can't avoid it, so you might as well resign yourself to buying something while you're there. It's inevitable. Fortunately, they have a wide range of really nice reasonably priced souvenirs and toys, so you're sure to find something you like to remember your visit by.
Staying in Monterey Bay
Six hours in the car is a long time by anyone's standards, so we like to stay over in the area and make a family getaway of it. As a major California tourist hot spot, Monterey boasts plenty of great hotels. When staying in Monterey, we avoid the bustle of Cannery Row and stay at the Portola Hotel & Spa downtown.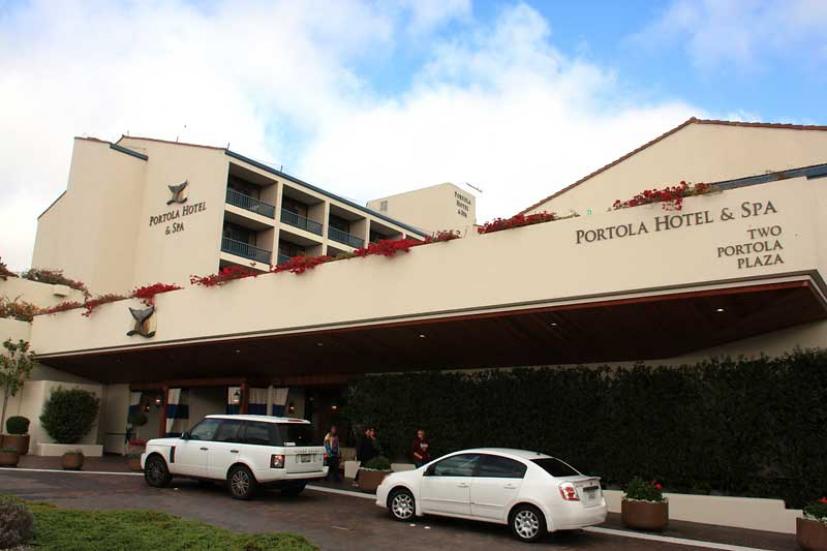 The Portola Hotel is centrally located and just steps away from Custom House Plaza, Monterey State Historic Park, and Fisherman's Wharf. This family- and pet-friendly hotel is an ideal spot to stay, and it even has a Portola Pirates program for visiting children. On their first visit, kids get a souvenir Portola Pirate goodie bag, and they can take part in a treasure hunt around the hotel grounds and earn prizes.
On subsequent visits they can earn different benefits like free admission to My Museum in Monterey, T-shirts, and even a Pirate Party in your room. My kids also loved the fact that we were all given really yummy warm oatmeal chocolate chip cookies at check-in, too!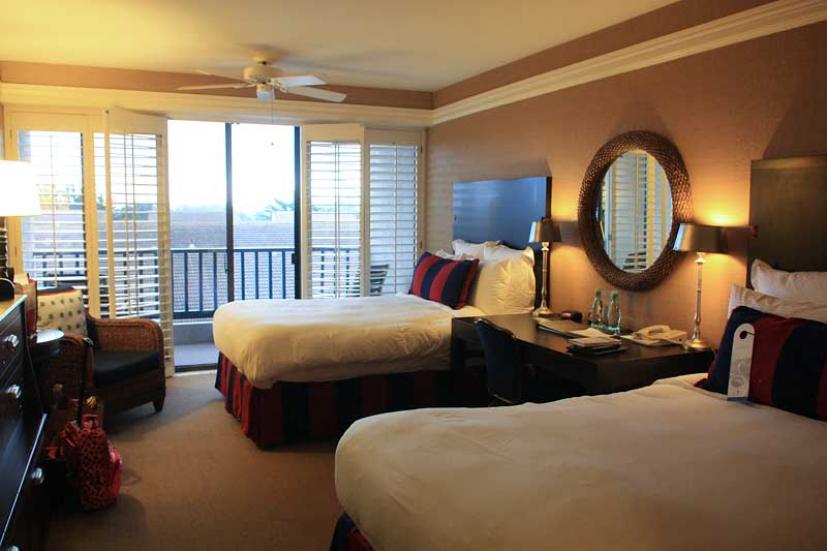 Rooms are spacious and comfy and have a nautical flair, as well as Keurig coffeemakers, mini refrigerators, and big flat-screen TVs. One thing we noted is that rooms at the Portola don't have air conditioning, but then Monterey rarely gets very warm, so the ceiling fan can make things perfectly comfy. On-site restaurent Peter B's brew pub has good food and even better house-brewed beer. Kids 12 and under can order off the special Pirates Kids Menu, which offers the usual kids' menu fare, both here and at the hotel's fancier Jacks restaurant.
With wonderful service and amenities, a great location, and reasonable prices, we highly recommend the Portola for families visiting the Monterey Bay Area. Learn more about the Portola Hotel & Spa on their website: www.portolahotel.com.
We also like to stay in neighboring Pacific Grove (or "PG," if you're a local). PG is just a stone's throw from Monterey and the Monterey Bay Aquarium, but it feels a world away from touristy Cannery Row. A fantastic option for a family stay in PG is Asilomar State Beach and Conference Grounds. This historic conference center, founded in 1913, features beautiful craftsman architecture by Julia Morgan, a fun and inviting recreation room, on-site dining, and affordable prices. It also offers easy access to spectacular Asilomar State Beach.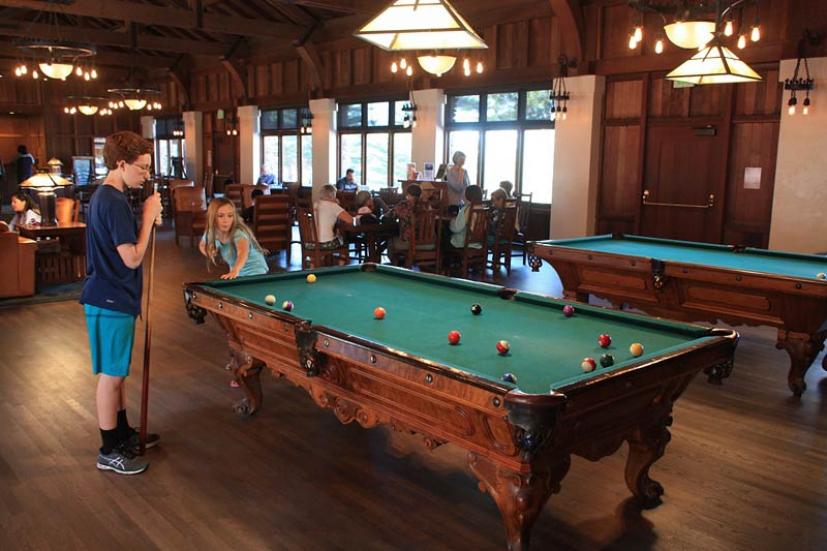 Make sure you book their Family Fun Package, which included a room for four, breakfast in the dining hall, s'mores at the firepit, and even two adventure kits for the kids. Read about our stay at Asilomar here. Asilomar State Beach and Conference Grounds are located at 800 Asilomar Avenue in Pacific Grove. Learn more and reserve your room at www.visitasilomar.com.
Pacific Grove has no shortage of places for families to stay. Find more lodging ideas in our article about visiting PG.
 If You Go
The Monterey Bay Aquarium is located at 886 Cannery Row in Monterey, about 130 miles south of Marin County. It's open daily from 10 am to 5 pm; hours can vary on weekends and holidays depending on the season. The aquarium is closed on Christmas Day.
Admission is $49.95 for adults, $29.95 for children 3–12, and $39.95 for students 13–17, college students with ID, and seniors 65+. If you're planning to visit more than once a year, a membership at $250 is not a bad good deal, admitting 2 adults and children or grandchildren an unlimited number of times. Bypass the lines and buy advance tickets online here, or become a member.
We generally get to Monterey by taking I-280 to San Jose, then taking 101 south to Prunedale, where you cross over to Highway 1 via Route 156. Follow Highway 1 south to exit 402B for Del Monte Avenue. Follow Del Monte into Monterey, then through the tunnels onto Lighthouse Avenue. Take Lighthouse to David Avenue. Turn right on David and park in the paid lot located on David between Foam and Wave Streets. Parking there is a flat rate of $15 for the day; less expensive lots (usually $1.50 per hour) can be found around Cannery Row but you'll have to walk further to get to the aquarium. Street parking in the area is difficult and the paid lots are conveniently close to the aquarium.
For more information visit www.montereybayaquarium.org, or call (831) 648-4800.
Sign up for tips & news for Marin families!