Back to top
Some of Our Favorite Family Holiday Movies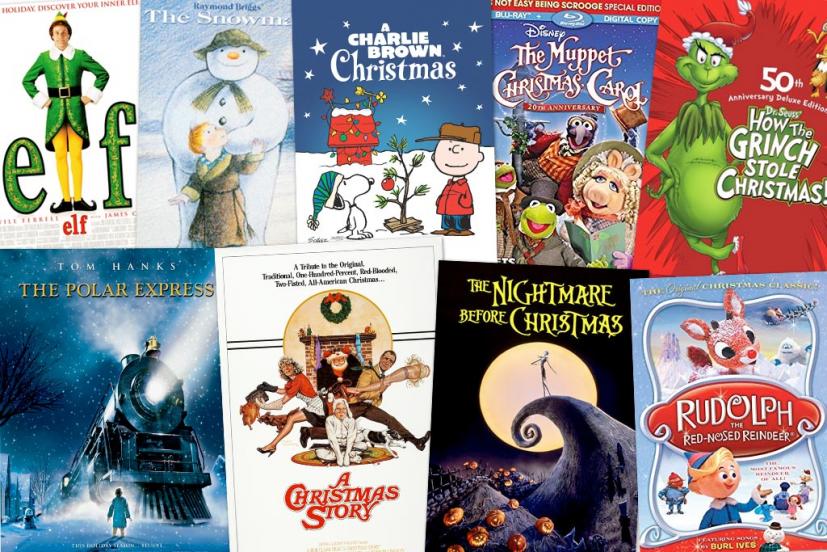 During the holidays, we're inundated with Christmas-themed movies and TV specials of all different kinds. But what's really worth spending your time watching? Being something of a family of movie buffs, we decided to put together our list of favorite holiday movies and specials, so here are seven seasonal offerings that we think are worth repeat watching each December. You can find all of these films on DVD or Blu-ray at the Marin County Free Library.
Based on the picture book of the same name by Raymond Briggs, The Snowman is short 27-minute animated film that tells the story of a young boy who builds a snowman on Christmas Eve, only to find that it comes to life later on that night and takes him on a magical journey to the North Pole.
There's no dialogue to speak of, except for some introductory narration by the late David Bowie (yes, David Bowie). The Snowman, with its musical interlude featuring the haunting song Walking in the Air, beautiful animation, and messages of friendship and loss, is a true classic. Your kids will love it, and I challenge any parent not to get choked up by the end. The Snowman is currently streaming on Prime Video.
A Charlie Brown Christmas, which celebrates its 50th anniversary this year, isn't exactly a hidden gem, but nothing transports me back to my childhood like a Peanuts special. This was the first Peanuts TV show produced, and it definitely set the standard for all other Christmas specials to come. It's also got a strong local connection, with cartoonist Charles Schulz, executive producer Lee Mendelson, and soundtrack composer and performer (and West Coast cool jazz legend) Vince Guaraldi all having strong ties to the San Francisco Bay Area.
A Charlie Brown Christmas is both funny and profound and definitely stands the test of time. It will be stream this season on Apple TV+ and will be broadcast on PBS stations on December 13, 2020.
It's an extra-special show for my kids, since we like to go ice skating up at Snoopy's Home Ice in Santa Rosa over Christmas break, and they love to experience the Peanuts characters and memorabilia first-hand. 
There are so many movie versions of Charles Dickens' novella A Christmas Carol that it can make your head spin, but this 1992 Disney production is probably the one that's going to hold your kids' attention. It's also surprisingly faithful to the source material, and grownups will like watching it, too.
The Muppet Christmas Carol features old standby Michael Caine as crabby, Christmas-hating miser Ebenezer Scrooge and the familiar Muppets characters taking on the roles of most of the other characters—Kermit the Frog and Miss Piggy as the Cratchits, for example.
There's plenty of humor and music, and it's a great way to introduce kids to this classic holiday tale. It's really one of the best Muppet movies, and even one of the better adaptations of A Christmas Carol out there, so it's really worth checking out this holiday season. It streams on Disney+.
Don't bother with the over-long live-action Jim Carrey version or the new computer animated edition, but head straight to the classic animated short from 1966. How the Grinch Stole Christmas is possibly even better in film form than it is in Dr. Seuss' original 1957 book, although that doesn't stop us from reading it aloud several times each December.
This timeless short features everyone's favorite anti-Santa who tries to ruin Christmas but learns an important lesson instead. Of course it helps that it features narration by monster-movie great Boris Karloff and a signature song, "You're a Mean One, Mr. Grinch," performed by Thurl Ravenscroft, who also lent his basso profondo voice to Tony the Tiger and a number of Disneyland attractions, including the Haunted Mansion, the Pirates of the Carribean, and the Enchanted Tiki Room.
I've decided that Elf, the 2003 Will Ferrell Christmas vehicle, is indeed a modern holiday classic. Normally, Ferrell's overgrown man/boy schtick grows a little tiresome, but in Elf he's perfectly cast as the title character, a human raised by elves in Santa's Workshop. Ferrell's naïve Buddy gets turned loose in New York City and much hilarity ensues.
While Elf has its share of silly juvenile humor, as to be expected, it's really a surprisingly sweet film and it's something the whole family can watch. My daughter especially liked the scenes where Buddy prepared elf food, which consisted mostly of tooth-achingly sweet sugary stuff, although I suspect that she thinks it's actually a good idea.
This computer-animated adaptation of Chris Van Allsburg's classic picture book takes a simple story and makes it into a huge holiday extravaganza. It still manages to maintain much of the book's charm, though, and the arrival at the North Pole is always exciting to see. My kids love to watch The Polar Express every holiday season, and I even catch them viewing the DVD during the summer!
The movie uses motion-capture technology to capture the movement of real actors. See if you can figure out how many role are played by Tom Hanks, who also served as an executive producer.
The first of the Rankin-Bass stop-motion animation Christmas specials, Rudolph the Red-Nosed Reindeer is also the best, in our opinion. With catchy classic holiday songs by Johnny Marks, and the late great Burl Ives playing narrator Sam the Snowman, this 1964 production is still a perrenial family favorite over half a century later.
Rudolph depicts everything mentioned in the classic song, and throws in an abominable snowman, the Island of Misfit Toys, and Hermie the elf who wants to be a dentist for good measure. The kids will love the animation and the story, and you—as with Grinch and A Charlie Brown Christmas—will love the chance to revisit an old friend.
Chronicling a young boy's quest to get a Daisy Red Ryder BB gun ("You'll shoot your eye out!" for Christmas, this nostalgic look at the holidays in the Midwest keeps everyone entertained during. A Christmas Story is laugh-out-loud funny and, although it takes place in the 1940s, most kids can empathise with the trials and tribulations of Ralphie, the protagonist.
What's nice about the whole movie is it's made from a child's point of view, and really has a sense of the magic and wonder of Christmas. We love Darren McGavin's over-the-top peformance as the gruff but loving dad who wins a "major award" in a contest (enough said).
Tim Burton's delightfully twisted tale mashes up both Christmas and Halloween. Jack Skellington, mayor of Halloweentown, takes over from Santa Claus with the help of various creepy characters, with disastrous results.
Created using old-school stop-motion animation (no computer graphics here!), The Nightmare Before Christmas might be a little dark for younger kids, but it's long been a hit in our home. Bonus: you can watch it at both Christmas and Halloween!
Sign up for tips & news for Marin families!