Back to top
Mother's Day Adventures in Marin and Beyond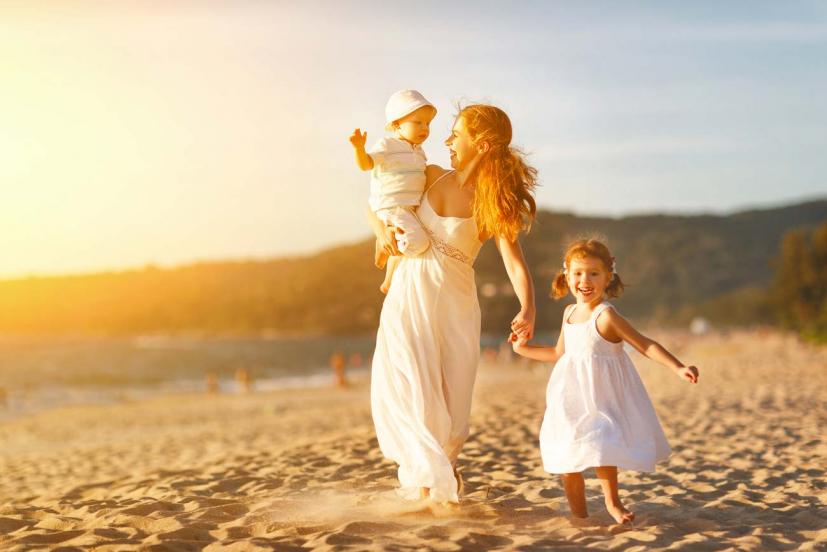 A leisurely Sunday brunch is a Mother's Day tradition for many, and you can find plenty of family-friendly options in Marin here. If your family is the more adventurous type, however, why not check out some of these fun alternatives in Marin, the San Francisco Bay Area, and beyond. From wineries to museums to hikes to BBQ's, and picnics on the beach, there's plenty of fun to be had by all! Mother's Day is on Sunday, May 12, 2019.
Have Fun at a Marin County Beach
Plan a picnic and a day at the beach for Mother's Day! In Marin you'll find a variety of beaches that are ideal spots for splashing in the water, building sand castles and picnicking on a warm spring day. Here are some of our favorites.
Awesome Spots for a Mother's Day Picnic
Pack a picnic and celebrate Mom's day outdoors at one of the many great picnic spots in and around Marin and the North Bay. Here are some of our favorite places to bring our lunch (or brunch) and dine al fresco on Mother's Day.
Mother's Day Art in the Park
Saturday, May 11, 10 am–noon
Paradise Beach Park, Tiburon
Don't wait until the last minute; bring your kids out to Paradise Beach Park to make something special for mom! Work with rangers to create your own piece of art to give to your mom on Mother's Day. This event is self-paced, and encourages creativity in the beautiful outdoors. All skill levels are welcome and no experience is necessary. Park entrance is waived for participants. Event details.
Mother's Day BikeAbout
San Francisco Zoo
Sunday, May 12, 8:30 am–10 am
Pedal your way through the Zoo during these 90-minute riding tours! Our knowledgeable staff will be your guide as they share fun animal facts and conservation stories. On this special day, Mother's Day, we'll focus on what maternal and paternal care look like throughout the animal kingdom. Stick around after the tour for a tasty continental breakfast! Cost: $35 per peddler member, $45 per peddler non-member (includes zoo admission) free for children piggy-backing on an adult's bike. Event details
Mother's Day Pancake Breakfast
West Point Inn, Mt. Tamalpais
Sunday, May 12, 9 am–1 pm
Enjoy pancakes, sausage, hot coffee, amazing views, and live music. The cost is only $10 for adults and $5 for children; orange juice and cantelope are available for an additional $1. Guests must hike or mountain bike to the inn; parking is available at Bootjack, Pan Toll, Rock Springs and the East Peak parking lots. For more info, call (415) 388-9955. Event details.
Mother's Day Brunch and Steam Train Rides
Sunday, May 12, 9 am–4 pm
Roaring Camp Railroads, Felton
Treat Mom to something memorable on her special day with a a steam train ride through the redwoods and delectable Mother's Day brunch buffet accompanied with live music by Pat Hull. Seatings at 9 and 11 am. $2 off train tickets with your admission to the Mother's Day brunch. Kids can create a special gift for mom at the crafts table open from 10 am–4 pm. Event details.
Spend Mother's Day on Angel Island
Sunday, May 12, 10 am–5 pm
Angel Island State Park
Treat mom and the entire family to an outdoor outing on Angel Island! Pack a picnic and make a day of it. The first 100 moms on board the Tiburon–Angel Island ferry will get a gift certificate for pair of free tickets to one of their 2019 Alcatraz cruises. The first ferry leaves the dock in Tiburon at 10 am and the last departs Angel Island at 5:20 pm. Learn more on their website.
Call of the Sea Family Adventure Sail
Sunday, May 12, 10 am–12:30 pm
Sausalito
Call of the Sea offers a Family Adventure Sail on the schooner Seaward on Mother's Day from 10 am to 12:30 pm. Take in famous San Francisco sights from the water. Sit back and enjoy the trip or pitch in and help sail the schooner. Complimentary coffee, tea, juices, and light snacks will be served. Optional learning stations in San Francisco Bay ecology and seamanship will also be available. $62 adults, $31 youth 6–12, free for children under 6. Register by calling (415) 331-3214. Event details.
Mother's Day … Wild About Mom! at Safari West
Sunday, May 12, 10 am and 2 pm
Santa Rosa
Grab the Kids…Grab the Camera…Enjoy a fabulous brunch and a special Mother's Day tour aboard the African Queen along with some other surprises! What could be more extraordinary than spending Mother's Day among some of the world's most elegant creatures? $75 for adults ($42 brunch only), $40 for children ages 4–12 ($18 brunch only). Event details.
Free Admission for Moms at the Exploratorium
Sunday, May 12, 10 am–5 pm
San Francisco
The Exploratorium offers free admission for all on Mother's Day from 10 am–5 pm. Note: Entry is subject to capacity; admission is not guaranteed. Group or field trip reservations not accepted; group entry discouraged due to large crowds. Special programs with limited seating will be available on a first-come, first-served basis. Location: Pier 15, Embarcadero at Green Street, San Francisco. Event details
Free Admission at Charles M. Schulz Museum for Moms
Sunday, May 12, 10 am–5 pm
Charles M. Schulz Museum, Santa Rosa
All moms receive free Museum admission on Mother's Day! Location: 2301 Hardies Lane in Santa Rosa. Event details
Spend Mother's Day at the Zoo
Sunday, May 12, 10 am–4 pm
Oakland Zoo
Watch some of the zoo's resident animal mommies enjoy some special, and much deserved, holiday enrichment during regular scheduled feedings. All moms receive one free train ride in celebration of Mother's Day! Train ride tickets are valid May 13, 2018 only. Limit one Mom per ticket. Event details
Mother's Day Picnic at Larson Family Winery
Sunday, May 12, 10 am–3 pm
Sonoma
Reserve a picnic table at Larson Family Windery in Sonoma on Mothers Day! Bring your picnic and spend the afternoon at the winery. Moms get a complimentary glass of bubbly. Picnic tables and tasting cost $20 per person for up to 8 people. More information
Audubon Canyon Ranch Mother's Day BBQ
Sunday, May 13, 11 am–3 pm
Martin Griffin Preserve, near Stinson Beach
Audubon Canyon Ranch offered its Mother's Day BBQ for over 50 years! It takes place at Martin Griffin Preserve near Stinson Beach on Mother's Day from 11 am–3 pm. The menu includes rosemary grilled chicken or vegetarian quiche, green salad, beans, local breads, coffee and tea, and desserts. Wine, beer, and soft drinks are available. Guided nature hikes are offered to those who would like to explore this amazing area with its spring wildflowers, hiking trails, and egret nesting site. Cost: $30 adults, $10 children under 12. Event details
Sign up for tips & news for Marin families!