Back to top
Classic Holiday Performances for Families in the Bay Area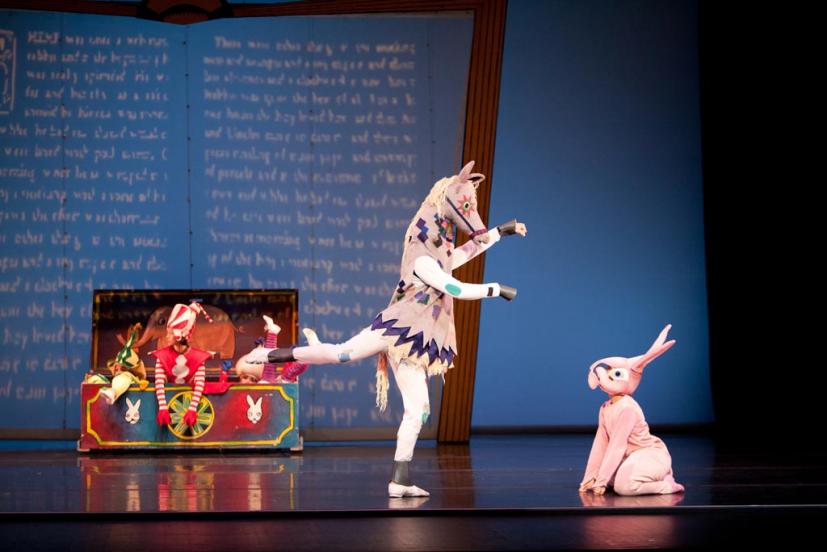 For some families, it just wouldn't be the holidays without attending a special seasonal performance, whether its dance, live music, theater, or opera. Fortunately for us, the San Francsico Bay Area has a number of world-class, classic holiday performances for families with children of all ages.
Here are five of our favorite classic holiday performances that we don't want to miss this winter. Tickets to these special performances often sell out, especially for in-demand dates around Christmas, so make sure you order your tickets soon.

Photo: ODC/Dance
Celebrating its 33rd season this year, ODC/Dance's The Velveteen Rabbit is a beloved Bay Area tradition. Returning to the Blue Shield of California Theater at YBCA from November 29 to December 8, The Velveteen Rabbit celebrates the unique connection between a little boy and his stuffed rabbit, and the enduring power of love. It's a perfect holiday performance for all ages! Learn more at odc.dance/velveteenrabbit.

Photo: San Francisco Ballet © Erik Tomasson
San Francisco Ballet's celebrated production of Nutcracker is the one that all others are compared to! Celebrating its 75th anniversary in 2019, San Francsico Ballet's Nutcracker features over 150 costumed characters, dazzling scenery, Tchaikovsky's beautiful score performed live by the San Francisco Ballet Orchestra, and of course the opulence of the War Memorial Opera House decorated for Christmas. Families should consider Passport performances include fun activities throughout the opera house, costumed characters, giveaways, refreshments, and a special keepsake passport to stamp with memories of your trip to Nutcracker. 2019 performances of Nutcracker begin on December 11 and run through December 29. The SF Ballet recommends Nutcracker for children ages 5 and up; no children under 3 are allowed. Learn more at www.sfballet.org.
If you can't make it to this production of Nutcracker this holiday season, don't worry—you'll find plenty of other productions around the Bay Area, including the popular productions by Marin Ballet and the Stapleton Ballet at Marin Center in San Rafael. Get the scoop on Bay Area Nutcracker performances in our article here.

Photo: San Francisco Opera
This holiday season, the San Francisco Opera presents Engelbert Humperdinck's fairy-tale opera Hansel and Gretel. This operatic interpretation of the famous Brothers Grimm story features a new magical staging, a lush orchestral score, and many memorable musical moments.
This family-friendly production will be accompanied by holiday activities at the War Memorial Opera House, including a gingerbread scavenger hunt and a chance to meet magical fairy tale characters (November 30 and December 1 performances). Hansel and Gretel is suitable for children ages 6 and up. Tickets to Hansel and Gretel for children under 18 are 50% off with the purchase of one or more adult tickets in certain sections. For more details, visit sfopera.com.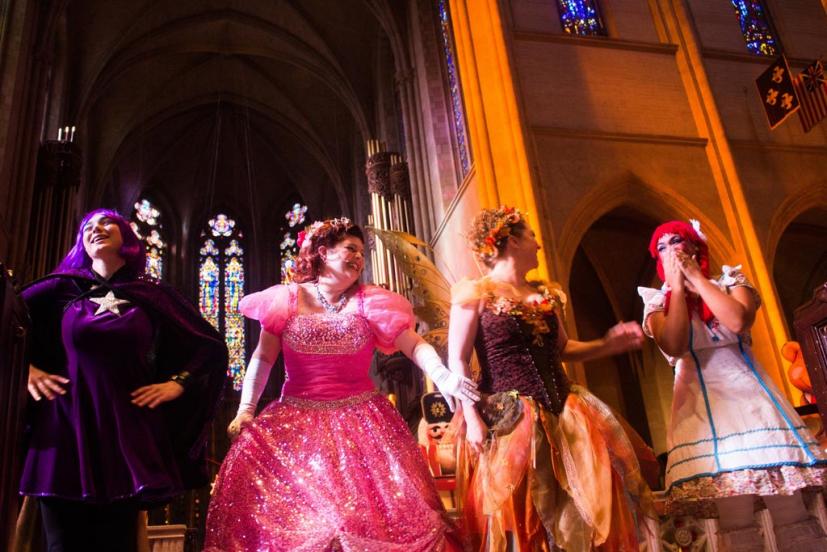 Photo: Grace Cathedral
This holiday season, San Francisco's Grace Cathedral offers a variety of concerts for all ages. Families with younger children will love Sing You a Merry Christmas, where you can join the with the toys of St. Nicholas's workshop in singing along with your favorite Christmas carols. A Cathedral Christmas features the Cathedral's Choir of Men and Boys, a full orchestra, organist, and guest soloist performing classic Christmas carols and other sacred music for the holiday season. There are even a couple opportunities to sing along, too.
A Christmas concert in this soaring gothic-revival cathedral is a magical holiday experience for everyone! Concerts take place December 14–23. Make sure you visit the life-size gingerbread house at the Fairmont Hotel while you're in the Nob Hill neighborhood. Learn more at gracecathedral.org/christmas.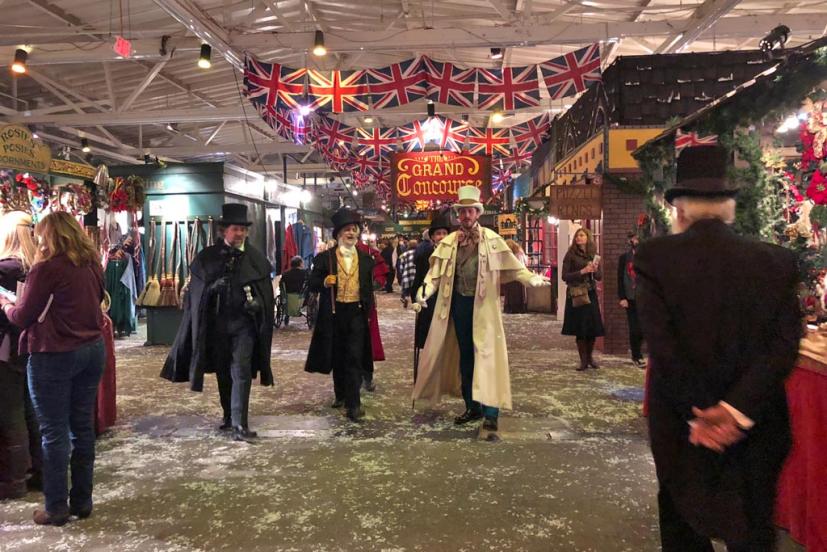 The Great Dickens Christmas Fair and Victorian Holiday Party is an immersive, theatrical holiday experience like no other! Wander the streets of Victorian London and interact with the 800 costumed characters, from Queen Victoria and Prince Alvert to chimney sweeps and sailors, who populate over three acres of twilight-lit shops, pubs, stages, and dance halls. A San Francsico Bay Area holiday tradition for over three decades, the Great DIckens Christmas Fair returns for five weekends to the historic Cow Palace in Daly City from November 23–December 22.
The Dickens Fair offers constant entertainment: join in at Fezziwig's Dance Party, hear excerpts from the grand opera and Gilbert and Sullivan at the Victoria and Albert Music Hall, sing along to sea shanties at the Paddy West Stage, and enjoy music-hall songs at Mad Sal's Dockside Alehouse. You'll also experience folk dancing and caroling at various spots around the fair. There's so much to do and see here that you won't want to leave. It's fun and absorbing and you'll really feel like you've stepped into another time and place. Come dressed in period costume and really get into the spirit of things! Learn more at dickensfair.com.

Photo: Marin Symphony
Celebrate the season with your friends and family, as the Marin Symphony Orchestra, conducted by maestro Alasdair Neale, presents a program of classic holiday-inspired music. This year's performance features the Marin Symphony Chorus and Marin Symphony Children's Chorus as well as special guests, sing-alongs, and complimentary post-concert cookies and cider! Youth tickets for ages 6–17 are only $20!
The Marin Symphony Holiday Pops Concert takes place Tuesday, December 17, at 7 pm at the Marin Center Veterans' Memorial Auditorium in San Rafael. Learn more at marinsymphony.org/holiday-pops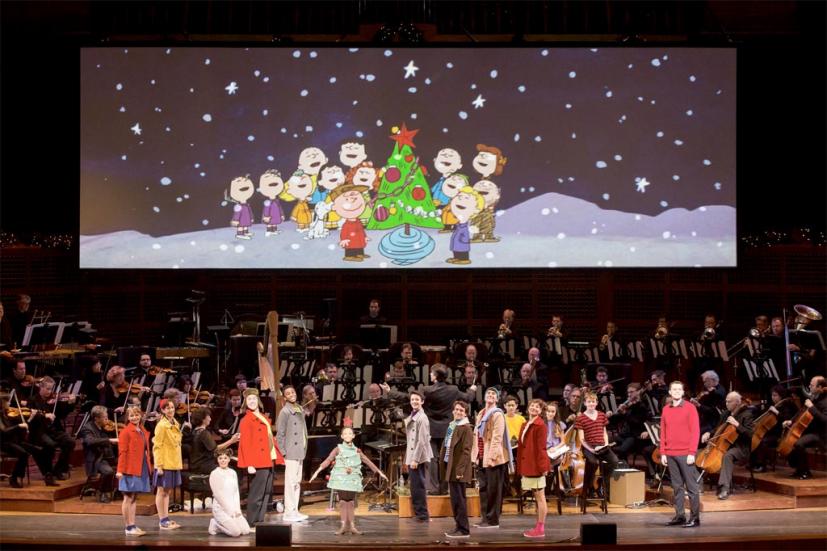 Photo: San Francisco Symphony
The renowened San Francisco Symphony offers a variety of holiday performances for families throughout the month of December. On December 21–23, experience the beloved animated TV special A Charlie Brown Christmas with a live orchestra performing Vince Guaraldi's timeless score as well as a cast of singers, actors, and dancers.
Other holiday treats from the SF Symphony include Prokofiev's Peter and the Wolf, a Holidays Around the World family concert, and of course the annual Deck the Hall holiday spectacular. Learn more here
Sign up for tips & news for Marin families!