Back to top
Best Marin County Beaches for Families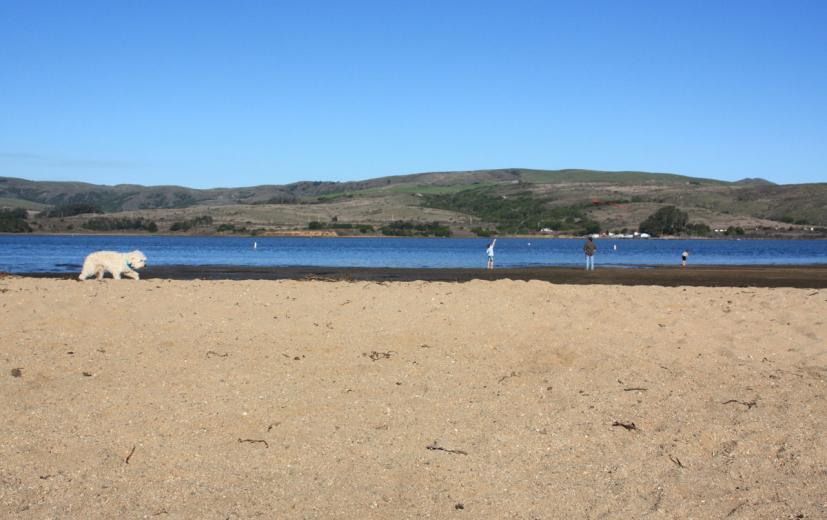 My family loves to go to the beach, and there are plenty of places to do this in and around Marin. While many of the beaches along the Pacific Ocean are unsuitable for swimming, there are also many beaches that are ideal spots for swimming, wading, and splashing in the water, especially on warm summer (and also spring and fall) days. Here are some of our favorites. Click on the links for more info.
Abbotts Lagoon Beach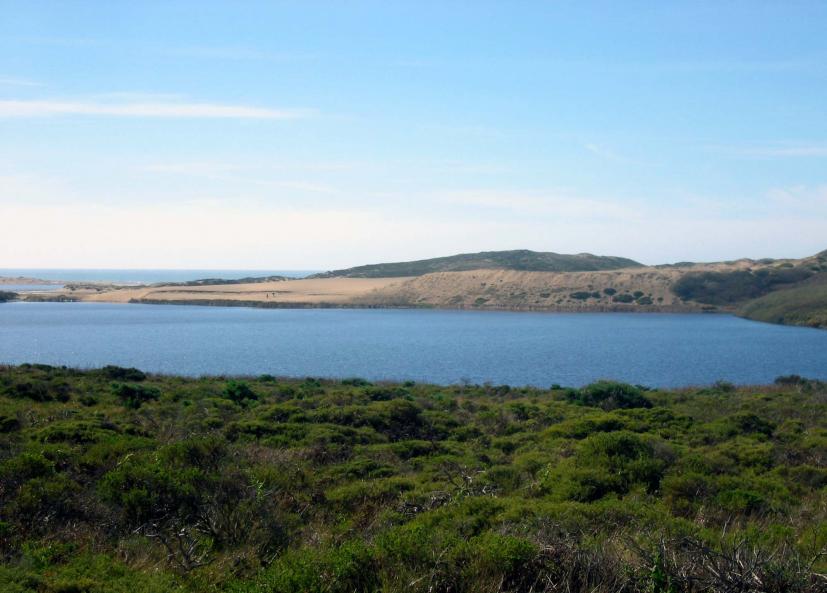 A one-and-a-half mile hike takes you over bridges and sand dunes to this beach in the Point Reyes National Seashore. It's home to many shorebirds, including the endangered snowy plover. A great beach for playing in the sand, but not for swimming due to dangerous surf and rip currents. Find out more here.
Angel Island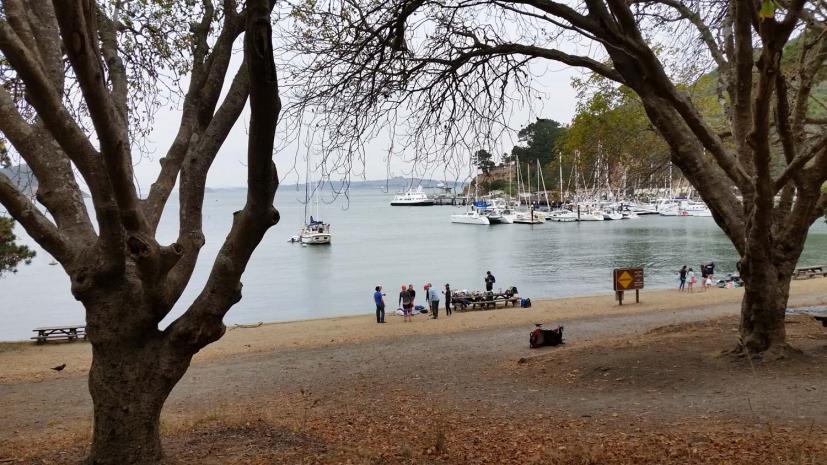 Located just off Tiburon, Angel Island State Park Pack is the largest Island in San Francisco Bay. Pack a picnic and jump on ferry to this unique island. Quarry Point and Ayala Cove are two beaches that are both sandy and protected from the afternoon breezes, so it's perfect for an afternoon of family fun. There are no lifeguards, and swimming can be hazardous because of the strong currents. Find out more here.
Chicken Ranch Beach
Chicken Ranch Beach, located on Tomales Bay just outside Inverness, is one of those well kept West Marin secrets. Like Heart's Desire Beach up the road a bit in Tomales Bay State Park, Chicken Ranch Beach sits on the shallow, relatively warm waters of Tomales Bay. It's a popular place for families, with a gentle, sandy beach and no surf to speak of. Kids can wade, swim, play in the sand, and run to their hearts' content. Chicken Ranch Beach is a fabulous place to raise your beach umbrella, spread out a blanket or two, and spend the day relaxing in the sun. Find out more here.
China Camp State Park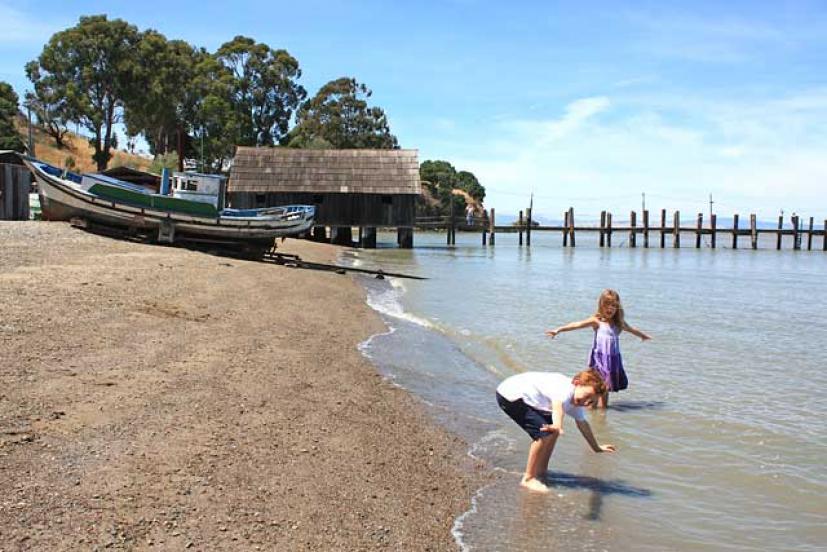 This state park in San Rafael was once home to a thriving Chinese fishing village. In addition to historic buildings, hiking trails, and campgrounds, China Camp boasts a gentle beach, perfect for wading or swimming, on the shores of San Pablo Bay. Find out more here.
Drakes Beach
A wide stretch of beach backed by dramatic white sandstone cliffs makes this a very popular place. Drakes Beach features drive-up access, the tasty Drake's Beach Café, and the Kenneth Patrick Visitor Center with exhibits on the history and nature of the area. Drakes beach can often be warm and sunny, making it a good place for sunning, sandcastle building, and wading on a warm day. Find out more here.
Heart's Desire Beach
One of our favorite places to hang out at on a sunny day is Heart's Desire Beach in Tomales Bay State Park. On the opposite side of Inverness Ridge from the chillier ocean beaches of Point Reyes, Heart's Desire is a white stretch of sand running along a calm, sheltered stretch of Tomales Bay. There's no surf to speak of, and the shallow water is warm and perfect for wading, swimming, and just having fun. The park has restrooms, drinking water, and an extensive network of picnic areas with tables and charcoal grills. Find out more here.
Kehoe Beach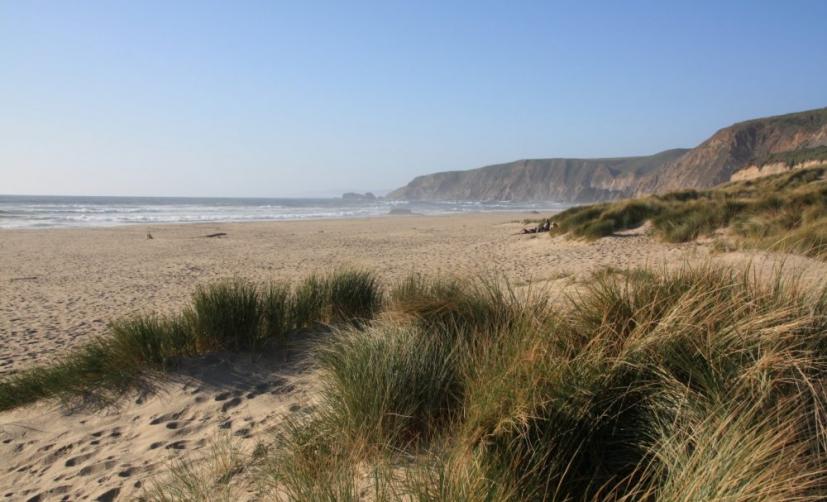 A short half-mile walk alongside a marsh and over a sand dune leads you to Kehoe Beach, at the north end of Point Reyes' Great Beach. Explore the dunes, watch wildlife,play in the sand, or just relax here. This beach is not for swimming, however. On-leash dogs (on a six-foot leash) are allowed on this beach to the north of the trail. Fine out more here.
Limantour Beach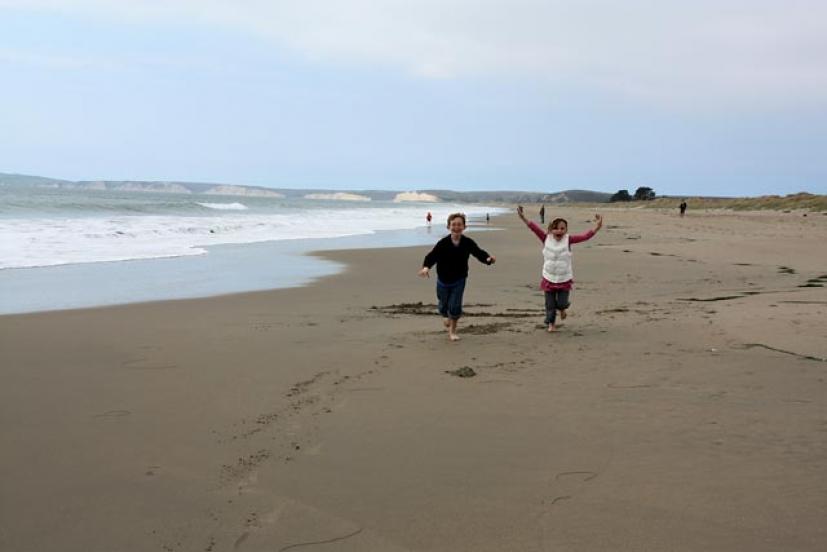 Limantour Beach is a long, narrow stretch of sand along the east edge of Drakes Bay. You'll find plenty of shorebirds and harbor seals, and might even catch a glimpse of mother gray whales and their calves during the spring. Great for walking, wading, and playing in the sand. Note: Expect to encounter traffic delays here due to work on Limantour Road through September 2020. Find out more here.
McNears Beach
McNears Beach is a 55-acre county park located on the shores of San Pablo Bay. It's the a perfect place to go on a warm day to wade in the bay, swim in the park's swimming pool, picnic, fish, take in spectacular views of the Bay Area, and more. Find out more here.
Muir Beach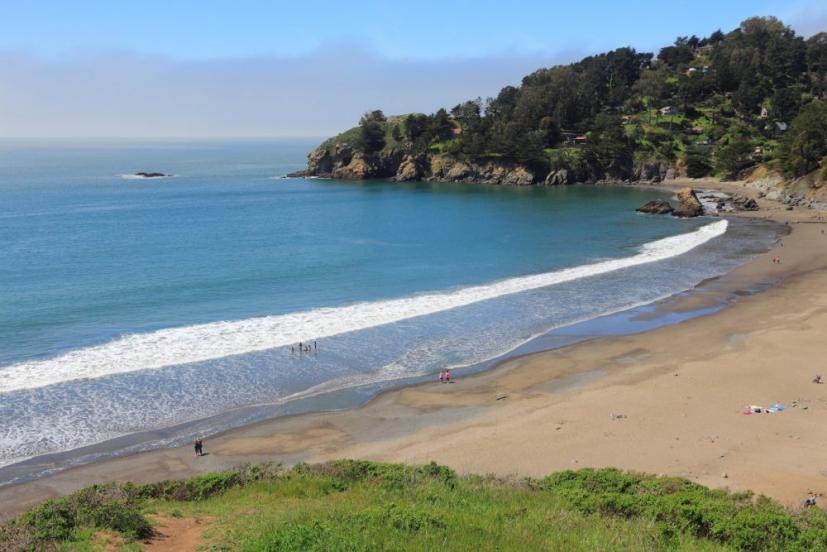 This quiet cove has a sandy beach with lots of privacy. Horses and dogs are allowed on the beach and some trails. Bring your blanket and hang out for the day. Check out the newly completed, multi-use Dias Ridge trail—a segment of the Bay Ridge Trail—on a ridgeline above Muir Beach. The trail offers beautiful views of the Pacific Ocean and Marin Headlands, so make sure to bring your camera. Find out more here.
Paradise Beach Park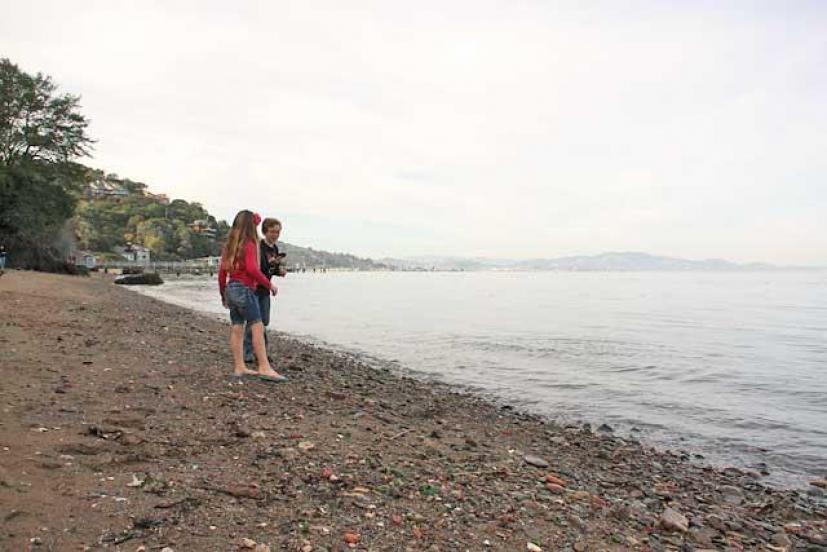 This beach is located on Paradise Drive on the Tiburon Peninsula, and offers a lawn, picnic areas, a horseshoe court, and fishing pier. Find out more here.
Point Reyes Beach
Also known as Great Beach, this 11-mile expanse is the place to go if you want to experience the drama of heavy crashing surf. Dogs are allowed on this beach on a six-foot leash. Drive up access is available. Like other beaches along the ocean side of Point Reyes, this beach is definitely not for swimming or wading. Note: Sir Francis Drake Boulevard is closed south of Drakes Beach Road; the entrance to South Beach is currently inaccessible to vehicular traffic. Find out more here.
Rodeo Beach
This dark-sand beach, accessible via a footbridge across Rodeo Lagoon in the Marin Headlands, is a popular spot for surfing, bird-watching, kite flying, picnicking, surfing, dog walking, and just relaxing oceanside on a warm day. Kids love digging through the sand to find colorful pieces of stone that abound here. Like most beaches along Marin's Pacific Coast, Rodeo Beach isn't suitable for swimming, although you wouldn't know it with all the surfers in the water here. Find out more here.
Stinson Beach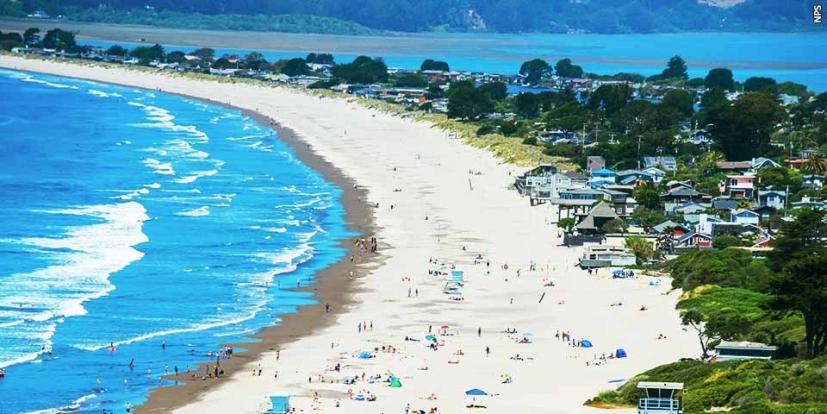 Stinson Beach is popular with locals and tourists year-round, and can get extremely busy on hot summer weekends. Swimming is only recommended here from late May to mid-September when lifeguards are on duty. Sightings of great white sharks close to shore occasionally close this beach too. Facilities here includes restrooms, showers, picnic areas, and BBQ grills. There's a snack bar open during summer months at the main lifeguard tower. Find out more here.
Tennessee Cove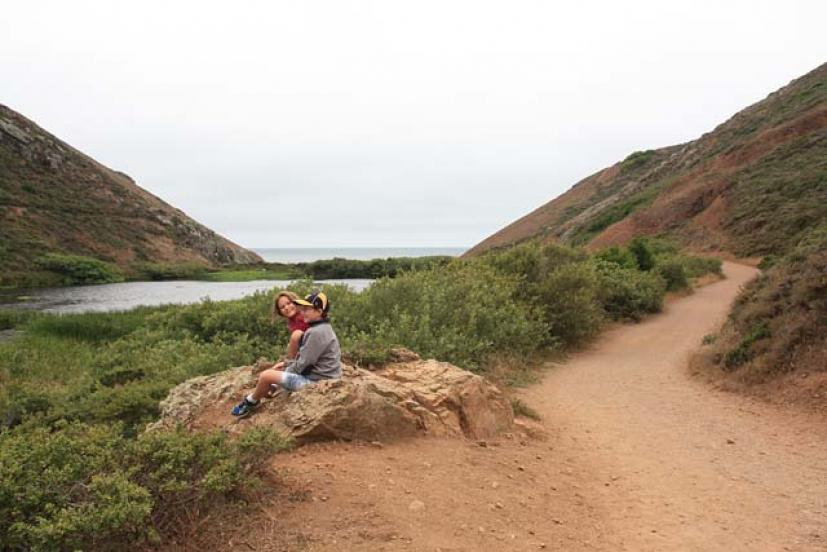 Take a hike to this spectacular beach at the end of an easy trail near Mill Valley. It's not suitable for swimming, but it's a dramatic place to stop and have a picnic or a snack before your return trip. Find out more here.
A Note on Beach Safety
As I noted above, many of the beaches in Marin, especially those along the Pacific Ocean, are unsafe for swimming or wading due to rip currents, sneaker waves, and cold temperatures. Rip currents are strong, fast-moving currents of water that rush from the beach out to the sea. Unwary swimmers or waders can easily be caught in rip currents and pulled far out into deep water. Sneaker waves are large, unexpected waves that can take you by surprise and pull you out to sea. Always keep a close eye on children, and as the old saying goes, never turn your back on the ocean.
(Shark attacks have also occurred at Stinson Beach, and sharks occasionally come in close to shore in shallow water, too, although your chances of even encountering one at all are extremely slim.)
Sign up for tips & news for Marin families!