Back to top
Fun, Sun, and Sand at San Francisco's Crissy Field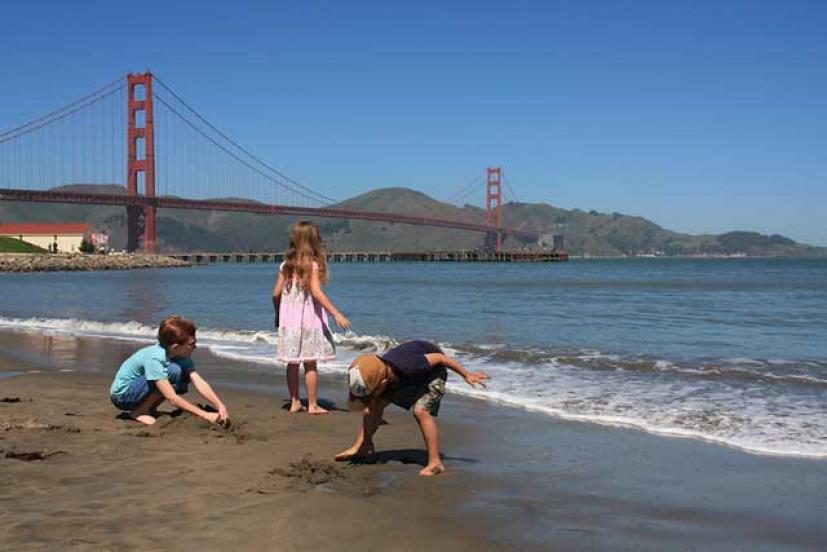 The San Francisco Presidio's Crissy Field has undergone many changes in its lifetime, from tidal marsh to military airfield to one of the Bay Area's premier recreation areas. Crissy Field is a great place to spend the day with the family, and has a wonderful mix of outdoor attractons, amenities, and local businesses, as well as spectacular views of San Francisco Bay and the Golden Gate Bridge.
Crissy Field is a fantastic destination for walking, bicycling, kite flying, or playing at the beach. It offers a waterfront promenade and trails that are popular with dog walkers, runners, and cyclists (and parents, judging from the number of strollers we usually see there), as well as a clean stretch of sand along San Francisco Bay.
The water here is perfect for wading and playing in the gently lapping waves. Lawn areas and picnic tables, some with charcoal grills, are available, too, so bring a picnic and your beach blanket and umbrella and spend the day. Torpedo Wharf, a pier on the north end of the field, is a popular spot for fishing and crabbing.
We were there over spring break on a beautiful warm day, and the kids spent hours playing in the sand and water and building sand castles at the beach. The backdrop of the Golden Gate Bridge, Alcatraz, Angel Island, and the Marin Headlands is simply amazing, too. I had forgotten how spectacular this place can be, and how close to Marin it is, too.
If you don't bring a picnic, don't worry. We sometimes grab a bite to eat at the Warming Hut. Located on the north end of Crissy Field near Torpedo Wharf, the Warming Hut is a small gift shop and restaurant that offers a variety of snacks and light meals, from fruit to hot dogs to inventive specialty sandwiches. Prices are a little on the high side, but where else can you chow down while watching ships pass under the Golden Gate Bridge? The Warming Hut offers a kids' meal option, which is a relative bargain at $6.75—a PB&J or turkey and swiss sandwich with mini carrots and a carton of organic milk (regular or flavored).
If you and your kids are looking for something a little more exciting than a relaxing day at the beach, make sure you check out the House of Air indoor trampoline park. Housed in a historic airplane hangar, the House of Air features 8,000 square feet of trampolines that allow you to jump, fly, flip, and have a blast. Grab a bite to eat at the on-site House of Snacks, which offeres grilled cheese sandwiches, soft-serve ice cream, and Blue Bottle Coffee, among other treats. Read about House of Air in our article here.
If You Go
Crissy Field is located in the San Francisco Presidio near the Golden Gate Bridge. To get there, take Highway 101 south across the bridge. Stay in the far right lane, and take an immediate right onto Merchant Road after the toll plaza. Drive up the hill and turn left onto Lincoln Boulevard. Follow Lincoln Boulevard to McDowell Boulevard, where you'll turn right and follow McDowell, which becomes Crissy Field Avenue. Bear right onto Mason Street into Crissy Field.
While street parking along Mason Street near the airplane hangars requires a paid permit (available at machines along the way), there's plenty of free parking in the lot along Marine Drive, at the north end of Crissy Field near the picnic area and the Warming Hut.
Restrooms are available near the Warming Hut. There's not a lot of shade at Crissy Field, so sunscreen and hats are a must. San Francisco weather is notoriously fickle, too, so pack sweatshirts and light jackets as well as the beach balls and sand toys.
Learn more about Crissy Field at www.parksconservancy.org.
Sign up for tips & news for Marin families!