Back to top
An Easy Family Waterfall Hike to Mill Valley's Cascade Falls
Cascade Falls, a seasonal waterfall that can be found in Mill Valley's Cascade Park, is the destination of one of Marin's easiest and most rewarding waterfall hikes. It's a short out-and-back or loop hike that's easy enough for just about everyone in the family to tackle, and the waterfall is amazing, especially after a rainstorm. We took a hike there this weekend and the waterfall is going strong. It's definitely worth checking out!
The hike is only about half a mile round-trip if you start at the Cascade Falls trailhead on Cascade Drive. The wide trail follows Cascade Creek, which flows downhill on its way to meet Old Mill Creek.
Follow the trail uphill through a redwood forest lush with ferns (and wildflowers in the spring) and across wooden bridges that span the creek. You'll come to a place where the trail forks; take the lower trail to the right and in a few seconds you'll find yourself at the falls, which plunge down about 15 feet or so into a shallow pool.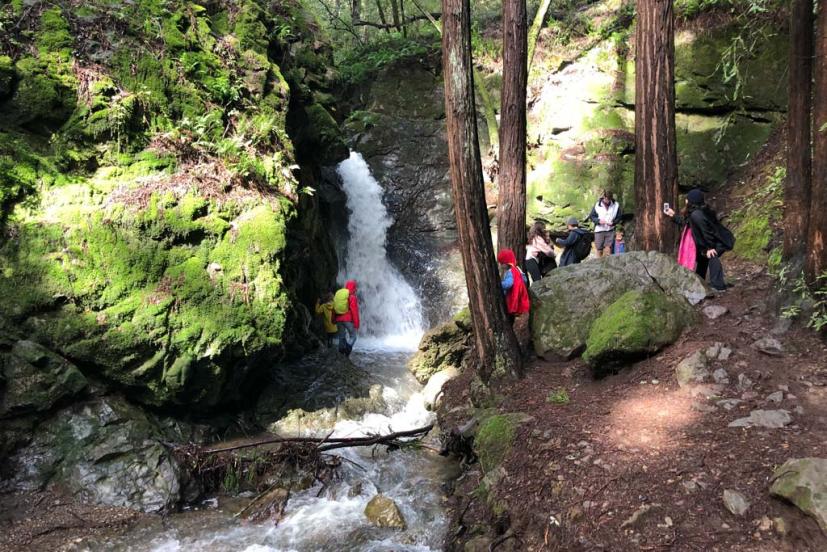 You can walk up and around to the top of the falls, where you'll cross Cataract Creek again via another bridge and loop around back onto the main trail. It's cool, shady, and tranquil, and several benches placed along the trail offer convenient spots to relax and take in the sights and sounds of the waterfall.
If You Go
Cascade Falls is located in Cascade Park, at 420 Cascade Drive, Mill Valley 94941. To get there, take East Blithedale to Throckmorton Avenue and turn left. Follow Throckmorton through downtown Mill Valley and continue until it merges with Cascade Drive. The Cascade Falls trailhead will be on your right and is clearly marked with a sign. Beware directions on Apple or Google maps. They want to send you to the park via Lovell Avenue which is not the way to go.
The road is narrow here and parking is very limited, although there are a few spaces around the trailhead area. If parking is difficult (it's a popular hike, so it can be), another option is to hike from Old Mill Park and back (about 1.5 miles each way). Note that there's also a Cascade Falls in Fairfax. It's also a worthwhile family hike (although longer) — read all about it here.
Sign up for tips & news for Marin families!