Back to top
Outdoor Family Fun at Marin's China Camp State Park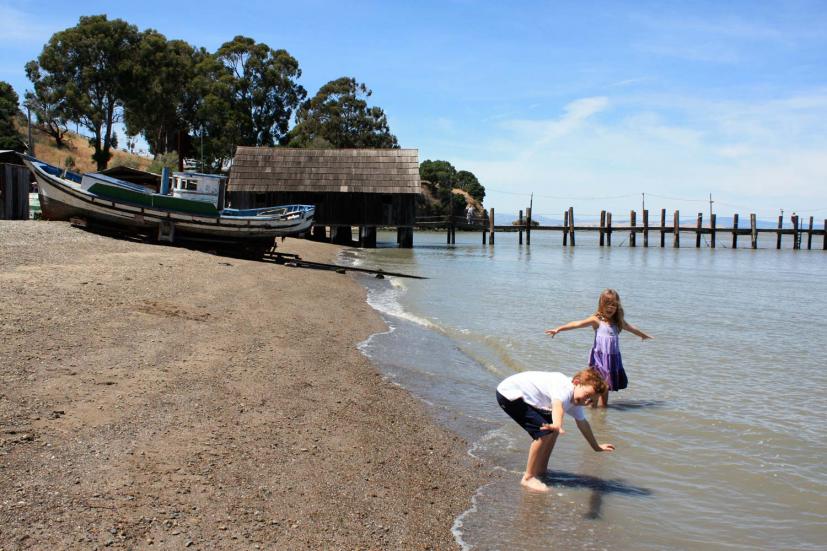 One of Marin's underrated treasures is China Camp State Park, located east of San Rafael. It's not as famous or flashy as other local outdoors spots like Mt. Tam, Muir Woods, or Point Reyes, but it has a charm all its own and offers plenty for families to do and see.
Situated on the shores of San Pablo Bay, China Camp State Park offers stunning views, plenty of hiking and mountain biking trails, walk-in camp sites, picnic areas, beaches, and a historic 19th-century Chinese fishing village. Topography ranges from oak woodland to grassland to salt marsh, with even some redwoods thrown in for good measure.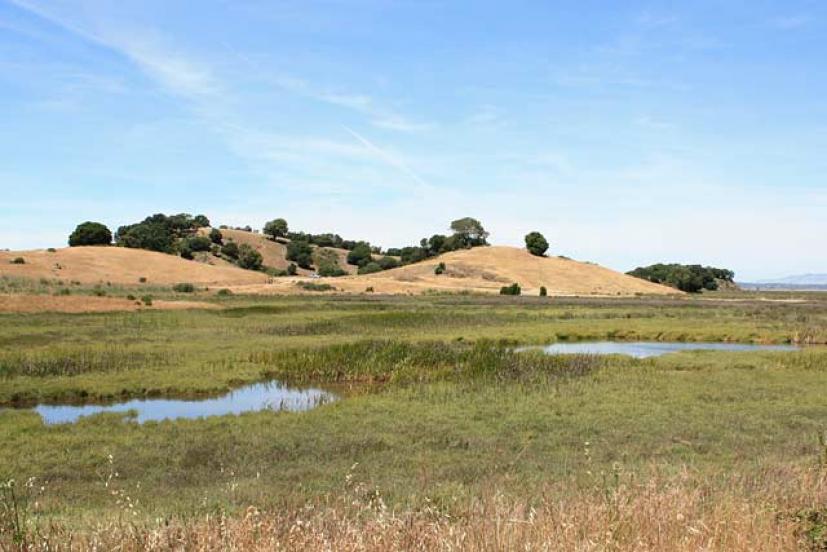 It's hard to believe that this park is just a stone's throw from the hustle and bustle of San Rafael. I grew up in a neighborhood just a short distance from China Camp; it was always a favorite place to visit when I was growing up, and it still remains one of my and my family's special destinations for outdoor fun and adventure. It's all a short drive from nearly anywhere in Marin County, and there's almost too much to do in one day.
China Camp State Park, along with numerous other California State Parks, was threatened with closure in 2012, but the non-profit group Friends of China Camp (FOCC) stepped in to save the day. Through an agreement with the State of California, FOCC now operates the park and will keep China Camp open indefinitely. It also provides volunteers and sponsors park programs.
China Camp was the site of numerous Coast Miwok settlements. It later became part of a Mexican land grant and subsequently a dairy ranch. As its name implies, it's perhaps most famous for being the site of a sizeable settlement of Chinese immigrants, mostly from Guangdong Province, who fished for grass shrimp in the waters of San Pablo Bay. In the 1880s, the village that is now China Camp was home to almost 500 people, and boasted three general stores and a barbershop. Shrimp were spread out on the hillsides behind the village to dry, and then sold to Chinese communities throughout Northern California or exported to China. China Camp was also where parts of the 1955 John Wayne/Lauren Bacall movie Blood Alley were filmed..
Outdoor Family Fun at China Camp
Most of the points of interest in China Camp are located off its main thoroughfare, Point San Pedro Road. On a busy weekend day, there are usually numerous cars parked on the side of the road. While there's no charge to park alongside the road, there's a $5 day-use fee for areas like China Camp Village, Back Ranch Meadows Campground, and the picnic areas.
There are several key areas in China Camp. The first, as you head into the park from the north, is Back Ranch Meadows Campground. You'll find plenty of day-use parking here, which offers great access to many of China Camp's hiking and biking trails, including the popular Shoreline Trail and the hikers-only Turtle Back Nature Trail.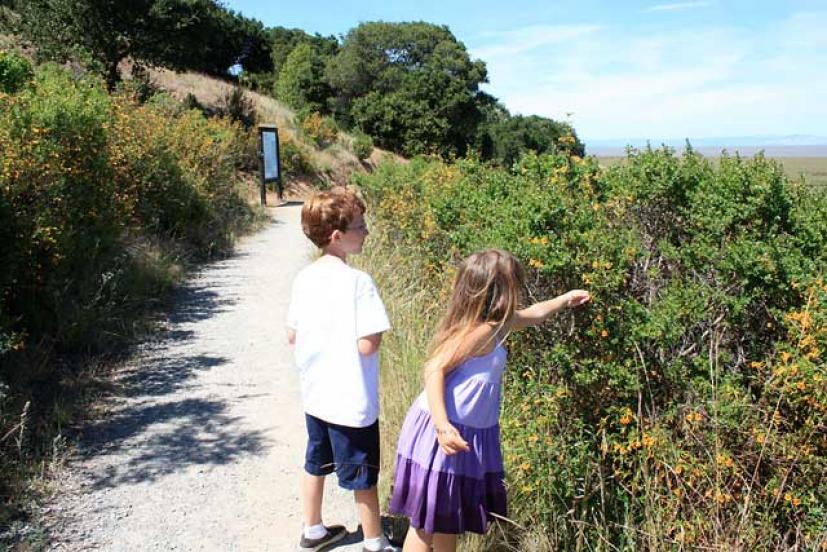 These two trails are really ideal for families. Turtle Back Nature Trail is an easy, accessible trail offering a 3/4-mile nature hike through grassland, salt marsh, and oak woodland with interpretive panels along the way. Shoreline Trail runs from one end of the park to the other, and is a multi-use trail open to hikers, mountain bikers, and equestrians. The Shoreline Trail is relatively flat and open and offers great opportunities for a family hike or mountain bike ride; portions of the trail are accessible as well, and both the Shoreline and Turtle Back trails are easily manageable by off-road jogging strollers.
You can also camp here at one of Back Ranch Meadow's 30 well developed campgrounds. You'll need to pack in your gear a short distance from the parking area, and the tent sites are private and shady, with fire pits, picnic tables, and anti-critter food lockers. Really clean restrooms with showers are available, too.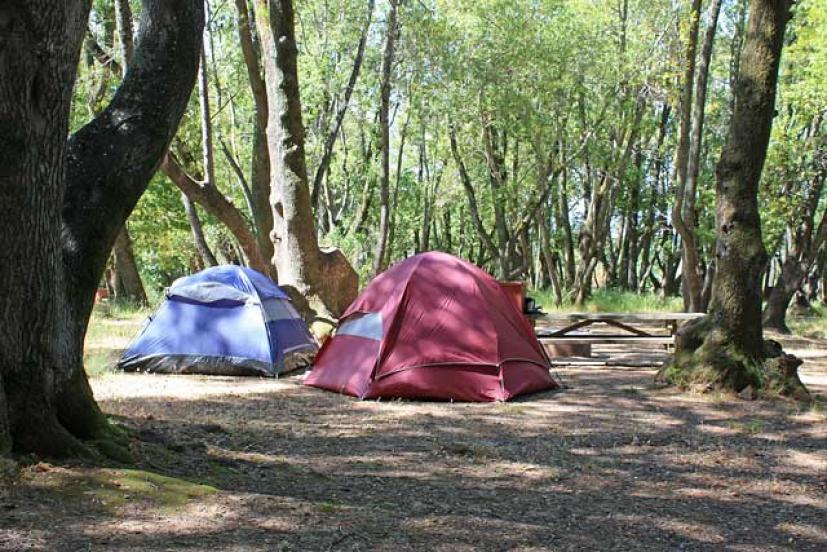 As you head south on Point San Pedro Road, you'll see several picnic areas on the bay side of the street. Buckeye Point and Weber Point are large picnic areas reservable for groups of up to 50, and the smaller Bullhead Flat and China Camp Point areas don't require reservations. All feature lawns, picnic tables, barbeque grills, and restrooms. And, all the facilities were really clean and well kept up. These areas offer magnificent views of San Pablo Bay and the East Bay. Another picnic area, Miwok Meadows, is located inland in a grassy meadow, and can be reserved for groups of up to 200 people.
China Camp Village
At the south end of the park lies historic China Camp Village. At the entrance, you'll find China Camp Point picnic area and a parking lot. If you turn right and head down the hill, you'll find yourself back in time at what remains of the old 19th-century Chinese fishing village. Today the village consists of a handful of little houses, a funky little snack bar with a 1930s vibe, and a some 1890s-era shrimp processing buildings grouped around a pier. This is one of our best-loved places in Marin to bring a picnic and hang out for the day.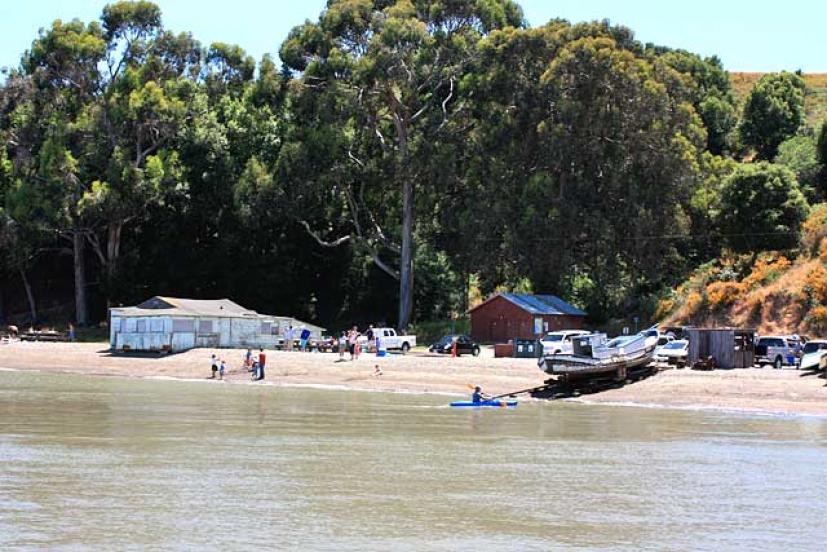 In the village, you'll find a visitor center and a little museum that describes life in the China Camp fishing village. If you're hungry or thirsty, make sure you visit the historic Quan Brothers Snack Shop in the village. This snack bar is run by Frank Quan, who grew up in China Camp and still lives in the village. Quan's snack bar offers cold sodas and beer, ice cream bars, hot dogs, clam chowder, sandwiches, and other fare. It's open on weekends only.
Explore the old shrimp processing equipment and walk out onto the pier. Occasionally, you'll see the 43-foot Chinese junk Grace Quan tied up here. It's an historically accurate replica of the type of fishing vessel that plied the waters off China Camp back in the late 1800s; her home port is at the San Francisco Maritime National Historic Park's Hyde Street Pier.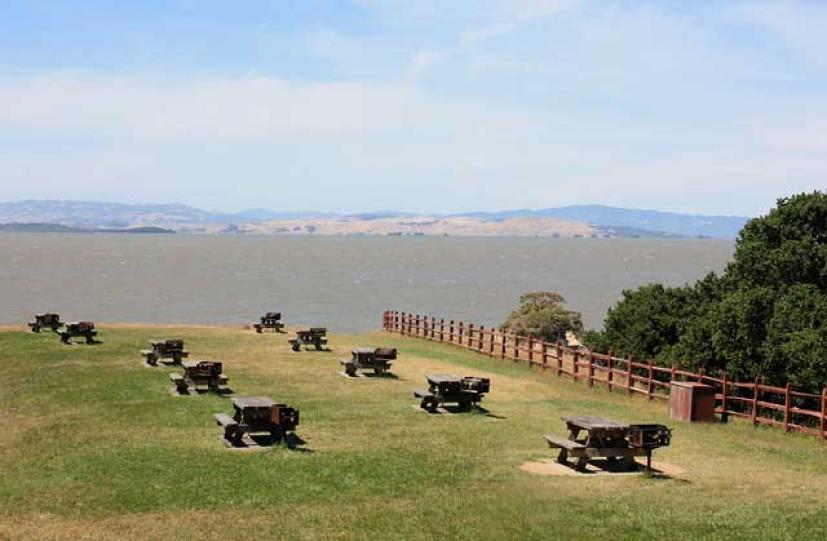 At the village, the pleasant China Camp Beach is a great place for swimming and wading. It's popular with kayakers and stand-up paddleboarders, too. There's a large picnic area here with plenty of shade along the beach. Clean public restrooms are nearby, as well as dressing rooms and outdoor showers.
If You Go
China Camp State Park is easy to get to from pretty much any point in Marin. The park is located on Point San Pedro Road east of San Rafael. From the north, take 101 south to the Point San Pedro Road/Marin Civic Center exit. Follow Point San Pedro Road east through Santa Venetia (aka Lower Skabo) until you reach the park.
From the south, take 101 north to the central San Rafael exit. Turn right on 2nd Street and follow it until it runs into 3rd Street, which eventually becomes Point San Pedro Road. Follow Point San Pedro Road through the Loch Lomond and Peacock Gap neighborhood until you reach the park.
Parking is available along the road. If you head to any of the day-use areas, like China Camp Village or Back Ranch Meadows, you'll need to pay a $5 fee, which is a bargain, considering how much there is to do here.
Temperatures can get well into the 90s here in the summer, so bring plenty of water, hats, and sunscreen, especially if you and your family will be hanging out at the beach. Water and restrooms are available at Back Ranch Meadows Campground, China Camp Village, and the picnic areas.
China Camp State Park is open seven days a week, from 8 am to sunset. Back Ranch Meadows Campground is open from 8 am until the gate closes at 9 pm. For more information on China Camp State Park, visit www.parks.ca.gov or www.friendsofchinacamp.org.
Sign up for tips & news for Marin families!