Back to top
Marin's Spectacular Muir Woods is Not Just for Tourists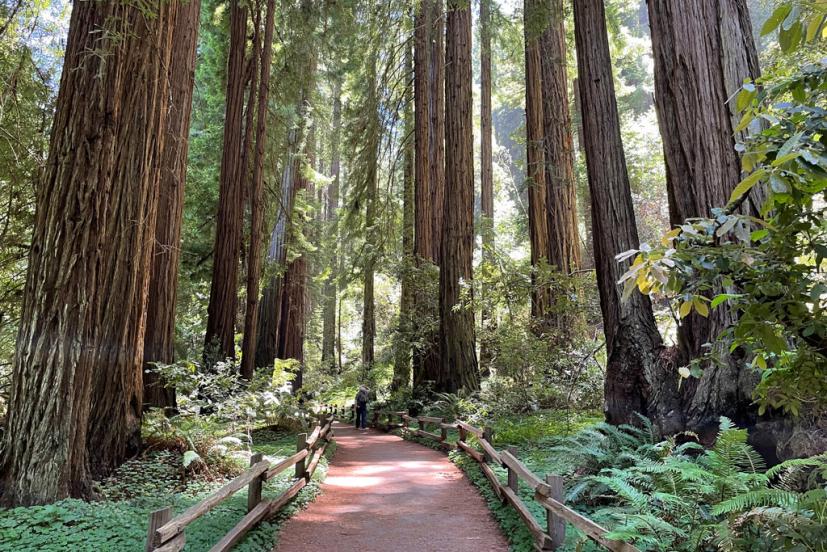 While Muir Woods National Monument is one of the San Francisco Bay Area's most visited tourist attractions, it also holds a lot of appeal for locals. Popular with Marin residents and visitors alike for over 100 years, this spectacular stand of old growth coast redwoods offers some amazing views and a chance to see the wonders of nature up close.
Muir Woods was declared a National Monument by President Theodore Roosevelt in 1908, and it's been a great spot for a fun and educational family outing ever since.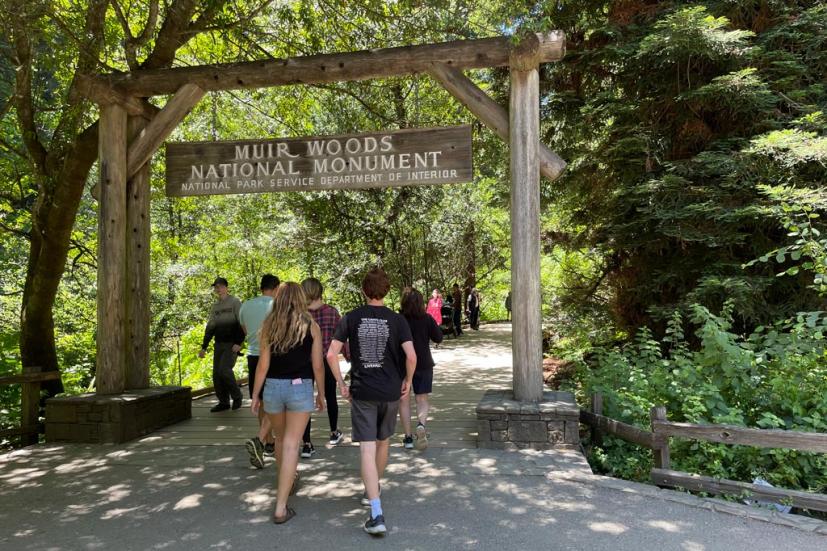 For locals, a visit here is still well worth the time, but you do have to keep in mind that it's one of the region's top tourist destinations. Fortunately, the National Park Service now requires advance reservations for parking and for the weekend Muir Woods shuttles, which has really reduced the crowding and congestion in recent years.
Also, try to go during the week if you can and avoid the weekend crowds. Needless to say, the summer months are also busier than other times of year. While it's still an amazing place regardless of how many people are there, it's even more special when it's quiet and uncrowded. Even though the parking lot was nearly full on our last visit, once we got into the park itself the crowds thinned out and it didn't seem nearly as busy as we had expected.
Muir Woods offers a wide range of different hiking and walking opportunities, depending on how far you want to go and how hard you want to work. For families, the best option is to do the loop along Muir Woods' main trail up through Cathedral Grove and back. It's easy, and the majority of the trails are in the form of either pavement or boardwalk, which is great for little ones and strollers.
The big attraction at Muir Woods is the big trees — coast redwoods (sequioa sempervirens). The 240 acres of old growth redwood forest at Muir Woods is a mere a fraction of what once stretched along the California coast up into Oregon. Logging in the 19th and 20th centuries saw to it that much of these primeval forests disappeared, and if not for the efforts of those like Muir Woods namesake John Muir and congressman William Kent, who donated the land to the federal government, there probably wouldn't be much left at all.
Take a leisurely walk through the monument, along Redwood Creek, and take the time to listen, watch, and even smell. Little bridges cross the creek at various points, and they're a fun place to stop and relax and see what's in and around the water. In addition to trees, you'll see amazing plant life and animals (we saw chipmunks and a great blue heron while we were there).
Signs outside the majestic Cathedral Grove urge you to enter quietly. It's an inspiring spot that encourages quiet contemplation and observation, and it's definitely a must-see stop on your visit.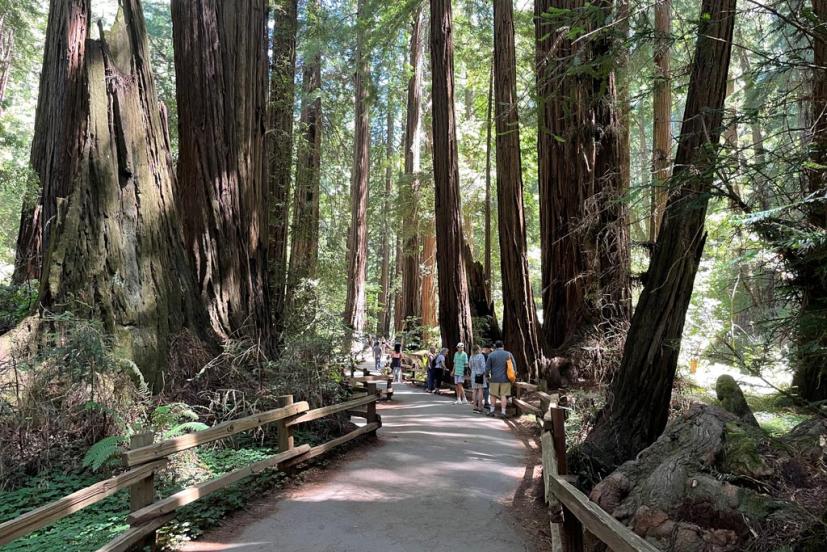 Kids ages 8 to 12 can become Junior Rangers on their visit to Muir Woods. Pick up a pencil and Junior Ranger book at the visitor center, fill out the pages as you explore the trees and trails, and then meet with a ranger at the visitor center who will talk with you about what you learned and experienced in the park. After that, recite the Junior Ranger pledge and receive your badges! Nearly all National Parks have a Junior Ranger program, and it's a great way to get the kids involved and excited about your visit.
If You Go
Muir Woods National Monument is located in the foothills of Mt. Tamalpais just west of Mill Valley. Advance parking reservations are required, as are reservations for the Muir Woods shuttle, which picks up from Larkspur Landing (101 East Sir Francis Drake Boulevard, Larkspur 94939) on weekends only. Parking costs $9 or $12 for electric vehicles; round-trip tickets on the shuttle are $3.50 for adults and free for kids 15 and under. Make your parking and shuttle reservations here.
Muir Woods charges an entry fee of $15 per adult 16 and older; children 15 and under are free. For $45 you can buy an annual pass that admits you and everyone in your car for the entire year. Entrance fees are waived several days during the year; the remaining 2023 fee-free days are April 22,  August 4, September 23, and November 11. Parking and shuttle reservations and fees still apply on fee-free days.
There's an on-site restaurant by Muir Woods Trading Company offering coffee, pastries and cookies, sandwiches, salads, and soups, all made from seasonal, organic, and locally sourced ingredients. We had lunch there and really enjoyed the Petaluma chicken salad sandwich ($12.60), with large chunks of chicken and crisp apples, and their signature Marin Melt ($12.95), a decadent grilled cheese sandwich made with Cowgirl Creamery Mt. Tam and Point Reyes Farmstead Toma cheeses. Outdoor seating is available.
Adjacent to the restaurant is a gift shop, run by the same concessionaire, selling all sorts of T-shirts, trinkets, objets d'art, and outdoorsy souvenirs. There's the requisite smashed penny machine, and you can even buy coast redwood seedings to plant in your yard when you get home. There's another small shop at the National Park Service's visitor center at the monument entrance, which has a nice selection of more educationally-minded gifts, books, and toys.
Drinking water is available from drinking fountains and free water bottle fillers located in various areas. Clean restrooms are available both inside the monument and outside near the parking lot. Face masks are still required in all indoor areas at Muir Woods.
Temperatures at Muir Woods are cool year-round — usually in the 40–70ºF range, so bring clothing to layer. Most of the trails are in heavy shade, so sun protection isn't a big concern.
To get to Muir Woods, take Highway 101 to the East Blithdale Avenue exit in Mill Valley (exit 447). Take East Blithedale to Camino Alto, where you'll turn left. Follow Camino Alto to Miller Avenue, where you will turn right. Take Miller Avenue to Montford Avenue and turn left. Follow Montford and then bear right on Molino Avenue. Follow Molino Avenue to Edgewood Avenue and Sequoia Valley Road up the mountain. Turn left onto Panoramic Highway and then take an immediate right onto Muir Woods Road. Follow Muir Woods Road down the hill to Muir Woods. Note that some parts of the are stop-sign controlled single lane sections due to construction. Keep in mind that the roads to Muir Woods are often winding and steep.
For more information on Muir Woods, visit www.nps.gov/muwo or call (415) 561-2850.
Sign up for tips & news for Marin families!