Back to top
Awesome Ice Cream Shops in Marin & Beyond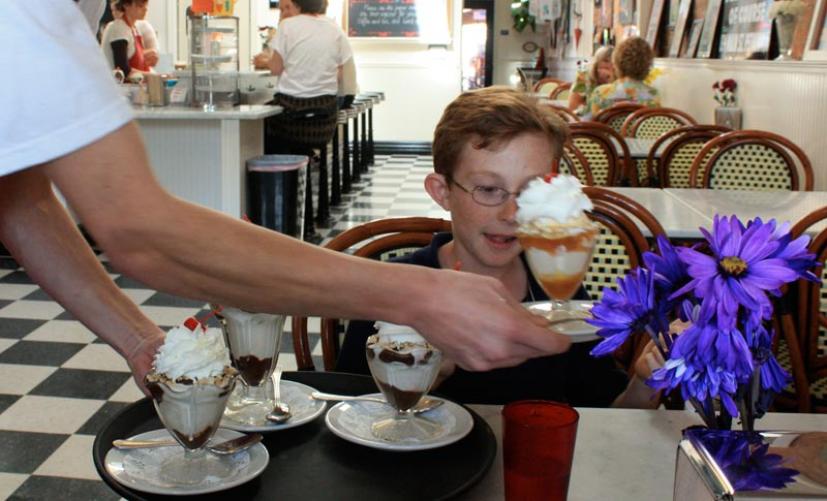 Ice cream is one of those foods that's synonymous with summer, although it's pretty wonderful at any time of year! On a hot day, there's not much better than getting a big scoop of your favorite ice cream on a waffle cone. To help you find that summer joy, we've put together this guide to our favorite ice cream scoop shops in Marin County (and we've thrown in a couple of our Sonoma County favorites that are worth the trip, too).
Here they are, arranged from south to north. Many of these shops are family owned and operated, but we've included a few of the popular chains, too.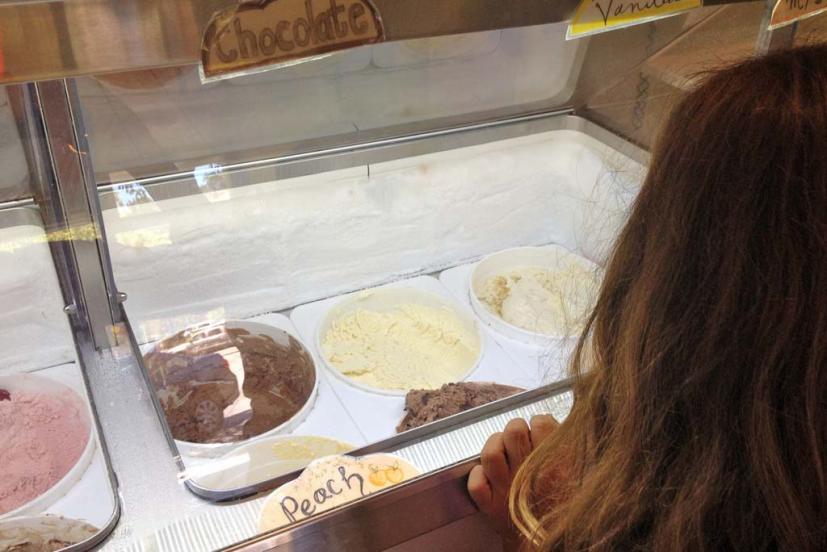 Southern Marin
Lappert's Ice Cream has been a fixture on the tourist hub of Bridgeway in Sausalito since 1981. Still family owned, it offers ice cream in a variety of flavors, including some Hawaiian-inspired concoctions like "Kauai Pie" and guava sorbet. Lappert's is located at 689 Bridgeway in Sausalito. www.lapperts.com
In addtion to burgers, fries, and homemade candies, the Grass Shack in downtown Tiburon scoops up 16 different flavors of Three Twins organic ice cream. They're located at 1694 Tiburon Boulevard. www.thegrassshack.net.
This family-owned shop in Mill Valley's Strawberry Village wins kudos for its fro-yo, but it also serves up cool treats like frozen custard and 18 flavors Cascade Glacier ice cream. They'll also make you a milkshake with any flavor of ice cream or yogurt that you desire. 802 Strawberry Village, Mill Valley. www.woodysyogurtplace.com
Central Marin
This small ice cream shop in downtown Fairfax offers a rotating selection of innovative organic ice cream flavors like vanilla honey lavender, toasted hazelnut and Mexican chocolate, as well old favorites like strawberry and chocolate. Vegan-friendly sorbet and soy options are always offered, too. They take cash and local checks only. Fairfax Scoop located at at 63 Broadway. (415) 453-3130. Read our review here.
Silbermann's has been a Marin tradition since 1966. Originally a Swenson's shop, it was re-christened with the owners' family name in 1989, but retains the old-school atmosphere and delicious house-made ice cream. Location: 196 Northgate One, San Rafael. www.silbermanns.com
Three Twins' Marin shop can be found in Marin Country Mart in Larkspur Landing. Flavors and ingredients in their organic ice cream change seasonally, with flavors including Madagascar vanilla, cardamom, and chocolate orange confetti. Location: 2257 Larkspur Landing Circle. threetwinsicecream.com
This ice cream shop and bakery in downtown Larkspur offers a rotating selection of 12 flavors. Did we mention is was organic, too? 250B Magnolia Avenue, Larkspur
Marin's only outpost of this ice cream chain is located in downtown San Rafael. In case you haven't been there, their speciality is ice cream with toppings mixed in, which they do right before you on a cold marble slab. Location: 1010 Court Street, San Rafael. www.coldstonecreamery.com
San Rafael's popular Double Rainbow Cafe serves premium ice cream, sandwiches, and other lunch fare. Location: 860 4th Street, San Rafael. doublerainbowcafe.com
Northern Marin
This old-school candy store in downtown Novato not only has every kind of candy you ever dreamed of (and some that you haven't), but they also scoop up 16 flavors of delicious Tara's Organic Ice Cream. They'll make you sundaes, malts, shakes, and floats, too. Eat your sweet treat outside or hang out in the back of the store and watch a movie in their theater area. 879 Grant Avenue, Novato. celinessweets.com
Novato's La Michoacana serves up delicious Mexican-style ice cream, frozen fruit bars (paletas), and other sweet treats. La Michoacana offers plenty of well-crafted ice cream standards, as well as a lot of flavors that you won't find at other ice cream stores, like Mexican vanilla, pine nut, mamey, and piña colada, so it's well worth a visit if you're in Novato. Read our review of La Michoacana. Location: 1219 Grant Avenue, Novato. (415) 408-3044
Novato is home to this once-ubiquitous ice cream chain that scoops up familiar favorites. Ice cream cakes and other treats are available there, too. Location: 1769 Grant Avenue, Novato. www.baskinrobbins.com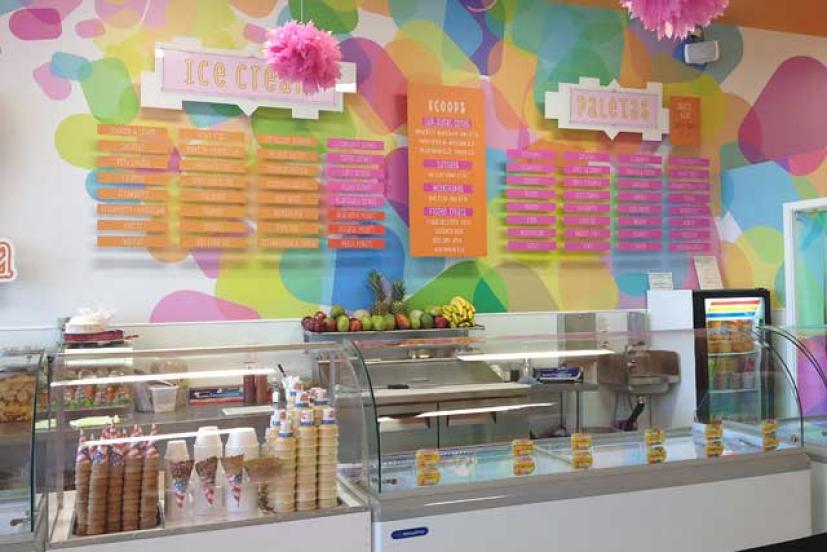 Sonoma County
Lala's Creamery in downtown Petaluma is a retro temple to all things ice cream. In addition to their rich and delicious homemade ice cream, they also offer a multitude of ice cream floats, sodas, freezes, sundaes, and other treats. Read our review of Lala's. Location: 134 Petaluma Boulevard North, Petaluma. www.lalascreamery.com
The Petaluma Creamery is operated by the same people who run Spring Hill Jersey Cheese and the fantastic Peter Pumpkin patch at Spring Hill Farm. Their award-winning Petaluma Gold ice cream is offered in a wide range of delicious flavors, and serving sizes are generour. They also offer cheese and lunch items, like sandwiches and BBQ, here. Location: 711 Western Avenue, Petaluma. www.petalumacreamerycheeseshop.com
Whenever we find ourselves in Sebastopol, we try to work in a visit to Screamin' Mimi's for some of their amazing ice cream. Screamin' Mimi's offers a rotating selection of over 300 different flavors, depending on what's in season, made from local ingredients. Old standbys like chocolate, pistachio, and vanilla share space on the "Today's Flavors" chalkboard with more unusual offerings including lavendar, caramel apple, and ginger. Read our review of Screamin' Mimi's. Location: 6902 Sebastopol Avenue, Sebastopol. www.screaminmimisicecream.com
Sweet Scoops on the square in Sonoma creates handcrafted ice cream using local ingredients. They also offer sundae, ice cream cakes, malts and shakes, and coffee. 408 First Street East, Sonoma
Sign up for tips & news for Marin families!