Back to top
Swimming, Play and More at McNears Beach Park in San Rafael
McNears Beach Park is one of those special places that I hold close to my heart. I grew up literally around the corner from it, and spent a lot of time there as a child. It's still one of my favorite places to spend the day in Marin, especially now that I have kids of my own. McNear's Beach is a 55-acre county park located on the shores of San Pablo Bay. It's the a perfect place to go on a warm day to wade in the bay, swim in the pool, picnic, fish, take in spectacular views of the San Francisco Bay Area, and more.
McNears Beach has been popular with Bay Area residents since the 19th century, when the McNear family owned most of the property in what eventually would become San Rafael's Peacock Gap neighborhood. The McNears operated a beach resort at the present location of the park, as well as a nearby quarry and brickyard.
McNears Beach offers a variety of things to do for visitors of all ages. The beach itself is a somewhat rocky affair, with lots of broken shells and interesting stones to pick over. You can wade and splash in the shallow and gentle San Pablo Bay waters, but the biggest attraction is the swimming pool, which gets pretty busy on a hot day. In addition to the popular main pool, there's a toddler pool, too. The McNear's Beach pool opens Memorial Day Weekends and stays open through Labor Day.
The park boasts acres of lush rolling lawn here with plenty of shade, perfect for spreading out picnic blankets and relaxing or playing games. You'll also find several picnic areas, with tables and charcoal grills. Near the swimming pool is a snack bar with a recently expanded seating area serving up hot dogs, ice cream, chips, and candy. There's also a sandy area up across from the pool, which is a far better spot to break out the sand toys, buckets, and shovels than the gravelly beach.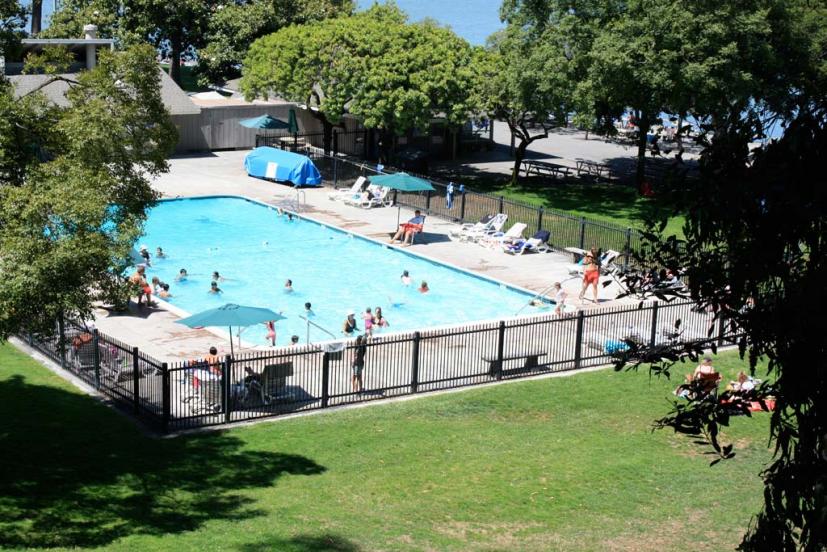 NcNears Beach is extremely clean and well kept up. It also has several tennis courts, as well as a volleyball net at one of the picnic areas. Lockers, showers, and restrooms are all available near the pool. McNear's Beach is also home to a popular fishing pier, where anglers bring in fish like halibut, sturgeon, striped bass, and bat rays. There's also a convenient ramp on the beach where you can launch your kayak or canoe —  the park is a designated trailhead on the San Francisco Bay Area Water Trail.
We always have a blast here, since there are so many things to do. It's nice to see that some things remain as good as you remember them when you were a child. In the case of McNears Beach, it's even better, due to all the improvements to the park made over the years.
If you go
McNears Beach County Park is located at 201 Cantera Drive, off of Point San Pedro Road, just before China Camp State Park. To get there, take Highway 101 to the central San Rafael exit, then head east on 2nd Street, which merges with 3rd Street and becomes Point San Pedro Road. Follow Point San Pedro Road through the Peacock Gap neighborhood, past the old McNear brickyard, and turn right onto Cantera Drive.
Parking costs $5 per vehicle (up to 10 people); swimming pool admission is free but pool capacity is limited to 100 people. You can hike, bike, or kayak into the park for free, and you can also check out a park pass at your local Marin County Free Library branch for free admission.
As we mentioned above, McNear's Beach can get really popular when temperatures rise, so be prepared to get there early on a hot day — the parking lots can fill up quickly.
The park is open year-round from sunrise to sunset (generally 7 am to 8 pm during the summer). The McNear's Beach swimming pool is open Memorial Day Weekend through Labor Day, Wednesdays–Sundays and holidays from 10:30 am–5 pm; it's closed Mondays and Tuesdays. Dogs, with the exception of service animals, are prohibited. Lifeguards are on duty at the swimming pool, but not at the beach.
For more information, visit www.marinparks.org.
Sign up for tips & news for Marin families!