Back to top
Fun in the Sun at Heart's Desire Beach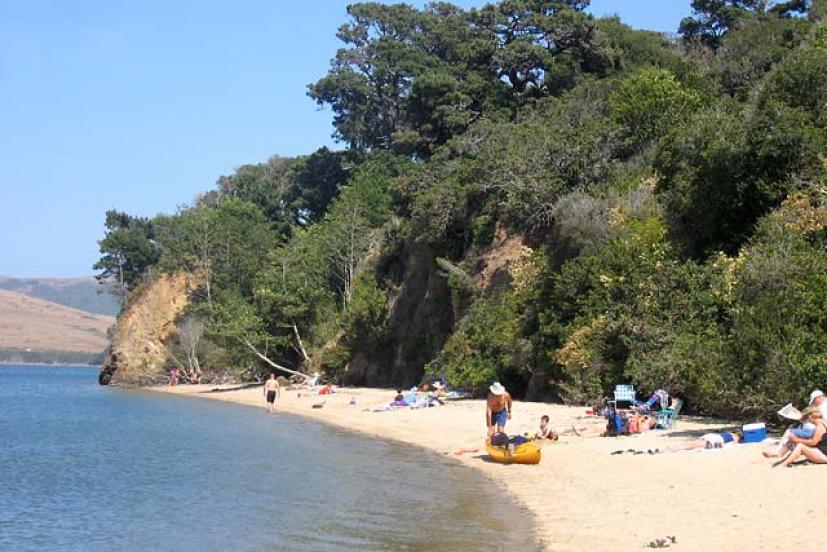 When the temperature rises this summer and you need to get away from the inland heat, heading out to the beach is always a popular idea. Unfortunately, the beach experience in Northern California, even on a nice day, can be something of a challenge, and usually involves donning multiple layers of clothing to stave off the cold ocean wind. Swimming at beaches here often involves putting your life at risk, too, with icy water temperatures, pounding surf, and deadly rip currents posing a hazard to even the strongest swimmers.
Let's face it: most Marin beaches are beautiful and dramatic, but you're pretty much limited to walking and playing in the sand.
Fortunately, there are some great local alternatives, if you know where to look. One of our favorite places to hang out at on a sunny day is Heart's Desire Beach at Tomales Bay State Park. On the opposite side of Inverness Ridge from the chillier ocean beaches of Point Reyes, Heart's Desire is a white stretch of sand running along a calm, sheltered stretch of Tomales Bay. There's no surf to speak of, and the shallow water is warm and perfect for wading, swimming, and just having fun. The swimming area is surrounded by buoys to keep boat traffic away (except for kayaks and canoes; it's a popular launching and put-in place for those), and there's often an anchored raft to swim out to.
Heart's Desire Beach has been a favorite with Marin County and Bay Area families since 1952, and includes amenities like restrooms, drinking water, and an extensive network of picnic areas with tables and charcoal grills. There's a parking lot just steps from the beach itself, and overflow parking at the picnic area nearby. A short trail connects the picnic area lot with the beach. The last time we were there, on a recent (but rare so far this spring) warm weekend, it was busy, but there was plenty of parking in the main beach parking lot, and plenty of space on the sand to spread out your blanket, pitch your beach umbrella, and relax.
If swimming and sunning at the beach isn't your thing, then there are plenty of hiking trails in the area, leading through wooded areas lush with ferns to Heart's Desire and the other beaches in the area, including Indian Beach, with reconstructed Coast Miwok bark dwellings, Pebble Beach, and Shell Beach. There's a self-guided nature trail between Heart's Desire and Indian Beaches. There are also the aforementioned picnic areas, many of which are quite private and offer stunning views of the bay.
Wildlife abounds here, too. The usual suspects like deer and birds are readily seen, and there were numerous jellyfish at the water's edge (I've been told they're harmless, but I wasn't about to go and test that theory myself), and apparently leopard sharks can be found further out in Tomales Bay (they're harmless, too). While taking pictures for this article, I had that uncanny feeling that I was being watched, and turned around to see a small gray fox sitting placidly on the grass watching my every move, quite unconcerned by my presence.
In short, Heart's Desire Beach is a beautiful sheltered spot on Tomales Bay that's excellent for families with small children, so pack your picnic, grab your beach blanket and sand toys, and have a day of fun out at the beach.
What to Bring
Since it's safe to swim here, unlike other beaches in Point Reyes, make sure you bring the swim suits and swim gear if the weather allows. Buckets, shovels, and other sand toys are a must for the little ones. On nice days it can be quite warm and sunny here, so sunscreen and hats are a must. Of course, since the weather out in West Marin can be unpredicatable, it doesn't hurt to bring a jacket and sweatshirts, too (in other words, dress in layers, as we usually suggest).
How to Get There
Get to Tomales Bay State Park and Heart's Desire Beach by heading out past Inverness on Sir Francis Drake Boulevard., then bear right onto Pierce Point Road. Continue on Pierce Point Road until you see the sign for Tomales Bay State Park, then make a right turn into the park. Unlike the rest of Point Reyes National Seashore, this is a California State Park, so you'll have to pay a $8 vehicle entry fee at the ranger station that you'll pass on the way to the beach. It's well worth it. Dogs are not allowed on the beaches or trails at Tomales Bay State Park. Heart's Desire Beach is currently closed on Tuesdays, Wednesdays, and Thursdays of each week.
Sign up for tips & news for Marin families!