Back to top
Shhh… Don't Tell Anyone About Chicken Ranch Beach
When the weather warms up, it's time to take advantage of it and head to the beach. Good, safe swimming beaches with warm weather can be hard to come by in Marin County and the Bay Area, but they're there if you know where to look. Some of them are hidden gems known only to locals and other insiders. Chicken Ranch Beach, located on Tomales Bay just outside the West Marin town of Inverness, is one of those well kept secrets. (So do us a favor and don't tell anyone about it, OK?)
Like Heart's Desire Beach up the road a bit in Tomales Bay State Park, Chicken Ranch Beach sits on the shallow relatively warm waters of Tomales Bay. It's a popular place for families, with a gentle, sandy beach and no surf to speak of, only ripples that lap gently on the shore. Kids can wade, swim, play in the sand, and run to their hearts' content. When the tide goes out, kids can look for shells, too. Chicken Ranch Beach is a fabulous place to raise your beach umbrella, spread out a blanket or two, and spend the day relaxing in the sun. It's a popular place with kayakers and paddleboarders, too.
Since it's on the opposite side of Inverness Ridge from the ocean, the summer fog often burns back for a pleasant sunny day tempered by cool breezes from the mouth of Tomales Bay a few miles away. The West Marin vistas from the beach are spectacular, too. Unlike the beaches at Tomales Bay State Park, there's no entry fee here—it's free, if you can find it.
There aren't any amenities to speak of at Chicken Ranch Beach, which is part of the Marin County Parks system. There's a porta-potty up by the road for those that absolutely have to go, trash cans, recycling bins, and a metal can for hot ashes, but that's about it. Needless to say, there's no lifeguard here, either. On-leash dogs are welcome, and fires are allowed only in metal containers, which means you can bring your Weber Smokey Joe and grill some hot dogs if you so desire (just remember to put your ashes in the can on your way out).
If you're looking for picnic tables, showers, real restrooms, a lawn, and other creature comforts, head up the road to Heart's Desire Beach, which is another one of our favorite places to play along Tomales Bay.
If you go
There's no shade to speak of here, so beach umbrellas or shelters, hats, and sunscreen are a must. in the summer we've seen dozens of jellyfish stranded along the high tide line here—I've been told the kind that live here don't sting, but I'm not wiling to touch one to find out if that's true or not. We've been told you can sometimes see little leopard sharks or rays swimming in the shallows, although we haven't spotted any on our visits here.
While the weather's been splendid every time we've been here or at any of the other Tomales Bay beaches, remember that the West Marin weather is notoriously fickle, so bring those sweatshirts and fleece jackets as well as your swimsuits and prepare to dress in layers.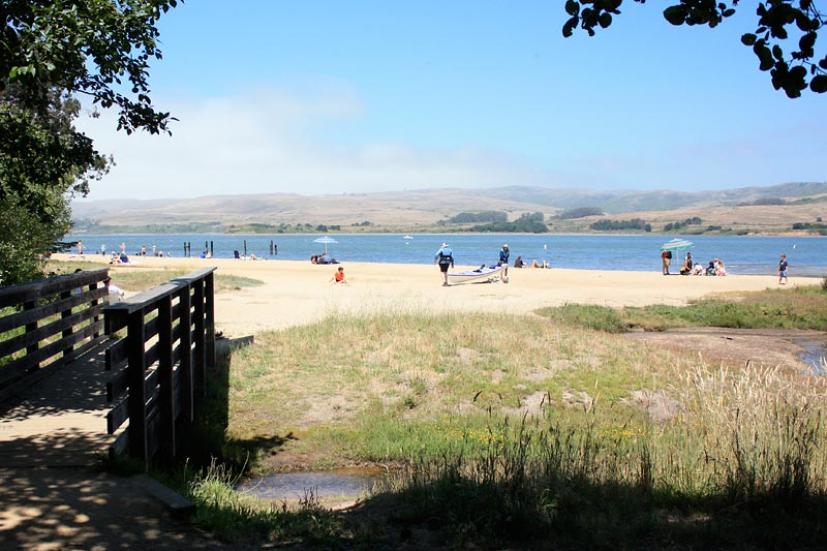 So, how do you get there? Chicken Ranch Beach is unmarked, and there are no signs pointing the way. You can find it about a mile northwest of Inverness off of Sir Francis Drake Boulevard. Head out of town and drive past the Inverness Yacht Club and the Tomales Bay Resort motel. Keep going and look for cars parked along the road just as it bends to the left. If you see the entrance to the Cottages at Point Reyes (formerly the Inverness Valley Inn) on your left you've gone too far.
Parking is limited to spots along Sir Francis Drake Boulevard, most of which are on the Tomales Bay side of the road. As you probably expected, Chicken Ranch Beach is very popular on warm weekends regardless of the time of year, so make sure you show up early to find a place to park.
Access to Chicken Ranch Beach is via a short trail that ends at a little bridge spanning a stream. Cross it and you're on the beach. You'll also see a sign proclaiming it to be Chicken Ranch Beach, so you'll know if you're in the right place. For more information on Chicken Ranch Beach, visit www.marinparks.org.
Sign up for tips & news for Marin families!