Back to top
Hiking with Kids in Marin: Tennessee Valley Trail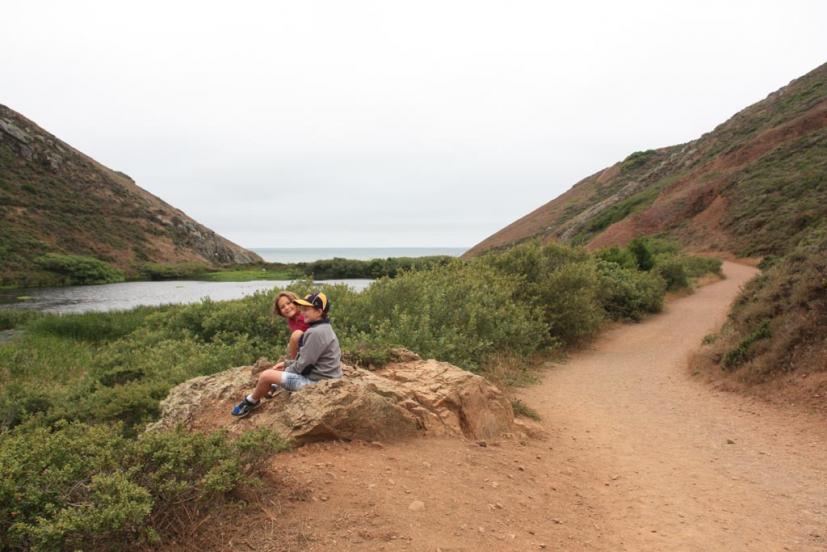 Tennessee Valley near Mill Valley is one of the most popular hiking and outdoor recreation spots in all of Marin County, and for good reason—it has a combination of easy walks, dramatic views, and a spectacular beach at the end of the trail. Tennessee Valley Trail, part of the Golden Gate National Recreation Area, is a perfect hike for families, and can be easily managed with an offroad-capable stroller. With few hills, the 3.4-mile round trip hike out to the beach at Tennessee Cove and back is easy for hikers (and mountain bikers, too) of all ages.
Tennessee Valley Trail is also quit popular with equestrians. Miwok Livery Stables is actually located on-site, so expect to see horses pretty often.
Tennessee Valley Trail winds through the coastal hills to the beach at Tennessee Cove, and offers spectacular scenery along the way. At the end of the trail is a sandy beach where you can relax, have a picnic, and let the kids play in the sand. Like many beaches on the Northern California coast, this one is unsafe for swimming and wading with rough surf and dangerous rip currents, so heed the posted warnings and keep clear of the water.
Tennessee Valley is named not for the state, but for the Pacific Mail steamship Tennessee, which ran aground and wrecked here in 1853. All passengers and crew and most of the cargo made it off safely, but the ship was a total loss. Low tide often reveals wreckage on the beach, including the ship's anchor and parts of her steam engine.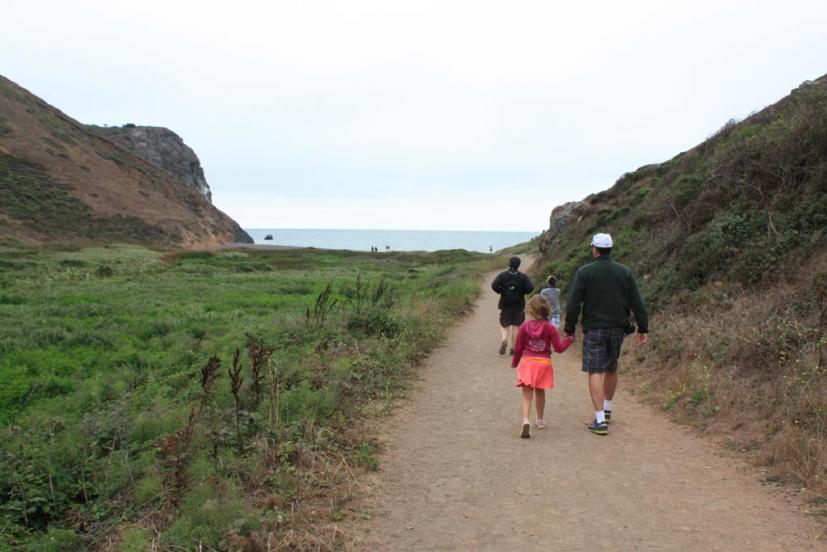 Start your hike on the paved path at the Tennessee Valley trailhead. After about a half mile the pavement ends and the trail turns into a wide dirt path. Look for wildflowers and wildlife along the way. We've seen deer, hawks, bobcats, snakes, and great horned owls on our hikes here.
About a mile out you'll come to a fork in the trail. Taking the left fork will put you on the Lower Tennessee Valley trail, which is flat and slightly shorter in distance than the main trail. Be advised that Lower Tennessee Valley Trail can get muddy during the rainy season, though.
Taking Lower Tennessee Valley Trail allows you to avoid the one large hill on the primary Tennessee Valley Trail, so we definitely recommend that families use that route. When you're through playing or relaxing at the beach, retrace your steps back to the parking area and trailhead.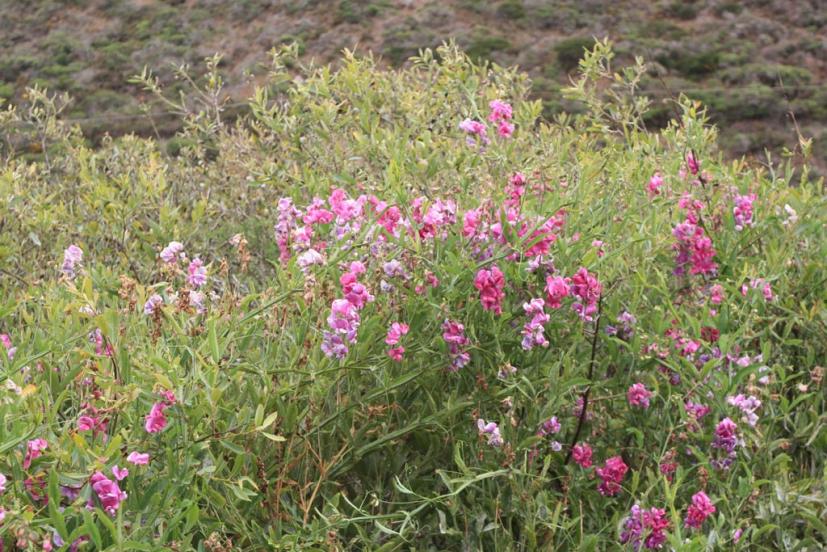 If You Go
Tennessee Valley Trail is only a few minutes away from Highway 101, and owes much of its popularity to its location. It can get very crowded here, especially on weekends, so visit during the week or try to get there before 9 am on weekends and holidays. Due to COVID-19, make sure you bring masks or other face coverings for everyone over 12 and wear them when you can't keep a minimum of six feet of distance between you and other groups on the trail.
To get to Tennessee Valley, take the Highway 1 exit from US 101 and head west toward Tam Valley. Turn left onto Tennessee Valley Road and follow it about a mile and a half to the parking lot at the Tennessee Valley Ttrailhead. On busy days, especially weekends, the lot fills up rapidly, and cars are often parked along the road for some distance.
Pit toilets are available at the trailhead, and there's a another pit toilet at about the half-way point on the Tennessee Valley Trail. No drinking water or food is available, so make sure to pack in your own.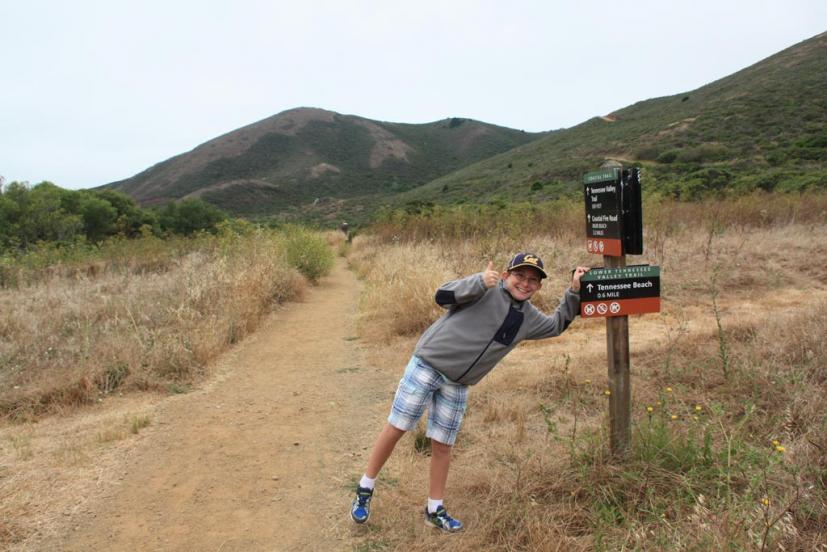 As with other places on the Marin County coast, weather here can be unpredictable. Conditions can vary from warm and sunny at the trailhead to dense fog at the beach, all in the same day. Dress in layers and bring along a windproof shell or parka. Hiking boots and sturdy walking or athletic shoes are recommended for this hike. There's not much in the way of shade along the way, so hats and sunscreen are a must, too.
For more information and downloadable trail maps, visit the Golden Gate National Recreation Area website: www.nps.gov/goga.
Sign up for tips & news for Marin families!