Back to top
Awesome Spots For a Mother's Day Picnic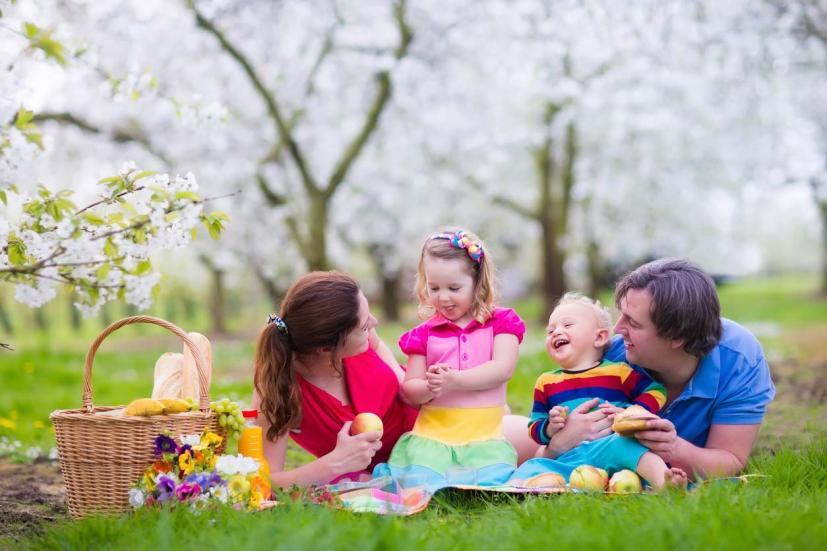 Mother's Day is Sunday, May 12. Pack a picnic and celebrate Mom's day outdoors at one of the many great picnic spots in and around Marin and Sonoma County. Here are some of our favorite places to bring our lunch (or brunch) and dine al fresco. If you want some more ideas for fantastic Mother's Day activities and outings, read our article here.
Bear Valley, Point Reyes
Bear Valley in the Point Reyes National Seashore is home to the park's visitor center as well as a large picnic area complete with tables, restrooms, charcoal grills,  and drinking water. Have a leisurely lunch outdoors, and then take a hike—there are a number of different hikes and walks you can do here that are suitable for everyone in the family, including the Earthquake Trail, the Bear Valley Trail, and the trail leading to the Morgan horse ranch. Read more about Bear Valley in our article here.
China Camp State Park, San Rafael
China Camp State Park offers a variety of beautiful picnic spots overlooking San Pablo Bay. You'll find most of these picnic spots located along the winding Point San Pedro Road, most of which have nice lawns, picnic tables, charcoal grills, restrooms, and amazing views. You can also have your picnic down in China Camp Village, which also boasts historic exhibits, a pleasant little beach for wading and swimming, and a funky little snack bar that looks like it hasn't changed since the 1930s. Read more about China Camp State Park in our article here.
Drakes Beach, Point Reyes
Drakes Beach is one of Point Reyes' more sheltered beaches and is the perfect place for a picnic. Spread a blanket out on the sand, or eat at one of the picnic tables near the Kenneth C. Patrick Visitor Center. There are charcoal grills near the picnic area, and you can build a driftwood fire on the beach if you want, too (make sure you get a permit at the visitor center first, though). Don't have a picnic lunch? Grab some great locally sourced food at the Drake's Beach Café. Read more about Drakes Beach in our article here.
Jack London State Historic Park, Glen Ellen
Jack London State Historic Park is a beautiful location for a Mother's Day outing. Plenty of picnic spots can be found here, including a large picnic area with tables and charcoal BBQ grills nestled in a eucalyptus grove in the upper ranch. Take a hike and tour the historic buildings on the ranch afterward. Don't miss the Pig Palace! Nearby Glen Ellen Market is a great place to pick up sandwiches and other picnic provisions on the way. Read more about Jack London State Historic Park in our article here.
Marin French Cheese Company, Novato
The Marin French Cheese Company, otherwise known as the Cheese Factory, is a wonderful spot for a family picnic. Located on Point Reyes–Petaluma Road between Novato and Nicasio, the Cheese Factory is a great spot where the kids can run and play on the expansive lawn and you can relax on your picnic blanket in a nice shady spot. Bring your own picnic or buy food at their cheese store and deli, which stocks sandwiches, ice cream, a multitude of different cheeses (of course), coffee, wine, beer, and soft drinks. Note that picnic tables are reserved for paying customers of the Cheese Factory. Read more about the Cheese Factory in our article here.
McNears Beach, San Rafael
McNears Beach in San Rafael is a 55-acre Marin County park located on the shores of San Pablo Bay. It's the perfect place to go on a warm day to wade in the bay, picnic, fish, take in spectacular views of the Bay Area, and more. There are acres of lush rolling lawn here with plenty of shade, perfect for spreading out picnic blankets and relaxing or playing games. There is a $10 parking fee, so make sure you bring exact change to leave in the parking fee machine if there's nobody at the entry kiosk. Hours on Sunday are 11 am–6 pm. Read more about our last visit to McNears Beach here.
Sonoma Plaza, Sonoma Valley
The historic Sonoma Plaza is an expansive park in the heart of Sonoma, with lush green lawns, two playgrounds, fountains, a pond with ducks, and plenty of shade. It's the perfect place for families to relax and play. We generally bring along our picnic lunch from home, or we stop on the way at Angelo's Wine Country Deli, our favorite place to grab sandwiches, salads, drinks, and chips. Make sure to bring your picnic blanket and enjoy the town square. Read more about visiting the Sonoma Plaza here.
Stafford Lake, Novato
Stafford Lake in Novato is a 129-acre county park that has unlimited views of a sparkling blue lake surrounded by hills, trees, plenty of deer, and lots of ducks and Canada geese. The park has plenty of picnic tables, a huge play structure, volleyball courts and horseshoe pits, and a cool bike path. Stafford Lake Park is a perfect destination for families with children from toddlers on up. There's an entry fee for Stafford Lake of $5 per vehicle on weekdays and $10 on weekends and holidays. Hours: 8 am–5 pm. Read more about Stafford Lake County Park here.
Tolay Lark Regional Park, Petaluma
You may be familiar with Tolay Lake Regional park from the annual Tolay Fall Festival in October, but did you know it's now open to the public seven days a week? It's a great destination for a family outing, with picnic areas, miles of paths and trails, and even some friendly farm animals to visit. The park's 3,400 acres are situated in a valley with gently rolling hills. You could spend quite a bit of time just exploring the area around the old ranch buildings. There are numerous picnic spots, including some with charcoal grills and a group picnic area, and even a corral that's home to some farms animals including goats, chickens, and Pete the miniature horse.Tolay Lake Regional Park is located at 5869 Cannon Lane in Petaluma. To get there, take Highway 37 east to Lakeville Highway. Turn left of Lakeville Highway and head north. Follow Lakeville Highway until you get to Cannon Lane where you'll turn right. Drive up and over the hill and into Tolay Lake Regional Park. The park is open daily from 7 am to sunset. Admission is free, but there's a $7 per car parking fee which is waived for Sonoma County Regional Parks members. Read more about our visit here.
Sign up for tips & news for Marin families!