Back to top
Picnics, Nature and Play at Stafford Lake Park
Stafford Lake, the reservoir that provides the town of Novato with much of its drinking water, is also the site of one of Marin's favorite outdoor recreation spots: Stafford Lake County Park. There are so many activities to do at this 139-acre park, and I'm surprised my family and I don't come here more often, especially since it's literally just around the corner from our house.
If you haven't been there, you've certainly passed it on Novato Boulevard on your way out to the Cheese Factory or Point Reyes. With an upgraded play area, picnic spots, fishing, and an awesome bike park for all ages, you owe it to yourself to stop by and see what Stafford Lake has to offer!
One of the things that Stafford Lake offers in abundance is physical beauty—a sparkling blue lake surrounded by hills, trees, and bucolic dairy farms. Wildlife abounds, and we saw plenty of deer and of course a whole flock of the ubiquitous Canada geese that seem to inhabit every park in Northern California. We packed a picnic lunch and ate at one of the many tables scattered throughout the parks shady picnic area. Tables have charcoal BBQ grills, and group areas can accommodate up to 500 people.
Stafford Lake boasts and all-new adventure playground with interactive obstacles, climbing features, spinners, and a zip line. It's designed for kids ages 5 to 12 and a lot of fun! (Thanks, Measure A for Marin Parks!) Even more new features are coming to Stafford Lake as work progresses through summer 2018—expect another zip line, group game areas, additional shade trees, and more new features!
Other amenities include volleyball courts, horseshoe pits, a softball backstop, as well as acres and acres of meadows and open space. Fishing is also permitted in the lake itself, which is stocked with catfish, bluegill, and bass. Swimming is not permitted, though.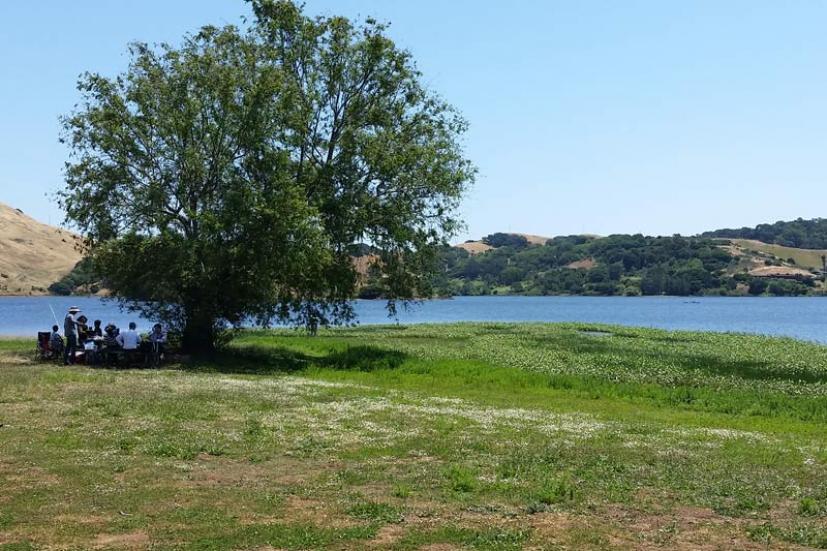 If you feel the urge to explore, head out on the Terwilliger Nature Trail that winds through fields and trees. You'll get some wonderful views of the lake and surrounding countryside from the upper portions of the trail. Stafford Lake County Park is also home to a popular disc golf course that draws players from all over California.
Another fantastic feature at the park is the awesome Stafford Lake Bike Park, the first public bike park in the North Bay. The bike park has features for all ages, including a beginner zone pump track, a kids' learn-to-ride zone, a progression jump course, and a dual-slalom gravity zone for advanced riders.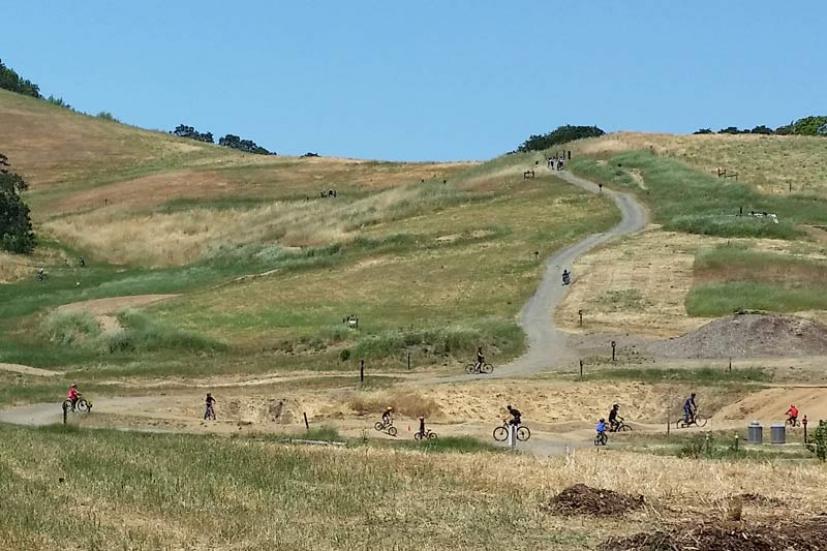 Marin Parks hosts numerous family programs throughout the year at Stafford Lake, including Nature for Kids walks, campfire programs, fishing events, bike riding lessons, Bike Park work sessions, and more. Check out their online events calendar for a full schedule.
Stafford Lake is a perfect destination for families with children from toddlers on up. It's a great place to relax, play, and spend the day outdoors. Like all Marin County parks, there's an entry fee for Stafford Lake of $5 per vehicle on weekdays and $10 on weekends and holidays during the summer and $5 each day during the winter. Entry is free on the first Saturday of every month, thanks to Measure A. Summer hours, from May 26 through September 3, are 7 am to 8 pm daily. Hours change seasonally; check the Marin County Parks website for the exact schedule. No dogs, except for service animals, are allowed.
Stafford Lake County Park is located on Novato Boulevard, about two miles west of the San Marin Drive intersection. To get there, take Highway 101 to the San Marin Drive exit, then head west on San Marin Drive, which you'll follow for about three miles until you get to Novato Boulevard. Turn right onto Novato Boulevard and follow it to the park; you'll turn left into the parking lot after you pass the Stafford Lake Dam. For more information on Stafford Lake and other Marin County Parks, visit www.marinparks.org.
Sign up for tips & news for Marin families!